Protest by CU BCL: Teachers' bus, shuttle train services halted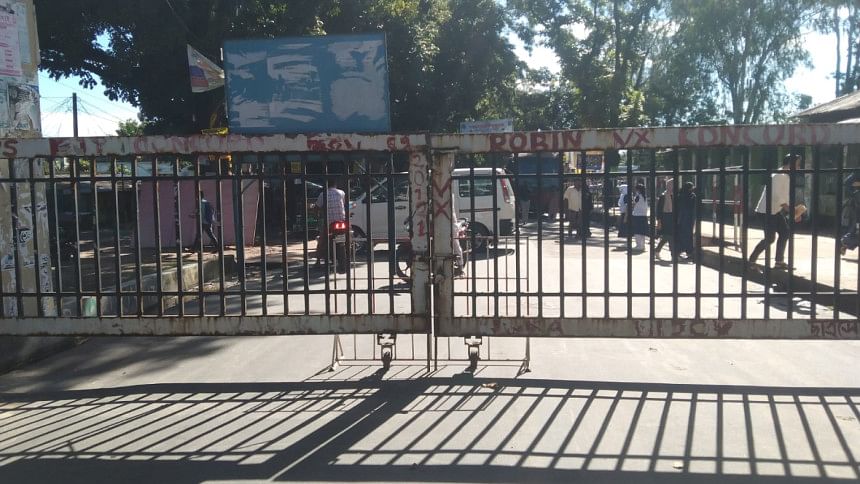 A section of Bangladesh Chhatra League leaders and activists of Chattogram University (CU) unit were protesting on the campus since morning (September 19, 2022) demanding restructuring and extension of the new BCL committee.
The married and employed members must be dropped off the committee, they demanded.
Bus services for teachers, officials and employees were halted. As a result, classes and examinations of the university may be suspended. Meanwhile, shuttle train services also remain suspended, reports our staff correspondent.
"At around 5:30 am, some people locked the gate of the transport office," said SM Moazzem Hossain, administrator of the CU transport office.
Chowdhury Amir Mohammad Musa, acting controller of examinations, said, "I could not go to the campus as the teacher's bus service was suspended. The exam will likely be postponed if the teachers are absent, but there is no way to know for sure right now. The decision will be taken by the departmental head."
According to sources, six sub-parties of CU BCL unit-- Varsity Express, Banglar Mukh, Epitaph, Red Signal, Concorde, and Ulka, are participating in the protest. The leaders and activists of these sub-parties are also known on the campus as followers of Chattogram City Corporation's former mayor AJM Nashir Uddin.
Pradip Chakraborty, vice-president of Varsity Express, said, "Earlier, we had demanded extension of the committee through a peaceful programme. But the top leaders did not take it into account, so we started the blockade, which until our demands are met."
Asked about this, CU BCL president Rezaul Haque said, "Those who have enforced the blockade are not of his fellow members and suggested to talk to Iqbal Hossain, general secretary of CU BCL about the matter.
However, Iqbal Hossain could not be reached on phone despite multiple attempts.
But Iqbal Hossain said last Thursday, "The responsibility of committee extension is in the hands of the central committee. The matter has already been reported. Protests, blockades are sad for the committee."
"Such behavior is not desirable from Chhatra League leaders and activists. If any married or working person gets a post, then they have to inform the office cell. But they didn't," he added.
Shuttle train service halted
Due to the protest programmes, CU shuttle train services was halted at Jhautola and Sholashahar station in the city.
Sholashar Railway Station Master SM Fakhrul Alam said, "two shuttle trains are stuck at the station. I don't know when they can resume operation."
On July 31, the central office of the ruling student organisation announced the full committee of CU unit consisting 376 members.