Sexual harassment: CU students protest with poetry and songs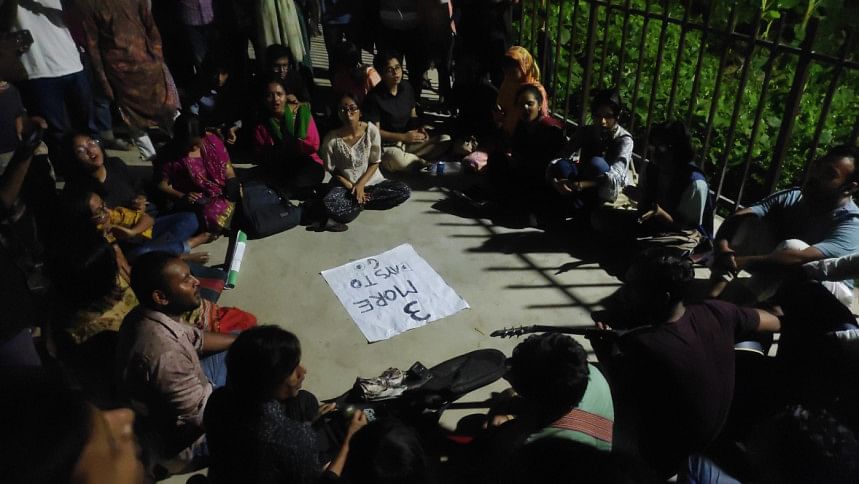 With four-point demand, students of Chittagong University (CU) waged a unique protest last night on the campus for the third consecutive day through poetry and songs.
The event took place at 9:00pm yesterday at CU Station area where a large number of students took part with handmade placards written "3 more days left".
Students of CU Music department sang songs at the protest programme along with others while several other students recited poetry.
Their demands include: assurance of justice and punishment to the attackers within four working days, round-the-clock security for all students, cancel the 10pm female dormitories curfew, and stepping down of the proctorial body if it fails to bring justice within four days.
Expressing solidarity with the protest, Nuzhat Jabin Sumaiya, a student of Language and Linguistic department recited Nazrul's famous revolutionary poem "Bidrohi".
After singing songs, Arnab Bhattacharjee, a student of Music department said they chose the songs for the protest.
Mentioning the protest programme a success, he vowed to continue their protest until their demands were met.
On the night of July 17, a group of five men forcibly picked a female student and her friend up from the university's Hotashar Mor to the Botanical Garden.
They first beat the two up and then tied up the plaintiff and sexually assaulted her. They also forced her to put off her dress and recorded a video and threatened her to release it on the internet. When her friend tried to save her, the abusers snatched one of their mobile phones and left the area.
The CU admin, instead of taking measures to punish the perpetrators, instructed the female students to return to their dormitories by 10pm "to avoid such situations".
The victim, who is a first-year student of the Arts Faculty, filed a case against unidentified people under the Women and Children Repression Prevention Act with Hathazari Police Station on Wednesday night.
Meanwhile, the CU administration and police have identified two persons yesterday in connection with the case.