Perfect cover for freedom fighters
Sharifunnessa tells how she helped fellow freedom fighters in her secluded house in Keraniganj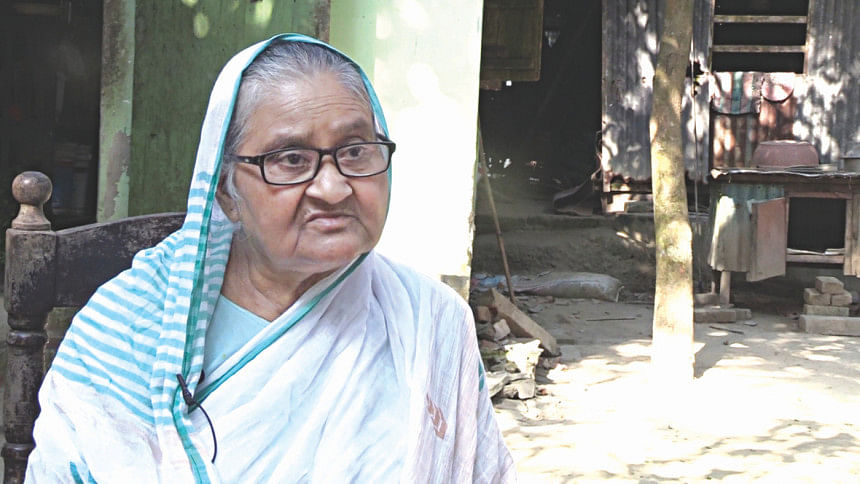 The tin shack was almost hidden behind a bush. A thick canopy of mango and coconut trees kept it under a blissful shade. Behind its backyard was a wide canal that separated it from the rest of the village.
It was a perfect place to sneak in and out of without being noticed.
In 1971, the shack in Ahadipur area of Dhaka's Keraniganj belonged to Mobarak Hossain, a respected village elder. It was just 15km away from the capital. But 48 years ago, when there was no proper road, the village was quite hard to reach.
During the Liberation War, this shack served as a hideout to many freedom fighters.
"My father was an avid supporter of the Awami League. This wasn't something one would openly brag about at the time. But our family was well respected. That's why we managed to support the freedom fighters almost throughout the war without anyone ratting us out to the Pakistan army," Mobarak's eldest daughter Sharifunnessa told The Daily Star at her home in Keraniganj.
A recognised freedom fighter, she was 19 during the Liberation War. She used to cook and arrange accommodation for the freedom fighters who stayed in their house while on the way to different areas of the country. She also used to hide the arms and ammunition the freedom fighters carried.
"One day, my father told me that some people would drop by and asked me to cook for them. I had no idea who was coming," she said.
The people who came to their house that night were war heroes Abdur Razzaq, Sirajul Alam Khan, Borhanuddin Gagan and Shahjahan Siraj.  At the time, they were young politicians fighting for their country.
They slept there that night and left the next day. They were the first of many travelling freedom fighters who would take refuge in their house.
"Since I had to take care of the arms sometimes, the freedom fighters gave me a basic training on how to use short machineguns, throw cocktails and place landmines. My father also went on guerrilla operations. Some of my cousins joined the war too. I also wanted to go on operations.
"But then I realised that what I was doing at home was no less important. I decided to fight the war from home. I hardly slept at night during those nine months. There were always some freedom fighters at our house."
Their house had five rooms, four of which were used by the freedom fighters. Sharifunnessa and her three younger brothers slept in one room. One of the rooms was used to keep the arms. She always kept the key to that room with her.
One night, a freedom fighter by the name Omar came to their house. It was almost midnight and he looked very pale and feeble because he hadn't eaten anything for 10 days, she said.
The man asked her if she could cook him some rice. Sharifunnessa did and he ate like it was his last meal. Omar was killed in a battle the next day, she said.
"Since then, if anyone asks for food, I never turn them away."
Freedom fighters around Dhaka knew the house very well.
One of them is Mostafa Mohsin Mintu, commander of the Dhaka District Liberation Force in 1971. He said that the contribution of Sharifunnessa's family was crucial.
"They sacrificed everything they had for us, for the country. They gave us their house. They gave us food. They didn't hesitate to risk their lives. Their house was one of the safest places in Dhaka district," said Mintu.
Sharifunnessa now lives with her children and grandchildren at her husband's ancestral home in Keraniganj.