Cassava cultivation catching on in hilly areas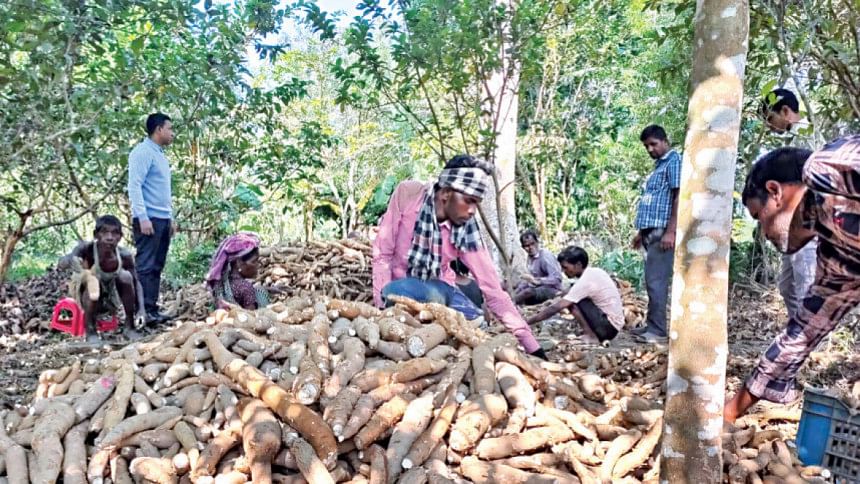 Cassava, known as shimul alu in Bangladesh, is a root vegetable widely consumed in many countries across the globe for its dietary benefits, which include healthy carbohydrates and vitamin C.
It is also a source of resistant starch, which is used by the food processing and garment industries. Keeping this in mind, farmers in Sylhet are increasingly cultivating cassava on a commercial basis.
In addition, cassava cultivation is putting hilly areas of the region to good use as the lands would have been otherwise vacant.
Cassava has been cultivated on 200 bighas of land in Kulaura upazila of Moulvibazar under the Kandal Crop Development Project of the Department of Agricultural Extension (DAE).
Farmers say yields have been good as soil and weather conditions are suitable in the region.
According to sources at the local DAE office, domestic cassava cultivation began in Kulaura upazila.
Cassava are harvested between December and February each year, some five to six months after cultivation.
Polit Bhar, a farmer of Joychondi village in Kulaura upazila, said 30 bighas of his 32-bigha field are being used to cultivate cassava under the DAE project.
Each bigha will yield up to 20 kilogrammes of cassava, earning him about Tk 6 lakh.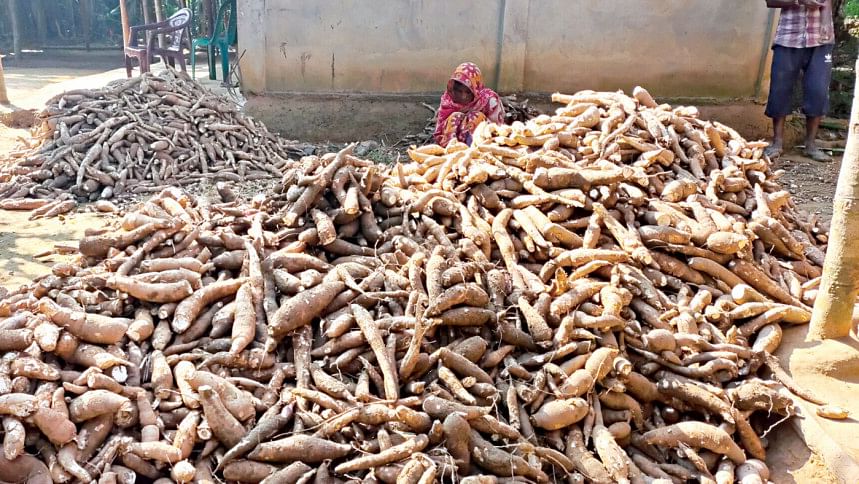 Bhar went on to say that the costs associated with cassava cultivation are very minimal as no extra care is needed after sowing.
Other than its root, the leaves of cassava plants can also be eaten as a vegetable, used as an organic fertiliser or animal feed, he said.
Md Abdul Hamid, a farmer of Jhumki Jhalai village in the same upazila, said he once considered cassava a wild plant but started growing the crop after getting to know its benefits from agriculture officials.
Locals other than farmers are benefitting too as cassava cultivation is slowly changing the region's economic landscape.
"I would find it hard to get work before but now, I can easily secure employment thanks to the expansion of cassava cultivation," said Monwara Begum, a day labourer.
Md Abdul Momin, agriculture officer of Kulaura upazila, said the DAE has been providing all kinds of support ever since cassava cultivation first came to the region.
And while cassava has considerable demand of 3.5 lakh tonnes in the country, only 2 per cent or roughly 6,000 tonnes is produced locally. As such, initiatives have been taken to expand cultivation and thereby reduce import dependence.
A total of 675 acres of land in Sylhet were used to grow 2,000 tonnes of cassava last year.
This year, the cultivation target is 900 acres, Momin added.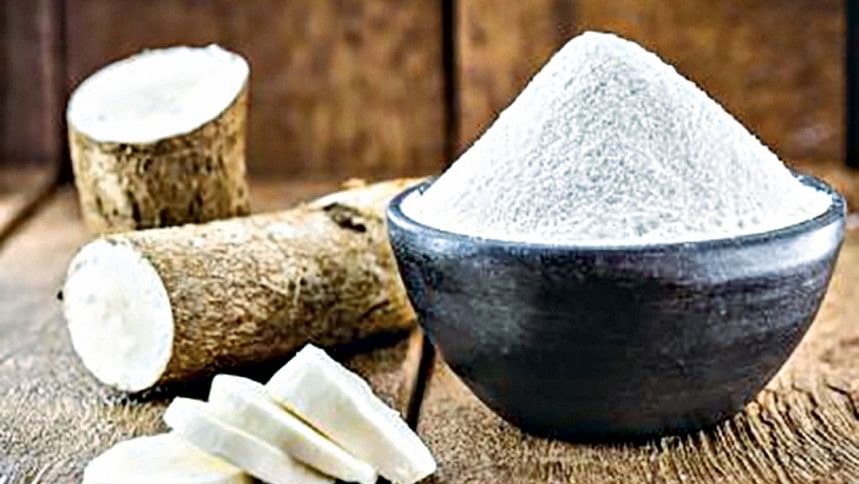 Kamruzzaman Kamal, director of marketing at PRAN-RFL Group, said cassava is a root vegetable grown on hilly, arid and relatively less fertile land.
Since 2014, PRAN has been encouraging farmers to grow cassava through contract farming. Subsistence farmers are also cultivating the crop thanks to the availability of training, financial incentives, agricultural input support and low-cost seeds.
As a result, farmers based in hilly areas are becoming increasingly interested in cassava cultivation.
Ever since PRAN took the initiative to cultivate cassava in the country, about 2,000 farmers have been contracted by the leading food processor.
This year, cassava has been cultivated in the Rangamati, Khagrachari, Sylhet, Habiganj, Moulvibazar, Tangail, Mymensingh, Jamalpur, Comilla and Bramanbaria districts with the help of PRAN.
Farmers in these regions are now busy harvesting the crop while simultaneously planting seeds for the next season.
PRAN expects to get at least 20,000 tonnes of the crop from 6,000 bighas of land this year.
The company is also increasing the scope of cultivation to get higher yields next year. Overall cassava cultivation has been set at 8,000 bighas till March with yields of at least 25,000 tonnes expected.
After harvesting the crop, the starch is processed at the Habiganj Industrial Park. Glucose, barley, semolina, bread, noodles, crackers, cakes, bread, biscuits, chips and more can be made from this starch.
Cassava starch is widely used in the garment and pharmaceutical industries as well. PRAN usually uses 60 per cent of the starch at its bakery, confectionary, noodles, glucose units while the remaining 40 per cent is supplied to other industries.
Mokhlesur Rahman, director of the Kandal Crop Development Project, said if people can change their eating patterns and develop balanced and nutritionally rich habits, areas of income will increase along with the treatment of complex diseases.
Local production of starch powder only meets 2 per cent of the demand while the rest is imported at a cost of about Tk 4,000 crore each year, he added.