Cassava cultivation catching on in hilly areas of Tangail
Cassava farmers in the Madhupur, Ghatail and Sakhipur upazilas of Tangail are enjoying bumper harvests of the crop, which has changed the fortunes of many in the fertile, hilly region.
The nutty-flavoured root vegetable, which is chock-full of carbohydrates as well as key nutrients and minerals, can be eaten boiled, baked, steamed, grilled, fried or mashed.
In addition, the high-quality starch that can be extracted from cassava has multiple uses in the textile, pharmaceutical, cosmetic and food processing industries.
For example, cassava starch is often used as a sizing agent to strengthen yarn, applied as a finishing agent to produce smooth fabrics or as a colour enhancer to obtain wear-resistant prints.
In pharmaceuticals, cassava starch is used in the production of tablets while a special modification of the material acts as a carrier for emollients in many skincare products.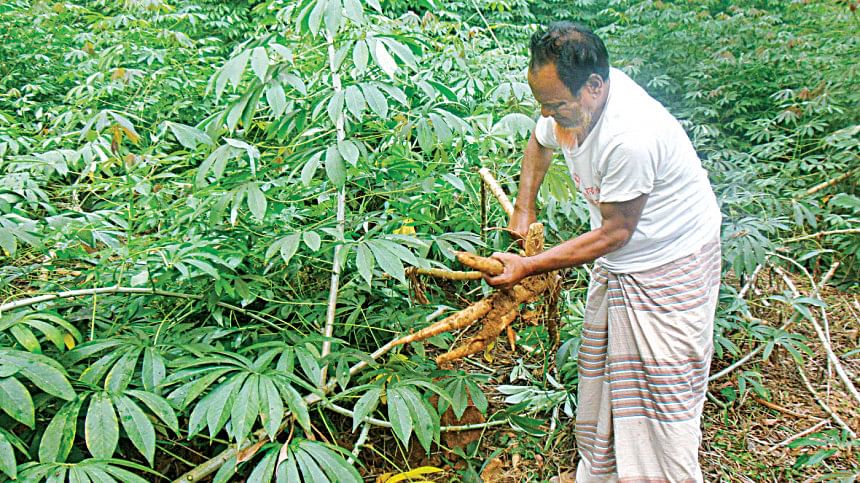 Besides, the tuber is rich in glucose that has uses in making bread, biscuits, noodles, semolina, chips and much more.
Considering the various benefits and how easy it is to cultivate, farmers say cassava could prove vital for combatting food shortages in Bangladesh while also becoming a major cash crop.
As such, the demand for cassava is increasing daily with different private companies, including the country's top food processor Pran-RFL Group, going as far as paying farmers in advance for a supply.
During a recent visit to Abedali village under Lakkhindar union of ​​Ghatail upazila, this correspondent found that private companies are the main buyers of cassava while it is also available in retail markets.
Jahangir Hossain, a local farmer who cultivated cassava on two acres of land this year, said yields have been good so far.
"So, it is possible for me to earn a profit of up to Tk 5 lakh if the market remains favourable," he added.
Local agriculture officials say it is possible to obtain about 340 grams of flour and starch from each kilogramme of the tuber.
Cassava starch is a viable import substitute that can be used to improve the quality of cement, paper, glue, rubber and soap as well.
Also, the crop's maltose and glucose content can be used to make sugars, for which the government spends huge amounts of foreign exchange to import each year.
Dilshad Jahan, agriculture officer of Ghatail upazila, said cassava is consumed as a substitute to rice in rural and hilly areas of Bangladesh.
Mahmudul Hasan, additional deputy-director of the Department of Agricultural Extension in Tangail, said cassava cultivation comes with both potential and challenges.
Normally, the crop is cultivated on fallow lands, but such areas are no longer available in hilly areas of the region.
"Besides, it takes at least 10 months to harvest cassava. So, it is risky for farmers to cultivate if not guaranteed the right prices," he said.
"However, the demand of cassava is increasing, and local farmers can cultivate it on a large scale if ensured proper marketing facilities," Hasan added.