Relaxed rules failed to speed up default loan recovery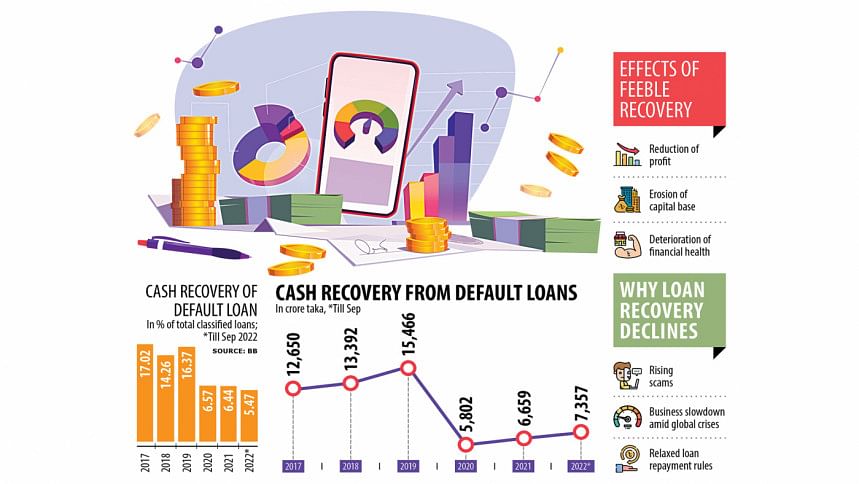 The recovery of default loans is still weak in Bangladesh despite offering relaxed repayment policies for three consecutive years to 2022 as delinquent borrowers are not paying back funds on time, hitting banks' income and cash flow. 
Although the recovery increased a bit between January and September of 2022, the trend is quite unsatisfactory given the recent escalation of bad loans in the banking sector, said experts.
Between January and September, banks retrieved Tk 7,357 crore, which accounted for 5.47 per cent of the outstanding default loans of Tk 134,396 crore, data from Bangladesh Bank showed.
Lenders recovered Tk 4,195 crore in the first nine months of 2021, or 4.14 per cent of the total classified loans.
The recovery is much lower than pre-pandemic levels, which hampered banks' smooth operation as their lending capacity has been squeezed.
Banks recouped Tk 5,802 crore from their cumulative non-performing loans in 2020 in contrast to Tk 15,466 crore the year before.
Although the central bank followed relaxed loan classification policies in the three years to 2022, the recovery did not pick up.
Ahsan H Mansur, executive director of the Policy Research Institute of Bangladesh, thinks growing scams and weak corporate governance have put an adverse impact on the recovery programme of banks.
Some shariah-based banks, including Islami Bank Bangladesh Ltd, have recently faced a wide range of scams, which will increase default loans in the days to come, he said.
"It is usually difficult to recover the funds that are embezzled.".
In May 2019, the central bank permitted defaulters to have their classified loans regularised by making a down payment of 2 per cent instead of 10-50 per cent. Besides, they were given a repayment period of 10 years with a grace period of one year.
The grace period of the rescheduled loans ended and the funds are now turning into bad again. As a result, the amount of soured loans would pile up in the coming days, Mansur said.
The central bank allowed borrowers to avoid the default zone in 2020 even if they did not pay any instalment of their loans throughout the year.
In addition, borrowers enjoyed the relaxed repayment facility until last year as the central bank allowed them to evade being classified as a defaulter if they cleared 50 per cent of the instalments payable in the final quarter of 2022.
"The relaxed facility has disrupted the loan recovery programme," said Mansur, a former official of the International Monetary Fund.
Usually, the profit of banks decreases and the capital base erodes when the default loan recovery loses steam.
"The weak recovery has already brought a negative impact on the banking sector," said Syed Mahbubur Rahman, managing director of Mutual Trust Bank.
He said a majority of banks could not recoup default loans as per their expectation amid the current business slowdown caused by various macroeconomic challenges.
In Bangladesh, many companies closed during the peak of the coronavirus pandemic, dealing a blow to the financial health of banks, he said.
A Bangladesh Bank official says the feeble loan recovery along with a higher default loan usually forces banks to raise the interest rate on loans. But they can't do so owing to the central bank's interest rate cap of 9 per cent.
"Under such circumstances, banks are trying to cut the interest rates on deposits to ensure profits," he said, adding that banks should strengthen corporate governance to reduce default loans.
Six state-run banks – Sonali, Janata, Agrani, Rupali, BASIC, and Bangladesh Development Bank Ltd – recovered Tk 1,421 crore from the NPLs in the first nine months of 2022 in contrast to Tk 584 crore during the same period a year ago.
Default loans at the banks stood at Tk 60,501 crore as of September.
Private banks got back Tk 4,894 crore, an increase of 133 per cent year-on-year. Classified loans at the banks totalled Tk 66,695 crore.
Nine foreign banks realised Tk 97.65 crore in contrast to Tk 88 crore from the collective NPLs of Tk 2,970 crore.