AI to power Google's battle against fake news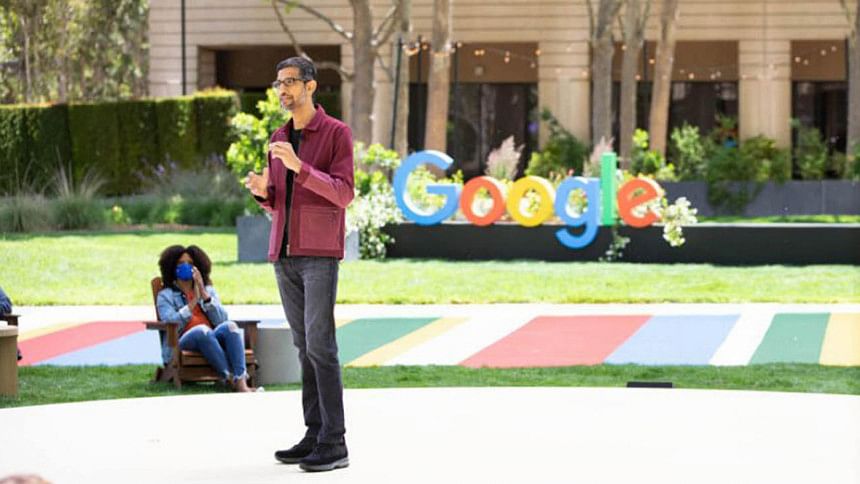 Technology giant Google's artificial intelligence (AI) development, particularly on understanding human language, will be its strongest effort yet against misinformation, says its chief executive officer Sundar Pichai.
"Humans use language in such complex ways. Our automated systems today sometimes don't detect misinformation because they don't understand the context," he said in a virtual interview last Thursday (May 27).
"The work we are doing in AI will deepen and will over time be our strongest effort against misinformation," he told The Straits Times in a call with seven other journalists from the Asia-Pacific and Brazil.
Two of the biggest AI announcements at Google's developer conference on May 18 involved natural language processing and search.
The first, LaMDA, stands for language model for dialogue applications. It allows chatbots to have conversational dialogues. The technology is still being fine-tuned to ensure the model sticks to facts and does not propagate biases before it can be rolled out.
The other, Multitask Unified Model (MUM), is an AI model that boosts understanding of complex human questions as well as text and images to improve search results.
For instance, a human hiking expert would be able to provide a thoughtful answer to this question: "I've hiked Mt Adams. Now I want to hike Mt Fuji. What should I do differently to prepare?"
The answer would consider, among other things, the elevation of each mountain, the average temperature, difficulty of the hiking trails, the type of fitness training required and the right gear to use.
Google search aims to mimic this human trait. It currently requires users to make several thoughtfully considered searches for mountain elevation, terrain and weather to get a similar answer.
MUM's development is still nascent, but it paves the way for machines to understand and interpret natural language and images.
These ongoing developments - together with a current search algorithm that ranks reputable news organisations or local authorities higher in search results - is the foundation of Google's work in countering misinformation, said Mr Pichai.
"We rely on our (search) ranking to elevate higher-quality information, including information from news organisations, local health authorities and medical organisations," he said.
In recent months, it has focused on rolling out new features to help Internet users get accurate Covid-19 vaccine-related information.
In Singapore, for instance, users searching for such information on Google see a left panel containing links to the latest news and authoritative information about locally approved vaccines, side effects, registration and vaccine locations, and worldwide dose statistics.
This is possible through partnering Singapore's Ministry of Health and the World Health Organisation.
Vaccine locations also show up on Google Maps. The feature was rolled out in the United States, France, India, Singapore and South Korea earlier this year.
Last year, Google worked with News Corp-owned news and intelligence agency Storyful to create an application called Source to help newsrooms detect fake images. The app uses Google's AI technology to analyse an image's public history and provenance, including any manipulation.
Much of Google's work to counter online misinformation also involves funding quality journalism.
A major milestone was the March 2018 launch of the Google News Initiative with a US$300 million (S$397 million) commitment to help journalism thrive in the digital age. One of the recent projects supported by the initiative is JournalismAI - a global scheme to promote the use of AI in journalism fronted by the London School of Economics' media think-tank, Polis.
In the Asia-Pacific, five media organisations have been selected to jointly work on this challenge: "How might we use AI and audience insights to help newsrooms design more relevant and interactive news narratives?"
The five are Japan's Fuji Television, Singapore Press Holdings (SPH), India's The Quint and Hong Kong's Initium Media and South China Morning Post. The project is ongoing.
Separately, SPH, which publishes The Straits Times, is already trialling Singapore's national speech corpus to train AI chatbots to recognise locally accented English to power a virtual news reader.
Last October, Google also pledged US$1 billion over three years to pay global publishers to create and curate content on its news platform, called Google News Showcase. It is now available in places including the United Kingdom, Australia, Germany, Brazil, Argentina, Italy and India.
Regulators, however, have a different idea of how to manage the misinformation war, which is linked to the Internet giants' dominance of online advertising that threatens the survival of media organisations.
Australia fired the first regulatory shot when it passed a landmark media law in February to require tech platforms like Google and Facebook to pay local media publishers to link their content on news feeds or in search results, or face arbitration. Google was close to turning off its search function in Australia as it found the new law - also known as News Media and Digital Platforms Mandatory Bargaining Code - onerous. Specifically, the law also requires advance alerts about changes to algorithms that might significantly affect referral traffic to news websites.
Google did not carry out the threat, and managed to strike deals with Australian publishers before the law was passed.
Facebook, on the other hand, blocked Australians from accessing and sharing news on its platform, but faced a global backlash. It later reversed its position and forged deals with news publishers.
Google, which is facing government lawsuits in the US over accusations of anti-competitive tactics, seems resigned to more regulatory intervention around the world.
Asked last week if he has concerns that the landmark rule in Australia could set a global precedent, Mr Pichai said: "We had concerns around making sure that free interlinked Internet can work as is, while supporting a way to license content from publishers.
"Different countries have different aspects they get concerned about and they have different regulatory approaches... but we are committed to finding a solution."
Copyright: The Straits Times/ Asia News Network