Paving the way for inclusivity
Deshi Ballers welcomes women with diverse gender identities in sports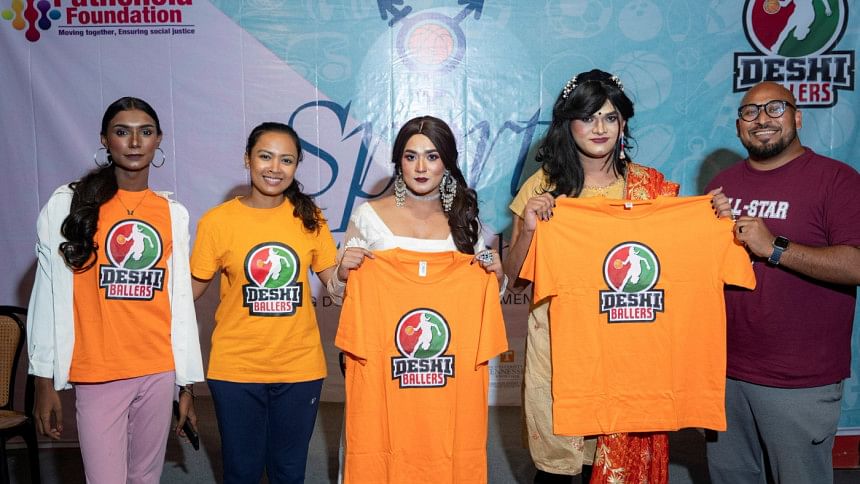 On July 22, Deshi Ballers, a female-led sports development group working to create a platform for women, launched "Sports Without Labels" in collaboration with Pathchola Bangladesh. This initiative marks the beginning of a journey to pave the way for a more diverse and accepting sports community in Bangladesh.
Through this partnership, Deshi Ballers officially welcomed women with diverse gender identities to actively participate in sports and fitness events, pledging to introduce tailored sports programs to create an inclusive space where everyone can showcase their skills and passion for the game.
Deshi Ballers Co-Founder, Ashreen Mridha, illustrates how the motivations behind this initiative began.
"This project comes from a very personal place. My mother would accompany me to and from school back in my school days. There, we frequently encountered a transgender woman struggling to make ends meet on the streets.  Despite being perfectly capable, she was denied employment opportunities due to prejudice. I have a younger brother who needed a caregiver back then, and my mother employed her to look after us."
Ashreen describes this person as a mother figure. However, despite her extensive involvement in sports, Ashreen never witnessed transgender representation within the field. Instead, they were often relegated to the fringes of society, facing discrimination and relying on begging for survival. 
Manisha Meem Nipun, a transgender woman and a founding member at Pathchola Bangladesh, an organisation dedicated to improving the lives of the transgender community, resonates deeply with Ashreen's insights and recalls her own experiences. 
At the age of six, her inclination towards feminine traits led to her exclusion from playing with boys. Her peers from primary school marginalised her by withholding participation in sports like cricket and resorting to derogatory language. 
"Activities like basketball or cricket remained beyond my reach. Now, at the age of 25, I have a platform that empowers my community's voice. After enduring 25 years of prejudice, I finally have the chance to make meaningful contributions and find ways to give the upcoming generation the potential to seize the opportunities that were denied to us," Manisha adds.
In the absence of platforms that embrace deserving communities, Deshi Ballers recognised the need for action. 
"Our platform may be small, but it serves as a stepping stone. We start by opening our doors for basketball but plan to expand on health and fitness too. We aspire to create a safe space that fosters inclusivity. This initiative represents a significant shift in Bangladesh, and I hope this collaboration serves as a driving force for more organisations to step forward," adds Ashreen.
Both Ashreen and Manisha emphasise that this initiative is driven by action. Beyond mere events and photographs, they look forward to meaningful engagement, and for people of diverse gender identities to reach out to them and finally find the safe space they've been deprived of.
In a world fragmented by labels and titles, Ashreen concludes by expressing hope for a future in which gender labels no longer limit their playgrounds.