Medical board formed for 4 US-Bangla plane crash survivors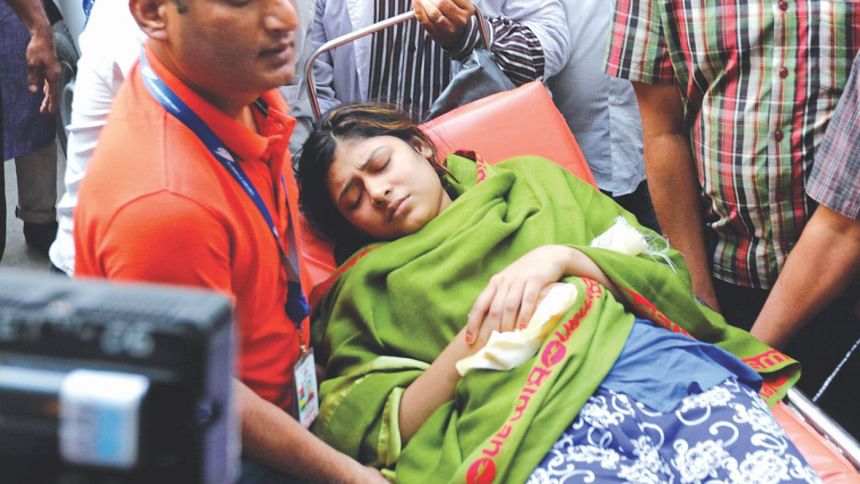 The Dhaka Medical College Hospital (DMCH) authorities have formed a 13- member medical board to provide better treatment to the four Bangladeshi survivors of the US-Bangla airlines' plane that crashed in Nepal's Kathmandu.
Samanta Lal Sen, national coordinator of burn units across the country, is leading the medical team, Prof Dr Abul Kalam Azad, director general of Directorate General of Health Services (DGHS), said today.
Three psychiatrists, including Dr Abdullah Al-Mamun, head of Psychiatry Department of the DMCH, out of the 13-member team, observed the physical conditions of the four survivors -- Shahreen Ahmed, Mehedi Hasan and his wife Saiyada Kamrunnahar Shwarna and Almunnahar Annie -- at the hospital cabins this morning, the DGHS DG said in a press briefing held at the hospital's main building.
Annie lost her husband Priok and their only child Tamarra in the tragic accident
"They are facing problems mentally but their conditions are not serious. Their proper treatments are going on," Dr Abul Kalam Azad quoted the psychiatrists as saying.    
Mehedi and his wife Shwarna and Almunnahar Annie were brought to DMCH yesterday while survivor Shahreen came back on Thursday. Now, they have been undergoing treatment in separate cabins of DMCH's burn and plastic surgery unit.
On March 12, the crash in Nepal's Tribhuvan International Airport (TIA) left 51 dead. It slammed on an empty field and burst into flames. At least 28 Bangladeshis were among the dead.