Gun-toting man now DU teacher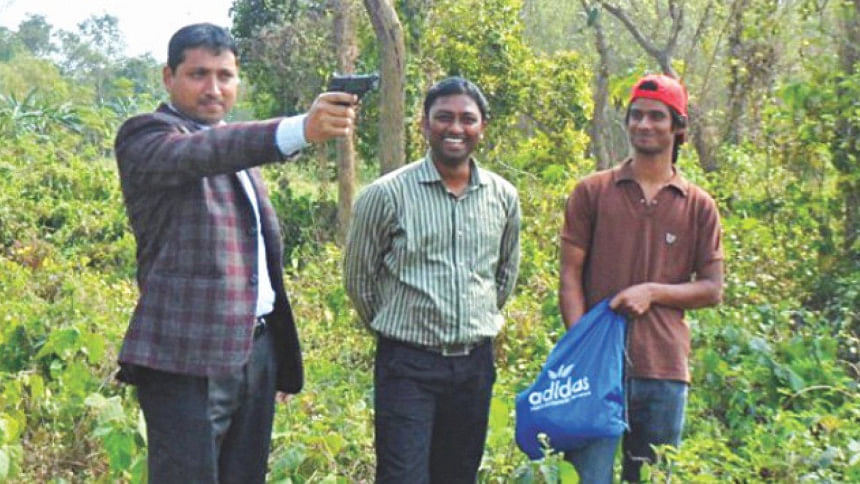 Dhaka University (DU) authorities have appointed a teacher who allegedly took "training on the operation of firearm" from Bangladesh Chhatra League (BCL) men on Islamic University (IU) campus in Kushtia in 2014.
A photo of the "training" was published then in different media where Matiar Rahman, then a teacher of statistics at Jagannath University, was seen aiming a pistol near Mofiz Lake on IU campus.
READ MORE: IU suspends BCL men for imparting firearm training 
Standing next to him in the photo, an all-smiling Sajibul Islam Sajib, a joint convener of IU unit BCL, and his aide BCL activist Salauddin Ahmed were also found allegedly imparting the training. In another photo, Sajib was seen firing a pistol during a clash on the IU campus on September 7, 2013.
On September 8, 2014, the IU authorities suspended Sajib and his aide for allegedly training Matiar Rahman, who is now an assistant professor of statistics department at Dhaka University.
DU authorities said that they were not aware of about Matiar's activities on IU campus.
"Ten months ago, Matiar was appointed along with some other teachers. The selection committee did not know the matter at that time," said Prof MA Jalil, chairman of DU's statistics department.
He said: "If we knew the allegation, the committee would consider it as a moral degradation."
Matiar could not be reached over phone calls despite several attempts.
DU Pro-Vice Chancellor Md Akhtaruzzaman said, "I had not heard such allegation before and we did not find him convicted in any criminal case."