1 die, 3 injured in fire incidents in capital
Two victims of Ashulia blaze die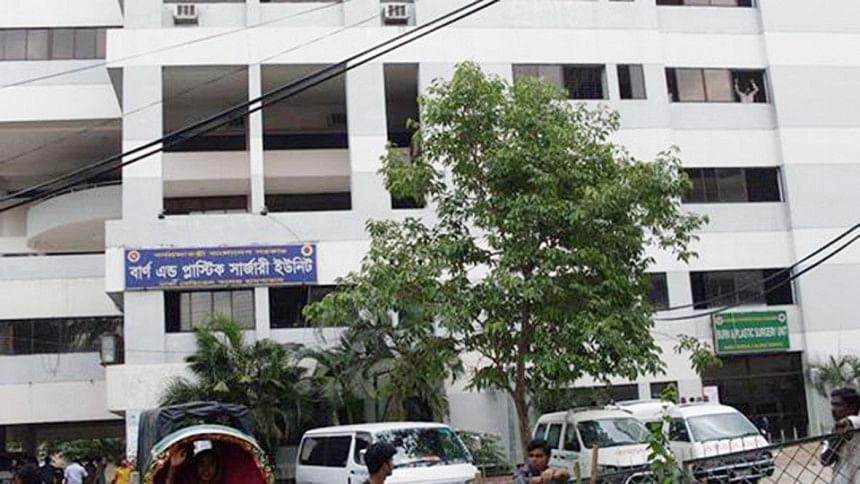 One person died while there others were injured in two separate fire incidents in the capital yesterday.
In Mohammadpur, a man and his wife were burned in a blaze caused by a gas cylinder explosion early in the morning.
Saiful Islam Rubel, 28, passed away at around 7:30pm while undergoing treatment at the burn unit of Dhaka Medical College Hospital (DMCH), said Bachchu Mia, in-charge of DMCH Police Outpost. His wife Sajeda Akter, 20, is fighting for her life at the same unit.
The cylinder exploded around 5:00am as a burning mosquito coil came in contact with its gas pipeline, said Ashraful Islam, station officer of Mohammadpur Fire Station.
Rubel and Sajeda were asleep in their tin-shed room at Nabinagar Housing area when it caught fire after a loud bang, Rubel's brother Mohammad Sabuz told The Daily Star.
At least 15 pigeons were also burnt to death in the fire.
Meanwhile, two sanitary workers sustained burns in a fire while working in a multi-storey building at Kadamtoli.
Riaz Hawlader, 25, and Sohel, 22, are undergoing treatment at the DMCH burnt unit, said Bachchu.
The fire originated around 11:30am when one of them lit a matchstick to find a leakage, sensing odour of gas, their co-worker Shaheen told reporters at DMCH.
TWO MORE VICTIMS OF ASHULIA FIRE SUCCUMB
Two more victims of the recent house fire in Ashulia succumbed to their injuries at Dhaka Medical College Hospital on Monday night and early yesterday, raising the death toll to three, reports our Savar correspondent.
Asha Moni, a relative of the victims said Arab Ali, 60, died on Monday night and his son Abdullah, 35, died yesterday morning.
Arab Ali's wife Hasina Begum, 50, succumbed to her injuries on Saturday, a day after the incident.
Arab Ali's daughter-in-law Ripa, 20, and her one and a half year-old granddaughter Ayesha are undergoing treatment at the burn unit.
"Doctors said the two are not out of danger," Asha Moni, sister of Ripa told The Daily Star over phone.
Meanwhile, Mokshedur Rahman, deputy general manager of Titas Gas Transmission and Distribution Company in Savar, on Monday confirmed to The Daily Star that the gas connection in the building where the accident occurred was illegal.