'Chose this land over my father'
Rajshahi freedom fighter narrates life-altering decisions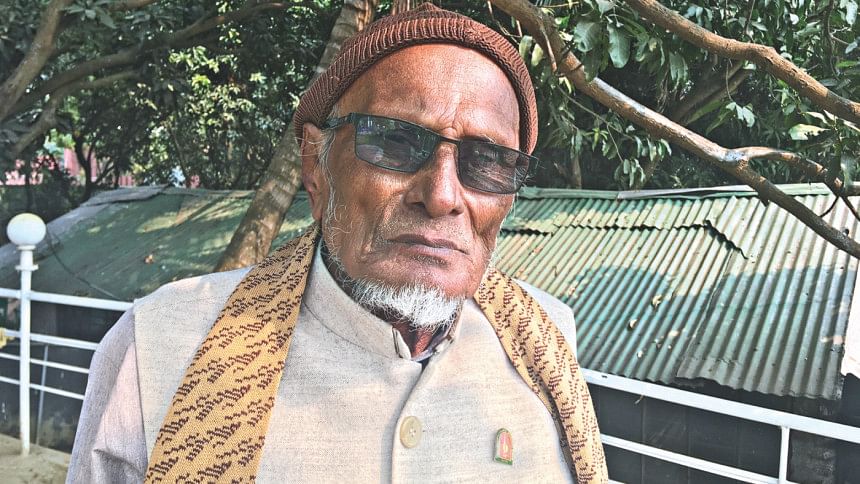 By June of 1971, Pakistani forces had occupied most of Rajshahi district's key installations and were expanding their control to remote areas through mass killings, rape and burning villages.
Guerrilla warfare was the only option for freedom fighters at that time.
They adopted a strategy to cross the Padma river from their camps in Indian territory, conduct operations in Rajshahi and return back to India. But freedom fighters noticed their guerrillas were facing resistance in some villages.
The villages had something in common: its dwellers migrated to the then East Pakistan from India following the 1947 partition.
Many of the villagers were followers of Jamaat-e-Islami and supported Pakistan during the war.
Gohomabona of Paba upazila was one such village identified by freedom fighters for launching an immediate operation.
Most villagers were members of the 'Shanti Committee' that was actively collaborating with the Pakistani forces.
They used to gather at a school and guard the village at night -- creating barriers for the freedom fighters. The operation at the village became necessary to free the area.
To that end, the then Sector-7 Sub-sector Commander Captain (later Brigadier) Giasuddin Ahmed Chowdhury sent two troops of freedom fighters to Rajshahi on June 4.
Freedom fighter Nur Hamim Rizvi Bir Protik led one of the troops.
The other troop was led by Abdul Malek Chowdhury, who hailed from that village.
Malek's father Abdus Sattar Chowdhury, however, headed the village's Shanti Committee.
Before the operation started, Nur Hamim asked Malek to refrain from entering the village with his troop.
He also asked Malek what to do about his father.
Malek replied, "Look for enemies and eliminate them, even if they are my blood relatives."
Eventually the troops took over the village, killing Malek's father that night.
Forty-eight years after the war, Malek -- now 73 -- shared the life-altering incidents with this newspaper.
"I was practically responsible for the death of my father," he told The Daily Star. "I did it for the country's independence."
"Out of us five brothers, four supported Pakistan (during the war)," Malek said. Two of his brothers were killed for actively collaborating with the Pakistani army, he said.
The other two escaped; one of them died a year ago while another is still alive.
Many settlers -- including his father -- migrated here from India to be Pakistani citizens. They did not believe in the idea of Bangladesh or secular values, he said.
"My father believed that Pakistan was a holy place for Muslims," he said, adding that he often debated with his father and argued that Pakistan was never good because of its brutal and discriminatory rulers.
Separating from his family was difficult for Malek, but his political ideologies helped.
Born on September 12, 1946, Abdul Malek Chowdhury got involved in Chhatra Union -- a leftist students' platform -- while in college. He later became a member of Communist Party and eventually joined Awami League.
"I closely observed how Pakistani rulers were discriminating, and squandering our resources. They waged the war upon us to forcefully stay in power," he said.
Though his mother was not educated, she was a liberal and supported the Liberation War, Malek said.
When he finally bade farewell to his family members to join the war, his mother cooked his favourite dishes and advised him to rely on his conscience.
His elder brother told him that it might be their last meeting as the Pakistani army were going to eliminate all freedom fighters.
In high school, Malek Chowdhury had joined the Ansar force as a volleyball player and took advanced firearms training.
That training came in handy when he was motivated by the historic March 7 speech of Bangabandhu Sheikh Mujibur Rahman and formed his own group of freedom fighters.
"We looted firearms from Boalia Police Station. It was not actually a robbery. The police station in-charge Abdus Salam assisted us," he said.
He took part in several battles, including the one in Rajshahi Cantonment.
When Pakistan army occupied Rajshahi on April 13, Malek went to India along with others.
In India, he was made in-charge of a freedom fighters' camp at Maldaha Poratuli, opened by the Communist Party. He trained scores of freedom fighters.
On November 7, he took part in the remarkable battle of Rajshahi's Kosba.
Reflecting on the current socio-political situation, he said he feels awful when he sees many ruling party members becoming rich overnight and engaging in corruption.
He says his hope now lies with Prime Minister Sheikh Hasina, who has directed drives against corruption.