Urban monkeys of Dhaka (video)
Taken away their natural habitat, around a thousand monkeys are still thriving in some places of Dhaka city.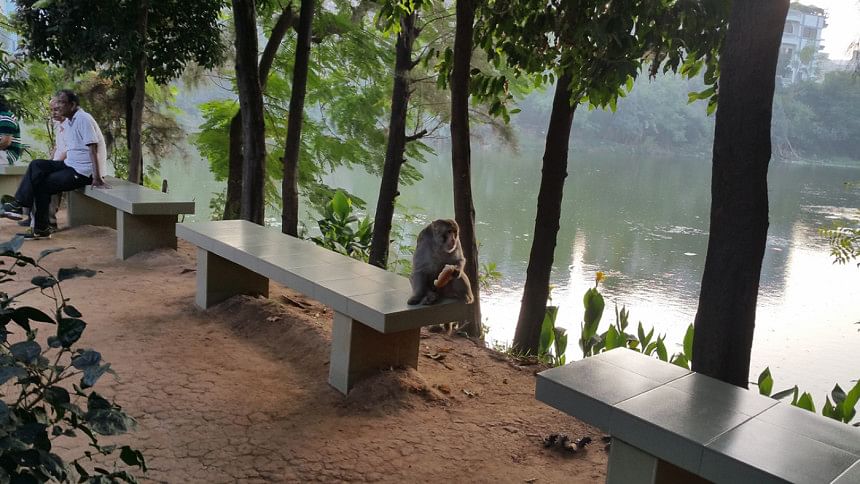 For the last two years, whenever Pintu visits his parental home in Doniya, a few kilometres of Syedabad, he sees a bunch of wild monkeys on the rooftops in the tree-less neighbourhood.
Seeing them play around, he tells his old ma, "Why don't you give these poor souls some food."
And his ma would angrily reply, "Give them food? They are a bunch of hooligans! I don't know where they came from—but they are terrorising the neighbourhood for the last two years."
Doniya never had monkeys. Pintu guessed they must have moved out from the concrete jungle of Old Dhaka where they have been living for many decades now.
Pintu keeps on persuading his ma to be kind to these animals. After all, Pintu is aware that we humans have taken away their livelihood by chopping down the trees and building structures. The least we can do is offer them some food occasionally.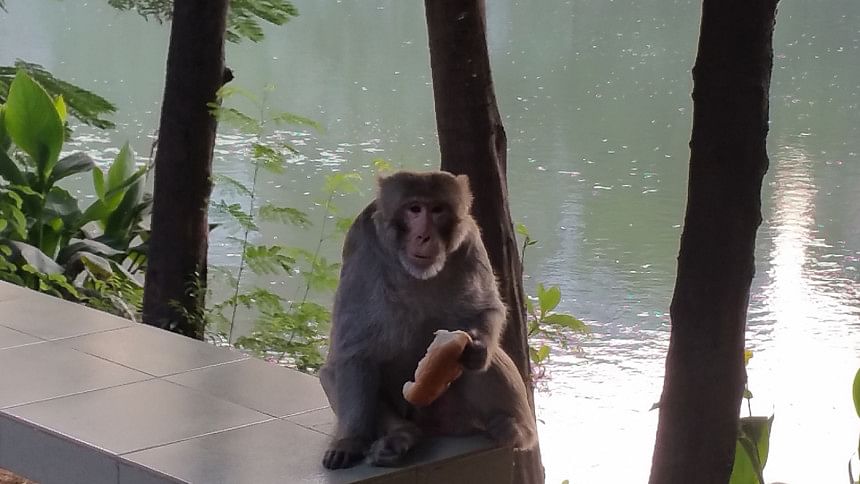 "What do they do?" his mom would somewhat angrily reply.
"They use the rooftop water tank as their swimming pool," she says, perhaps with a bit of smile beneath her annoyance, "we now have to lock the cover of the water tank. Can you imagine that we keep our water tank under lock and key?"
"And when we are away, the group invades our kitchen," Pintu's working sister adds, "they slip in the smallest of the monkey group through the window. The little one then opens up the door from inside. Can you believe that? Then they loot every edible thing they find there."
"One day when I came from office and opened the door to see everything vandalised, I looked around and found nobody. Then I noticed that there were many small silhouettes behind the curtains. I pulled the curtains and these monkeys came out, jumping and screaming and making their way out through the door. They were all hiding behind the curtains by clinging on to them. Can you believe that?" Pintu's sister points out.
The urban monkeys have indeed learnt a few tricks to survive in the city. They must steal human food to survive where there are no trees. They would socialise on the rooftops and have fun in a way its not possible in forests. Pintu says he saw the monkeys pull down the clothes kept on the rooftop wires for drying and sit on the clothes and were 'partying'.
The Dhaka city which used to have all kinds of animals a century ago still has around 1000 monkeys, according to forest department.
There are still several groups of monkeys in old Dhaka (and larger number across the river in Jinjira), Bangabhaban, Dhaka Cantonment and the airport area and recently some monkeys are sighted in Uttara.
As the Daily Star attempted to make a video story on the monkeys of old Dhaka, we found out that they were more elusive for video recording or photograph. They are jumping off roofs to roofs.
If you regularly visit the Cantonment area, you may have already seen a bunch of monkeys off the Jahangir Gate. They look quite healthy and in good condition as there is still an echo system to support small group of monkeys. Plus the army is kind enough to provide some food.
In Uttara, some monkeys may have migrated to pockets of parks and greeneries from the airport area which has a large echo system.
I have been spotting a couple of monkeys in various places of Uttara—from Sector 1 to Sector 14 over the last few years. I found one particular male monkey in the Uttara Sector 13 park for the last few months and in very healthy condition.
This particular monkey is not afraid of people—probably because it was not exposed to children throwing stones at him like they usually do and also because people deal with him with kindness. They offer him breads and biscuits considering him to be the last of his kind in this concrete city.