Four arrested with LSD and new drug 'DMT' from Dhaka's Tejgaon, Rab says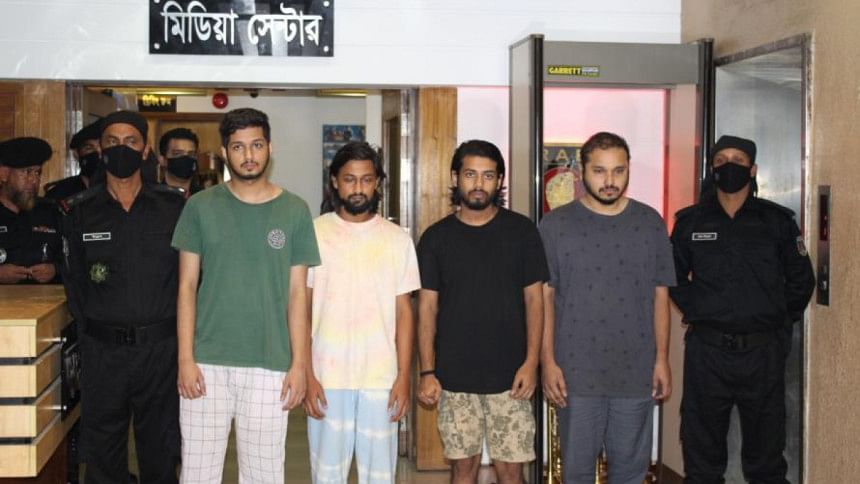 Rab claimed to have arrested four alleged drug traders along with lysergic acid diethylamide (LSD) and a "new drug" N, N-dimethyltryptamine (DMT) from Dhaka's Tejgaon industrial area last night.
The arrestees are: Syed Moin Uddin Ahmed alias Shadab (29), Abraham Zunayed Taher (25), Swapnil Hossain (22), and Simiyon Khandaker (23).
Rab has recovered 40 pieces of LSD blotting paper, 600mg of DMT and 82gm of cannabis from USA from their possession, Khandaker Saiful Alam, commanding officer of Rab-2, told a press briefing at Rab media centre today.
Two of the arrestees studied abroad while two others are studying in local universities. They are addicts and involved in selling the drug too, Rab officials said.
The arrestees used to smuggle the drugs from abroad through postal services, the commanding officer of Rab-2 added.
The CO said they have no previous record of seizure of DMT, a hallucinogenic drug like LSD, in the country. However, it can be produced in chemical labs.
The arrestees during preliminary interrogation said they collected 600mg of DMT at around Tk 20,000, he added.  
According to Rab, Moin, after completing O-level from an English medium school in Uttara, went to India where he completed A-level. In 2015, he went to Thailand to study BBA where he became addicted to LSD and DMT.
After returning home, he used to collect the drugs through postal service and continue taking those and selling to others, they said.
Zunayed went to Malaysia after completing O-level and stayed there till 2016. Later, he went to UK where he got addicted to LSD and DMT. Returning home in 2020, he started selling the drugs in the country, according to a Rab press release. 
Swapnil and Simiyon, two students of private university, are their associates, it added.