A modern love story in translation
Review of the Bangla translation of 'Amrita-Imroz: A Love Story' (Penguin, 2006) by Uma Trilok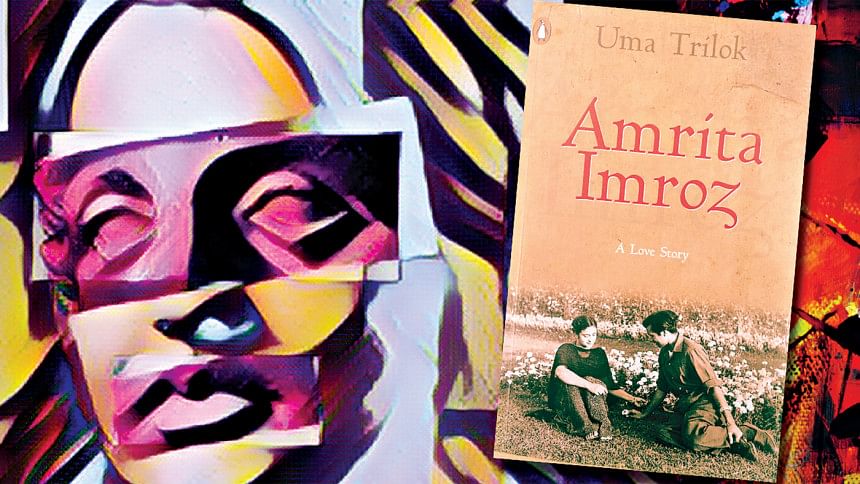 I became an ardent admirer of Amrita Pritam, the maverick Punjabi author, an outspoken critic of the Indian patriarchy and discriminating social practices, three decades back in New York when I was putting together an anthology of world feminist poems in Bangla translation. While translating one of her fiercely feminist poems for my collection, I came to know more about her exceptionally eventful life, particularly her much-talked-about love life.
Though not a Bangali herself, Amrita Pritam is quite known and, to some extent, popular in contemporary Bangladeshi society, mainly among the intelligentsia. This is mostly because of her bold, beautiful, and multifaceted body of literary oeuvre, and partly because of her rather unconventional yet everlasting relationship with artist Imroz. But only recently, I was fortunate to find a full-fledged book on Amrita, Imroz, and their rather unprecedented relationship, thanks to my translator friend Dilwar Hasan, who took the time and trouble to render the book titled Amrita-Imroz: A Love Story by Uma Trilok into Bangla titled Amrita-Imroz: Ekti Premkahini (Baatighar, 2023).
Dilwar Hasan, a longtime Pritam aficionado had been following her for almost four decades, and read many of her own books and books written on her, including the ones by Uma Trilok herself. In his sizeable and informative introduction, Hasan stated that his latest read on Amrita—the book by Uma Trilok—blew him away by its spontaneity, simplicity, and authenticity. Hasan then decided to translate it for the benefit of the wider Bangali readership.
Uma Trilok, an educationist by profession and a poet, painter, singer, and classical dancer by passion, was a great admirer of Amrita Pritam. Since her childhood, Trilok used to recite and sing Amrita's songs and poems. Even after growing up, she harboured a deep fascination for Amrita's literature and lifestyle. She mentions in the very first chapter of the book that in 1996, after reading Amrita's poetry collection in English translation, titled Sometimes I Tell this Tale to the River (Hind Pocket Books, 2003), she developed an intense urge to meet Amrita in person. The story takes off from their first meeting and ends with Amrita's demise in 2005. It was published in book format the following year with both popular and critical success.
Trilok discloses in her introduction to the book that this was based on her years of intimacy and close encounters with Amrita and Imroz, but it was not very clear exactly when their first meeting took place. However, we get a feeling that the memoir is only an account of the last few months of Amrita's life and her beautiful friendship with Trilok.
As the story unfolds, we find Imroz, Amrita's soulmate, taking centre stage and becoming an integral part of the book. Structured into several small and loosely-connected chapters, the book goes beyond the boundary of the trio's personal relationship and sheds light on her childhood and youth—her early marriage with an elderly individual named Pritam Singh; their emigration to India after the bloody and brutal partition of the subcontinent in 1947; her becoming the mother of two children; her troubled and tormented married life and eventual divorce in 1960; her complex emotional relationship with poet Shahir Ludhianvi and Sazzad Haider; and of course, the subsequent arrival of the painter Imroz in her life.
All these and much more of their lives and thoughts were eloquently captured in the Bangla rendition, painstakingly accomplished by Dilwar Hasan thanks to his absolute command of the languages and mastery of the tricky art of literary translation.Through Hasan's lucid and evocative translation, the readers are able to get easy access to the inner world of Amrita and Imroz, enabling them to understand the true nature and extent of the complexity of their phenomenal love and friendship. However, part memoir, part biography, and part commentary on Arts and Literature, this book never shies away from mentioning Amrita's bold statements on family, gender, sexuality, society, power, politics, and world affairs.
In conclusion, I strongly recommend this book to those who are curious to know more about the extraordinary life of the writer par excellence Amrita Pritam and her deeply transcendental relationship with Imroz, as well as to those who are interested in understanding the inner workings of the human mind and emotion; the complex chemistry between man and woman; the true definition of love, marriage, and sexuality; and above all, the dynamics of art and creativity.
Alam Khorshed is an Engineer-turned-writer, and is predominantly a literary translator. Author of 25 books, Alam Khorshed received the Bangla Academy award for translation in the year 2022.