Panihar Public Library: A heritage in ruins
A library containing more than 7702 periodicals, encyclopedias and books on literature, religion, poetry, science and economics—all wasting away from neglect.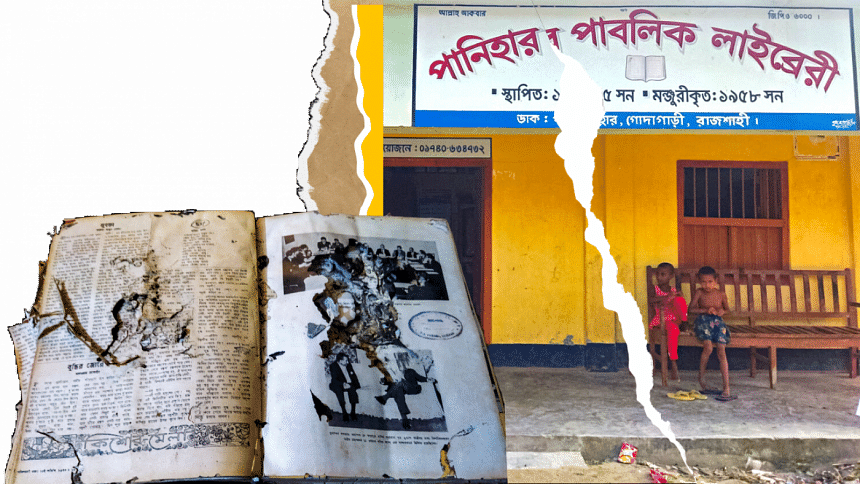 The 72-year-old Panihar Public Library was established in the mid-1940s, arriving as a beacon for the people of Panihar, a remote village of Rajshahi's Godagari upazila, which had been formerly immersed in the darkness of illiteracy. It served the community for seven decades. 
Disregard and neglect has now dimmed its light. The library, which was run under the Ministry of Education and Culture during the Pakistan period, has stopped receiving endowment. More than 7,500 books have been destroyed due to lack of renovation and preservation.
Apart from this, not many readers are seen in these libraries due to the lack of a proper reading environment; instead, one can easily spot termites moving across the space. Valuable books which are more than 100 years old are turning into ruins. 
According to library sources, a philanthropist named Enayetullah Master built the library in a tin shed house on two acres of land next to his house. Today it stands without any touch of modernity. However, many poets, writers and researchers rush to access a lot of its rare books. 
Daingpara intersection is situated in the Godagari upazila headquarter, which is about 35 kilometers away from Rajshahi city. Aihai village is 12 km away from here. Back in the days, this area, which lies within the arid Barendra region, was inhabited by indigenous groups. The road used to access the area was a long and wide one. One could access Panihar village after crossing the winding narrow road through Aihai village. This region is still known as a remote area within Rajshahi city dwellers. But Panihar is known not only in the country but is also recognized internationally due to its library.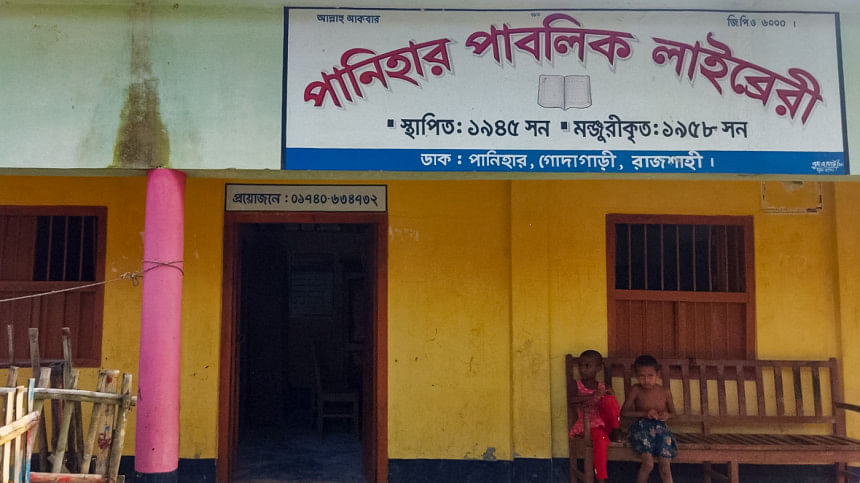 Going there and seeing the library in front of my very own eyes made me tear up. An old newspaper file on the table was being consumed by termites; the wooden cupboards were falling apart; valuable books inside were in an unprotected state. Librarian Moazzem Hossain said that they are struggling to protect the priceless books. The walls of the library are hung with portraits of famous events and sages. 
How was this library established in such a remote area? Veteran reader Rafiqul Alam said that the founder Enayetullah's father was a farmer but had a thirst for learning. As a result, he sent his son to Nawab Bahadur High School in Murshidabad, where he passed the entrance exam in the Bangla year of 1318. It was during this time that he became a member of the Nawab Bahadur High School library, which he used to visit frequently. When he returned to the village, he dreamed of establishing his own library.
Building on this aspiration, he first established a school in the Aihai village. The school started in 1938 with a monthly salary of 15 taka for teachers. He went from house to house to convince parents to let their children attend his school. Textbooks were brought from Calcutta—but the library did not exist as of yet. As the number of books increased, the Panihar Library was established in 1945. 
Enayetullah reached out to the villagers to contribute to the library. He constructed the building in front of his house, using mud. At the same time, Sagaram Majhi—a classmate of Enayetullah—was elected as the MLA from this area in the United Front elections. Majhi came forward to support Enayetullah's initiative. Soon, the library was bustling with readers. 
Librarian Moazzem Hossain tells me that this library has more than 7,702 periodicals, encyclopedias and books on a plethora of topics, such as: literature, religions, poetry, science and economics. There are about 30 cupboards, 4 tables, and 30 chairs. Moazzem could not keep any daily newspapers due to lack of funding. Before the pandemic, 20 to 25 readers used to come regularly. The number has come down to around 10 or 12 people since the pandemic. Mobile phones have become popular during the pandemic, Moazzem observes, and therefore it has become difficult for readers to adopt the habit of reading books. 
Panihar Library has books from a multitude of authors, from Bankim, Sarat, Rabindranath, Nazrul, and Abul Mansur Ahmad to the popular Humayun Ahmed. There are many periodicals from both sides of the border, such as Shonibarer Chithi, which was edited by Rajinikanth Das of Kolkata, Mashik Mohammadi, Mahe Nao, Jayati, Notun Din, Joy Bangla and Dainik Bangla. These books are arranged in the cupboards of the three rooms of the new building. Former Minister Prabhas Chandra Lahiri, Shaheed Dhirendranath Dutta, Pallikabi Jasimuddin, Kavi Bande Ali Mia, Charankabi Abdul Mannan of North Bengal and many other eminent persons have visited the Panihar Library, Moazzem tells me. 
Panihar Public Library President Abdul Matin shares that the library was first approved in 1958. The name was changed to 'Panihar Public Library'. During that period, it was administered under the Ministry of Education and Culture and the annual grant received was 500 rupees. In 1980, the Ministry handed it over to the Deputy Commissioner, who in turn handed it over to the Upazila Nirbahi Officer in 2000. No more donations came to the library since then, barring irregularly received sums from the Ministry of Culture. No grants have come to the library since 2017 despite several applications. 
Some politicians occasionally visit the library, but their promises of improvement, too, remain unimplemented, according to library officials.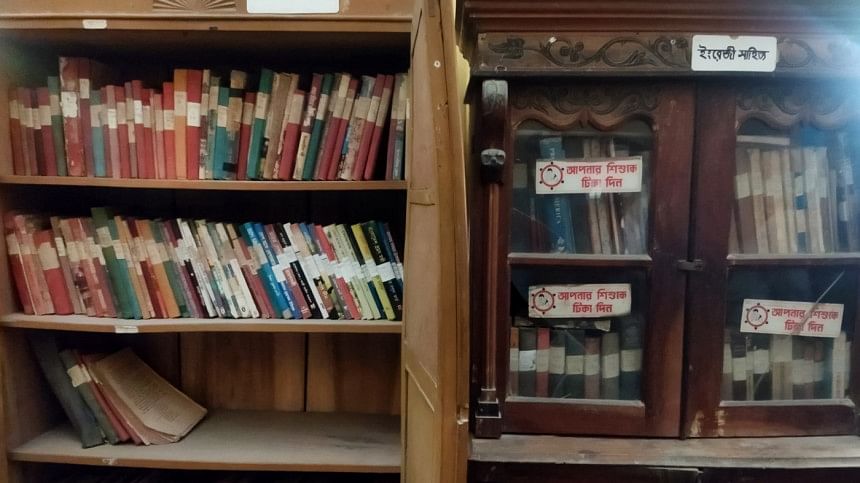 However, Godagari Upazila Nirbahi Officer Md Jane Alam tells The Daily Star, "I have visited the library twice. It seemed very important to me. I asked them to contact me regarding the library and that I would fully cooperate once they make a request detailing what it will require. But they did not communicate. I would request them to communicate officially." 
"Old libraries often do not formally apply, and so they do not receive grants", explains Minar Mansoor, Director of the National Library Center, "But such libraries should get grants. I will look into it through the divisional librarian." 
It is worth noting the absence of a computer, internet connection or any IT equipment in Panihar library. Modernity hasn't even touched the place. A two-room structure was built next to the mud house with the help of the upazila council in the '90s. The abandoned mud house next to this two-room library, with some children reading in the afternoon on its balcony, is now used as a school and reading room for public education programs. This is where the work of Panihar Library initially began. 
Gholam Mostafa, a student of Rajshahi University who has visited the library, told The Daily Star, "There is a rare collection of books and periodicals of Bengali literature. Administrators should come forward to preserve them so that the library survives by capturing the history of the country." 
Writer and researcher Khan Md. Rabiul Alam echoes, "I went to Panihar Library for a while and was surprised. They have a wonderful collection of books and magazines. 72 years ago, such a library was unthinkable in a remote village. It is very important to sustain it. I think that this library is an important monument of Bangladesh. These initiatives often do not come to our attention and, therefore, they should be kept alive collectively."
Translated from Bangla by Hrishik Roy. 
Emran Mahfuz is a poet, writer and researcher.