Riverdale can be anytime, anywhere
The timelessness and adaptability of Archie comics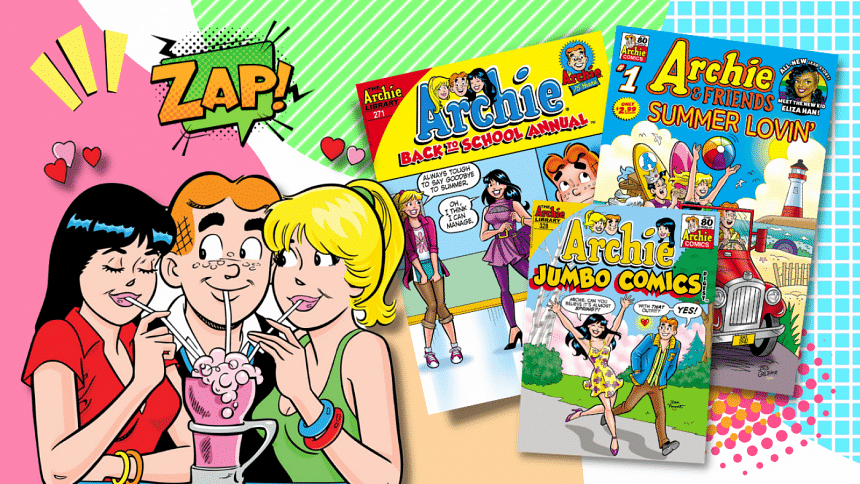 My introduction to Archie comics (c. 1950) came through my chhoto chacha, who would read them to me in Bangla, taking the time to translate the dialogues. One would think he would be hesitant to do it—these were stories about high schoolers, and I was barely in the first grade. But he is one of the 'cool' ones. This is when my fascination began with the beloved comics, which depicted a charmed American life where teenagers didn't need to wear school uniforms, everyone dated freely, and children could hang out without parental supervision. While canonically the characters were older than me, their world seemed fun and real. My curiosity got the better of me, and my chacha took notice. 
Incidentally, this was also a time when I watched Kuch Kuch Hota Hai regularly on our VCD player. In his memoir, An Unsuitable Boy (2016), Karan Johar revealed that his primary inspiration behind the 1998 blockbuster romantic drama, particularly the first half, was Archie comics.
With my heart brimming with a newfound sense of accomplishment when I stood first in my class in the third grade, I turned to my dad with a humble request: Archie comics. Alas, my yearning was met with a gentle clash of opinions, as my mom believed that my triumph deserved a grander celebration. 
I diligently collected every polymer 10 taka note that came my way, carefully stowing them away in a piggy bank. With each passing day, my anticipation grew, as I inched closer to the magical sum of 90 taka required to purchase a digest. My boro mama, who was also my tutor from the third to the sixth grade, was deeply moved by my enthusiasm for Archie comics. As a heartfelt gesture on my 11th birthday, he presented me with a selection of them, thoughtfully considering the ones that were not already a part of my cherished collection.
My bookshelves ached under the weight of my collection of, at one point, well over a hundred Archie comics, organised meticulously by character and series. I would read them during study breaks, long drives, and flights. When I hung out with my next-door neighbour, who shared my love for Archie comics, we would sit together and read each other's books, sharing funny scenes and punchlines, bragging about our own growing collections.
Sweet, colourful, and funny, Archie comics were one of the only graphic narratives available for people who weren't interested in superheroes and really gritty, edgy comics like Batman. And unlike other serialised stories, there was no real urgency to read them in sequential order. It didn't matter if you missed one, or many episodes. Not much changed in this universe over the years.
In the comics, teenage drama danced hand in hand with delightful humour. It wasn't just Archie, the endearing, red-haired protagonist, who stole our hearts; it was also the cast of quirky, lovable supporting characters that shone. We may not all have grown up in Riverdale, the fictional town where the comics are set, but all of us have had a ride or die friend like Jughead or an old-school principal like Mr Weatherbee, lovingly nicknamed "the bee" by the gang. The playful fourth wall breaks and self-aware humour of these characters brought a touch of levity to the storytelling. Jughead, often serving as our gentle guide, provided insightful commentary on the unfolding drama.
At the heart of Archie comics was the unwavering belief in the power of friendship and community. The characters navigated the ups and downs of adolescence together, supporting one another through thick and thin. They also taught us that no matter what challenges we face, we can overcome them with the love and support of those around us.
The characters never shied away from taking action or pursuing their dreams, fueled by the belief that their efforts will yield positive outcomes. They reminded us that optimism is not synonymous with passivity, but is a driving force that propels us to take risks, seize opportunities, and push beyond our comfort zones; by embracing optimism, we find the courage to confront obstacles head-on and actively shape our own destinies.
It was a world of freedom and possibilities that felt beyond the reach of our own society. Dating, rebellion against parental authority, and carefree outings were rarely experienced by us when we were teenagers due to societal norms and cultural expectations. The characters' escapades and romantic entanglements provided a glimpse into a life unconstrained by traditional Bangladeshi values, allowing us to dream and indulge in the fantasy of a carefree adolescence. 
Nevertheless, the comics employed a brand of humour that was lighthearted, wholesome, and rooted in everyday situations. It revolved around misunderstandings, comedic mishaps, and the complexities of teenage relationships. This type of humour  transcends cultural boundaries and can be appreciated by audiences regardless of their backgrounds.
Archie, Betty, Veronica, Jughead, and their buddies may date from 1941, the year that the publisher Archie Comics was founded, but the high schoolers continue to be among the most widely recognised characters in popular culture. 
The American TV show Riverdale (2017-2023) brought the beloved characters to life in a modern and edgy adaptation, putting them in a world of cults, secrets, violence, and even superpowers. It is not a straightforward adaptation of the old Archie comics to the screen; it is rather a complete reimagining of the franchise from the ground up. This evolution of Archie comics in the 21st century ushered in a wave of changes, introducing a multitude of characters and storylines. However, when juxtaposed with the comics that I grew up reading, Riverdale stands apart as a distinctive entity, differing greatly from its source material, save for the shared character names and iconic hair colours. 
That being said, Archie comics, despite their American roots, have an innate adaptability that enables their tropes and characters to effortlessly find their place in different fictional settings, complete with recognisable landmarks inspired by real-world locations. Riverdale can exist anywhere as long as it is moderately wealthy and upmarket, thanks to its barely elaborated past and universal spaces. Pop Tate's, a soda shop that Archie and his friends hang out at, and their school Riverdale High, form landmarks that allow the town to recreate itself in other time periods and formats. The lack of spatial specificity in Riverdale allows the Archie universe to expand and incorporate characters and scenarios from various communities and franchises. To enhance the authenticity, references unique to the intended region, such as popular food, celebrities, and cultural events, can be skillfully woven into the storylines. 
Like the aforementioned Kuch Kuch Hota Hai, the Betty, Archie, and Veronica love triangle has been mirrored in many Bollywood films for decades, from Jo Jeeta Wohi Sikandar (1992) to Jaane Tu… Ya Jaane Na (2008). Now, Netflix's The Archies (2023), a live-action, coming-of-age, musical film adaptation of the Archie comics directed by Zoya Akhtar, will be set in India. 
As revealed this week in a teaser from Netflix's Tudum fan event, the film takes place in 1964 in Riverdale, a charming, fictional hill station. 
Dating back to colonial times, the term "hill station" refers to a town located at a higher elevation than the nearby plain. 
Hill stations in India, with their breathtaking views and lush cedar forests, were originally sought after by the British to escape the heat. These towns still bear traces of British colonialism, evident in the presence of Gothic lodges, streets with anglicised names, and churches.
Akhtar's The Archies is told through the lens of the Anglo-Indian community, who are the direct descendants of British individuals that resided in India during the country's time under British rule, which came to an end in 1947 with India's independence.
To me, this adaptation is an exciting opportunity to witness the fusion of Indian and Western cultures through a fresh take on the characters, relationships, and overall storyline—one that will hopefully add a new layer of richness and diversity to the familiar Archie universe. As far as I can tell, it embodies the lively spirit of the classic Archie comics, and I am undeniably eager for its release. 
Shababa Iqbal is a journalism graduate from Independent University, Bangladesh (IUB), who likes Jane Austen's novels and Disney movies.
Email: shababa@icloud.com.