RRReading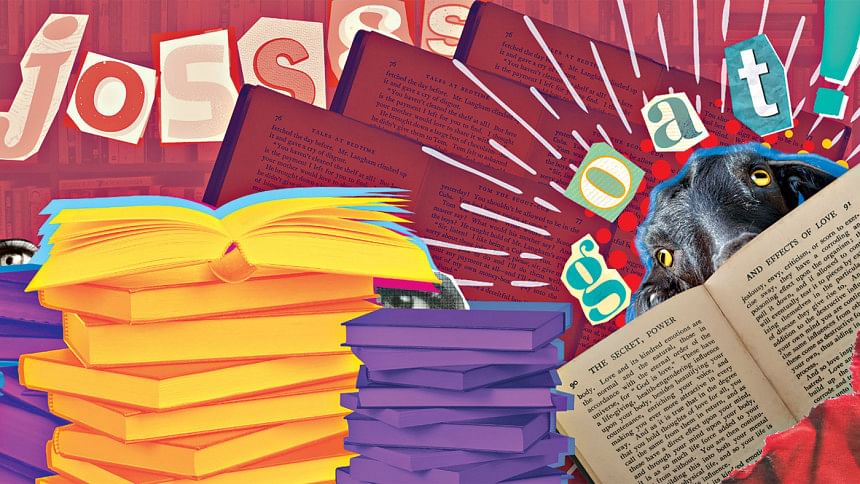 Even if you are not a film enthusiast, chances are high that you have watched the 2022 Telegu blockbuster RRR. At the very least, you should have heard about it. But this piece is neither about that "Naatu Naatu" movie nor films in general. However, it will make use of the title of S S Rajamouli's flick to write about another activity–reading. An oft-ignored trivia is that reading is not a single R activity. Reading should be understood as an amalgamation of RRR–reading, reflection, and re-reading–where the first acts as the umbrella term for all three.
A case can be made about how reading without reflection–and ideally re-reading to ruminate on that reflection–does not do much about intellectual growth. In this case, readers get caught up in the numbers game. The goal becomes reading, and just reading, more and more words, which in turn nudges readers towards short and shorter pieces. Not a surprising thing given that the current entertainment landscape is dominated by reels, tiktoks, tweets, and flash fictions. These bite-sized materials make for tasty treats that can be swallowed in large numbers. But it is not exactly good for your body if you keep on swallowing stuff like a gluttonous gargoyle, right? You need time to digest. After reading, reflection is essential to squeeze out the nutrition from the text you are munching on. Reflection allows you to make your reading useful in more ways than simply swallowing words and being mentally obese.
We have all encountered people who continuously preach about books that have blown them away. If someone is blown away by a book, you would want to know what exactly they have found fascinating about the said book. How many times has this happened that when you ask them, as to why they love a certain book, they try to justify their "blown" mind by saying how the book is zush, josh, joss, or my personal favorite–jussssssssssss! These Rogan Josh-esque reactions blur any distinctions between books in a brutish manner. What do you think about Paulo Coelho's The Alchemist? It is zush! Why do you like Humayun Ahmed's Nondito Noroke? He writes josh! Why are you blown away by David Copperfield by Charles Dickens? It is because this Dicky guy tells it joss! Any thoughts on Dostoevsky's The Brothers Karamazov? Never heard about it, but is it any jussssssssssss? The economy is in crisis, man! How are these people affording these many S's?
These are the people who would brand anything that they have newly read, as the greatest since their last reading–which they also, unsurprisingly, considered to be the greatest literary achievement of all time! Their obsession with hierarchy does not allow them to understand the beauty/merit of anything unless you attach a placeholder signifier to it. Regarding any book that they have read, they will declare, "It is the best! The best. It is!" First, even literary prizes do not claim that they are awarding it to the 'best book'. The prizes are to acknowledge great works but in no way do they mean that the award-winning books are the G.O.A.Ts! Second, and this is just to cue in a Seinfeld reference, how is it possible that whatever you are reading is the best? They cannot all be the best. There cannot be these many bests!
Do not get me wrong now. The argument here is not about reading less. I am in favor of reading more and more. My point here is that readers should try to reflect on anything that they have read. Period. Wondering about the meaning of what is written. Questioning the writer's intent and agency. Contemplating on finding connections between written words and readers' lives.  Ask yourself: can I remember the basic content of my readings? Did anything stand out–any interesting information or exciting ways of using language? Was there anything relatable to my life? Could I infer or interpret something to re-use or remix? Thinking anything, really, about the choice of reading. Then, if the need be, re-reading the piece at hand for better conceptualisation and clarity. Now, this might seem like an arduous task. I can hear exasperated readers shouting "Ain't got no time for that!" I can hear myself muttering it as I am penning this piece!  It is a valid concern. We are already short-strapped for time as it is. So, why and how do we find time to approach reading as a triple R activity?
The answer to the why has already been answered, I hope. As for how, the solution is pretty basic. The expectation of us reflecting on and re-reading everything is both unrealistic and unsustainable. We cannot RRR everything we read. We chose what reading pieces deserve the triple R treatment. Even then, we probably will not be able to R3 everything that we want to. We might have to settle with R1 (reading) for most, R2 (reading and reflection) for some, and R3 (reading, reflection, and re-reading) for the selected few–the ones that are worthy of our sustained attention. We have to allow ourselves to try and fall short. It is alright. What matters is that we will succeed with some. Then we will have materials that can be retained in our reservoir of knowledge in a way that is nutritious for us. That is how we get any kind of intellectual growth. The next time you read a book, just pause and ponder about the number of R's you need to wonder about what you have read. Trust me. That will pay off. Happy RRReading, folks!
Qazi Arka Rahman is a doctoral candidate at the Department of English, West Virginia University, USA.