Scrounging revelations out of music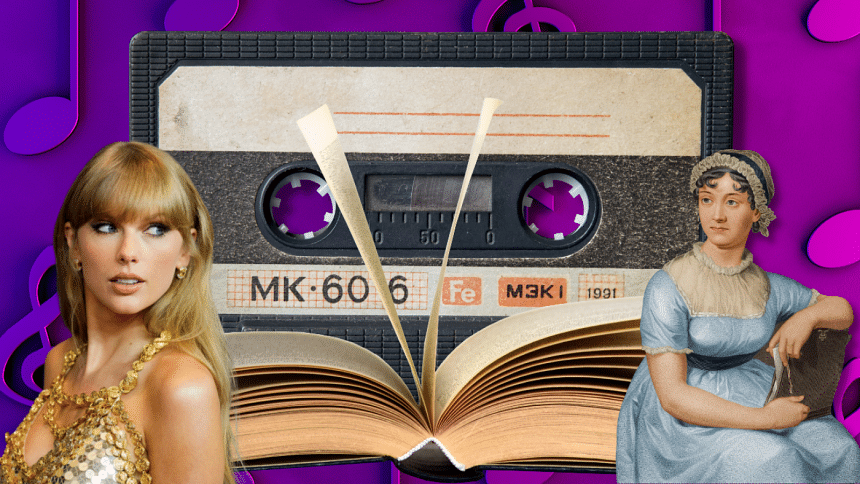 As a teenager, I had a serious case of not-like-other-girlsism—a condition where the afflicted feels a strong urge to be special and, well, not like other girls. Although I innately understood and emulated several characteristics of such a girl already as a pre-teen, I believe I truly, consciously, chose to embody her mannerisms when I first read Stephen Chbosky's The Perks of Being A Wallflower at 15. 
Sam, the object of the main character's desires in this book, is free-spirited, lively, quirky, listens to obscure indie music, prefers to do so through vinyl records instead of cassettes, and performs in Rocky Horror Picture Shows. 
This is the year 2011 and Zooey Deschanel is the internet's darling for saying, "You listen to The Smiths?" and mumbling its chorus off-pitch. This is around the time when John Green's career is thriving and I buy pirated copies of The Fault in Our Stars and An Abundance of Katherines from Nilkhet. This is the first half of the decade when I download all the Coldplay albums from torrent sites and put up cover photos on Facebook with the lyrics of "Fix You". All of this just to feel like I'm some form of sage, enlightened being, spurred on by my bullies at the time, thinking about how I was misunderstood (perhaps even envied) by them for being of higher intellect. After all—I bought books instead of make-up and spent my time delving into the deep meaning behind Lana Del Rey lyrics instead of hopping to EDM. As I write this, I can physically feel the cringe of a village of elder millennials who have reformed from this condition; however, I must thank this phase of my life for introducing myself to the intimate romantic entanglement between music and literature.
I don't remember at what point in life I learned to recognize the fallacy behind the not-like-other-girls phenomenon and discarded it for an all-encompassing love for female friendship and solidarity, in acceptance of femininity in all its forms. But I do know that Taylor Swift played a significant role in it.
Music and literature had both been integral parts of my childhood. My relatives often recount stories to me of when I was a toddler, humming tunes of various Bollywood music to them, often accompanied with elaborate lyrical choreography. On the other hand, some of my core memories involved my grandmother reading the fairytales of Cinderella and Sleeping Beauty to me in Bangla. I was so obsessed with stories that when I ran out of books, I would spin and weave tales of my own. I would concoct whole music videos to the songs playing on the cassette player, imagining myself as the main character. 
During my phase of hyperfixation with Twilight at the age of 12, I discovered how the author, Stephenie Meyer, had planned the whole plot of the series while listening to songs of the band Muse. Inspired by Meyer, I planned my first attempt at a novel after The Plain White T's song "Hey There Delilah." This felt like a canonical event in my life. I did eventually abandon the plot, but only to move on to Coldplay's Mylo Xyloto (2011)—planning out an entire fantasy series in my head based on all the songs in the album, each of the tracks contributing to the composition of each character; "Paradise" becoming the inspiration behind the protagonist. 
Having been a part of the original Tumblr generation, I also thoroughly enjoyed creating my own edits with collages of various song lyrics over Pride and Prejudice characters. No one was surprised, except for myself, when all these interests concurred into me choosing an English Literature major for my undergraduate degree.
At university, I discovered my intense love for analyzing anything and everything pertaining to human life, history, psychology and culture. There was a certain euphoric feeling to peeling back the layers of meaning encased within the indistinct prints of words on cheap, gray-toned paper sold commercially for Literature classrooms, to students who would use them to begrudgingly annotate on the margins. There was something about the sheer contrast of the situation—and the resulting irony—between the lived realities of the authors that culminated into the social criticism in their texts and the utilitarian aspect of rote-learning those details for exams. The realization of these idiosyncrasies scratched my brain in just the right spot—like sugar-dusted gummies for a diabetic child. I sniffed out other facets of culture where I could unwrap more of these sweets, and in doing so, found myself looped back into music. 
The final installment of The Hunger Games trilogy was particularly significant for me at this stage. Reading Suzanne Collins' song penned for Katniss' PSA to the revolution felt extremely chilling and deep to my 16-year-old brain, especially where she writes: "Are you, are you coming to the tree?/Wear a necklace of hope/Side by side with me." 
It was about the fact that the song was banned in the context of the novel's setting, sung from the perspective of a lover who had committed suicide as an act of rebellion against his outlawed love, to then being used to inspire the citizens of Panem into action for the love of their own outlawed freedom, into daring to hope in a country that made recreational sport of their beloved children's lives. To me, each line in this song oozed with meaning within several layers, and I could appreciate this even further when I compared a fan's rendition of the tunes for this song versus James Newton Howard's composition of it. 
I'd found the fan version by Adriana Figueroa shortly after having completed reading the series in 2012, played on trilling piano notes, sung in soft soprano tones…it sounded hauntingly sweet. Howard's version, on the other hand, sounds moody and threatening. It continues to fascinate me how they interpreted the song in such different ways: Figueroa latched onto the theme of it being a love song, so her sugar-dipped melodies underscored the morbidity underlying the lyric, while Howard choosing to focus upon the mood and context of the movie made it sound as if each note was actively rallying an uprising, with Jennifer Lawrence's slow and breathy singing making it sound like a wounded soldier's final warcry.
Along the same vein, Taylor Swift's song for this movie's soundtrack, "Safe & Sound," made me want to explore this phenomenon further. I had been a devoted "swiftie" (the title Taylor Swift fans gave themselves) ever since the release of Fearless, her second studio album. My initiation to her music had been in 2008 with her lead single, "Love Story," where she famously alludes to Shakespeare's star-crossed tragic lovers and gives them a happy ending instead through her self-insert fantasy (He knelt to the ground and pulled out a ring/And said, "Marry me, Juliet…I talked to your dad, go pick out a white dress). 
I hadn't realized then that my favourite musician's flirtations with literature was going to become more intimate and dynamic over the years. All her songs up until "Safe & Sound" had ranged from sweet, mellow to melodramatic even. Her songs were relatable and held the comfort of an elder sister's reassurance. But never had I ever, until then, heard a Taylor Swift song (or any song for that matter) that had made me feel so viscerally unsettled while vowing to grant relief. The lyrics strained to convey optimism in spite of the harrowing imagery of war (Don't you dare look out your window/Darling, everything's on fire/The war outside our door keeps raging on … You'll be alright/No one can hurt you now/Come morning light/You and I'll be safe and sound). Swift's vocals in it gave the impression of desperate pleading masked with the promise of false hope, with the backing vocals of The Civil War adding an eerie ghostliness to the music. Now this was a rabbit hole I thoroughly enjoyed falling through, intensified further by introduction to literary theory during the second year of my undergraduate degree.
I'd already had a fond dalliance with the term 'feminism' since my not-like-other-girls phase, and learning feminist literary criticism in a formal classroom environment made me feel very seen as a budding, self-identified feminist. Marxist literary criticism, new criticism, formalism, modernist criticism—these were all very new concepts to me, and thus all the more fascinating. Discovering Lorde's "Royals" was enlightening in this regard because it made me realise for the first time just how shallow Chbosky's Sam's notion of pop music's shallowness was. Lorde and I were the same age—and for her to sing so moodily about the very real experience of a teenage girl budgeting her allowance while dreaming about driving Cadillacs spoke to the obvious class divide between the celebrities we idolised and our own lives. In doing so, Lorde also effectively legitimised a teenage girl's struggles within such a system of capitalist marketing targeting her fancies. 
And then revisiting, Foster The People's debut album Torches, I found myself engulfed in a world of the common man's strife within the capitalist system, with "Life On The Nickel" addressing the Sisyphean cycle of hustle culture, "Pumped Up Kicks" making a subtle nod towards how the dismissive parenting of a working class dad contributes to the making of a school shooter, "Houdini" speaking to the issue of censorship and how it silences the working class, and "Don't Stop" calling back to the childlike wonder with which the youth dream of righting the wrongs in society. Macklemore's apparently lighthearted rap in "Thrift Shop" too highlighted an alternative approach to rap music where the artist opted away from flexing his wealth, focusing instead on flexing how smart he is with money, which also handed him an instant hit due to a refreshing take that the masses could relate to. Followed by Portugal The Man's "Feel It Still" (2017) with its allusions to the Black Panther Party, the hippie revolution of the 60s and their eventual fall back to corporate revolution in the 80s, along with Childish Gambino's "This is America" (2018) calling out everything wrong with the political and economic system in the US—both of these songs becoming such monumental hits really demonstarted to me how it is not exceptional for pop music to be enriched enough to be treated as texts worth studying, just like any other work of artistic creation.
Although this notion was new to me at the time, it isn't necessarily a new phenomenon. Pink Floyd, The Beatles and Greenday have all done their part in putting forward their commentaries on social, political and economic concerns of the world they lived in. Upon reflection, the legendary Bollywood song from Raj Kapoor's 1951 film Awaara, "Mera Joota Hain Japani,"  that even some of our parents have grown up with, is an icon for Marxist criticism, featuring a snide nod to a neo-liberal agenda embodied by the speaker's red Russian cap contrasted against the conservative ideology of nationalism as a Hindustani. Yet, Marxist critical theory aside, I find it all the more interesting that all of these same songs would produce further varied interpretations and analyses as residue from whichever sieve of literary theory we strain them through. For example, a modernist approach to analysing Greenday's "American Idiot" reveals to me a sense of deep cynicism that results in the speaker's distrust against mainstream media and propaganda, while the postmodernist perspective makes the tongue-in-cheek acceptance of such a world apparent in its playful lyricism and upbeat tempo.
I don't remember at what point in life I learned to recognize the fallacy behind the not-like-other-girls phenomenon and discarded it for an all-encompassing love for female friendship and solidarity, in acceptance of femininity in all its forms. But I do know that Taylor Swift played a significant role in it, with her reconciliation with Katy Perry in the music video for "You Need to Calm Down". So I gladly circle back to her once again, because for me, nothing else is more emblematic of the scope of music as literary text than the entirety of Taylor Swift's discography. Her satirical tone in the lyricism for songs like "Blank Space" and "The Man" epitomise the mainstream media's treatment of women. Her pandemic albums Folklore and Evermore function almost like works of epic fantasy with intense world-building and characterization. Her songs "Tolerate it," "Mad Woman," "Mirrorball" and "Cardigan" all reference noteworthy female literary figures—Mrs. De Winter from Rebecca, Antoinette Cosway from Wide Sargasso Sea, Plath's Lady Lazarus and Wendy from Peter Pan respectively—dissecting and redefining their trajectory. She references The Scarlet Letter in "Love Story" and "New Romantics"; she revisits her experiences in "Dear John" with "Would've, Could've, Should've," flipping the thematic naive sorrow for vicious female rage; she pens songs as meta and self-referential as "Dear Reader" and "Anti-Hero"—what all of these instances accomplish altogether is a unique form of intertextuality between her own works as well as these classic pieces of literature that she so heavily alludes to.
Now that the internet is a mutually shared grand narrative between every netizen, it is all the more obvious for music, literature, art, film, etc. to overlap and inform the meanings of each other. So I find myself drawing the example of "Rasputin" by Boney M. to explain allusion in my high school Literature classroom, Gotye's "Somebody That I Used to Know" to explain irony and "Flowers" by Miley Cyrus to explain intertextuality through its inversal of Bruno Mars' "When I Was Your Man." Because now, as an adult, I am acutely aware of how ordinary I am, enriched with the knowledge that the love for analysing the mechanism behind what makes humans the way we are is not a trait unique to me—I know that's what music, art and literature are for. They're vessels for human expression, as well as impression, enabling us to explore the cultural atmosphere of their time of creation. Thus, now, that's what my students are learning to do: preying upon every facet of their times to dig in and squeeze out their own meaning; find comfort in knowing that in many ways, they are just like the other girls in their classroom, with both shared and varied interests, but definitely cultivating community as conscious readers and listeners.
Tashfia Ahamed is a writer and poet who teaches English at Scholastica School.