Arnob and Hasan Raheem to join Lucky Ali's concert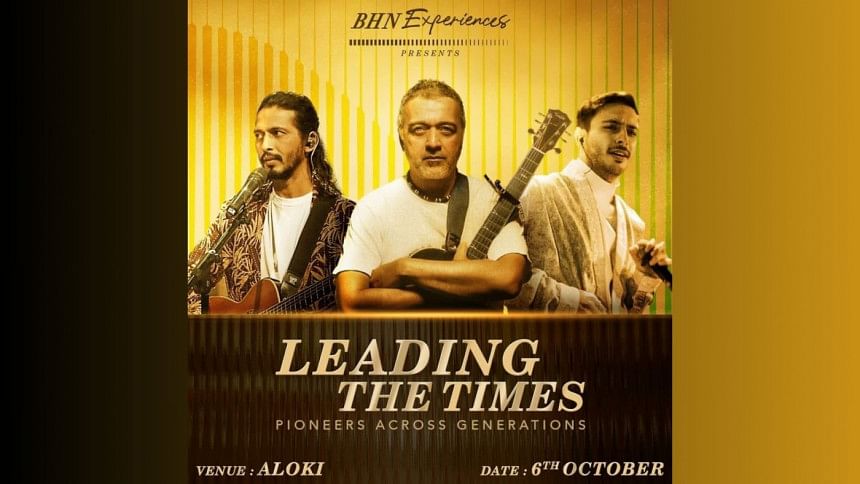 A night of musical legends is on the horizon for the music lovers of Dhaka as three generations of talent are set to light up the stage together. Popular band Arnob & Friends, and singer Hasan Raheem will join Lucky Ali at the "Leading the Times: Pioneers Across Generations" concert at Aloki in Gulshan on October 6.
Organised by Buy Here Now (BNH) Experiences, the musical night will showcase Lucky Ali serenading some of his all time classic songs for the audiences. With the addition of Arnob and Hasan, the musical feast promises to bring a unique flavour of each artiste to the audience.
Arnob & Friends, celebrated for their fusion of Bangla folk and contemporary melodies, have enchanted audiences for over 20 years. Hits like "Tomar Jonno" and "Hok Kolorob" are still popular amongst the audience.
Lucky Ali, the evergreen Indian sensation, needs no introduction. His soul-stirring tracks like "O Sanam" and "Na Tum Jaano Na Hum" have been timeless favourites for generations.
Hasan Raheem, the Pakistani singer, songwriter and rapper, is known for his subtle, laid-back R&B, hip hop and indie pop styles of music. His tracks such as "Aisay Kaisay", "Joona", "Aarzu", "Sar Phira", and "Sun Le Na" gained millions of hits on YouTube, and he quickly grabbed the spotlight in the Pakistani music scene.
Enthusiasts can purchase their tickets from the website of Aloki.