An afternoon with Farooki and Tisha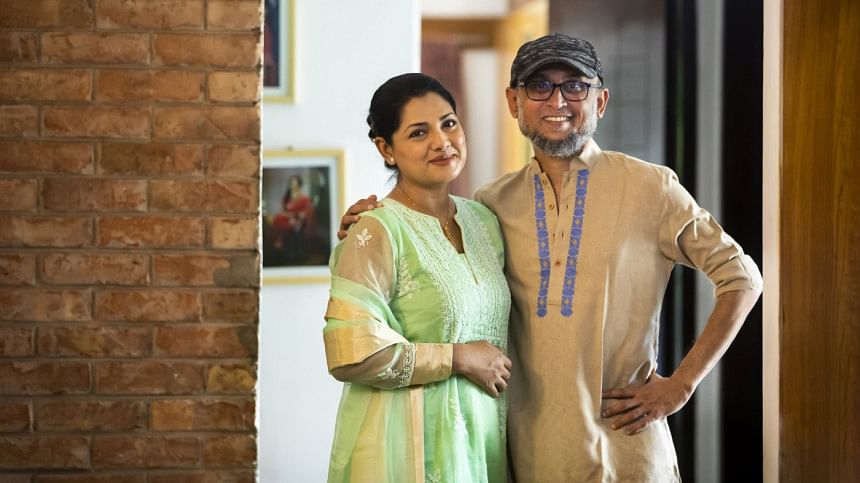 One does not get the opportunity to witness the candid chemistry between the much-loved real-life couple in our industry, Mostofa Sarwar Farooki and Nusrat Imrose Tisha. A Tuesday afternoon spent with them at their residence gave The Daily Star a rare peek into their sweet family life, along with their exciting upcoming projects.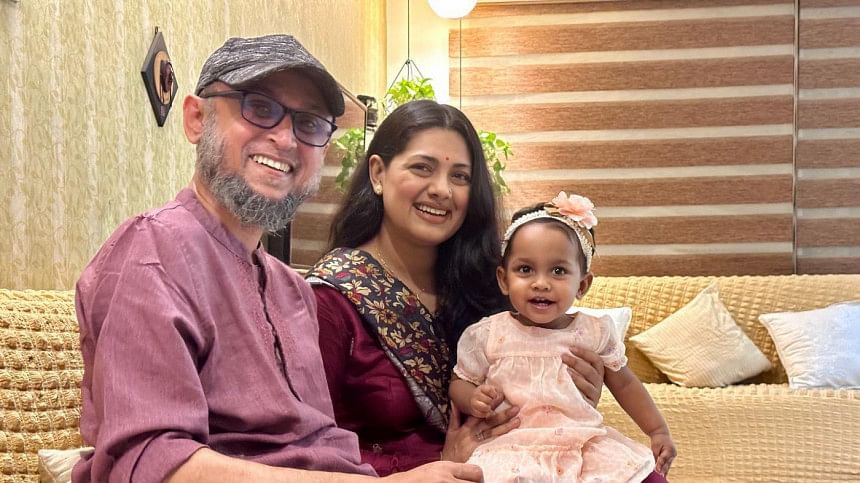 As we began the conversation, their daughter, Ilham Nusrat Farooki, furtively glanced and her curiosity towards us.
"Love stories are better told in the time of xenophobia. I think, when we are surrounded with hatred, then love stories can heal our soul," shared Farooki, who is all set to make his acting debut. He elaborated on "Ministry of Love", the anthology series consisting of 12 films, out of which "Last Defender of Monogamy" and "Something Like an Autobiography" will be under his watchful lens. 
"Tisha was missing the humour in the projects that she watched on OTT, for a long time," shared Farooki, adding that she consumes OTT content more than he does. Tisha pitched in, "I feel like in the US, genres like drama are still popular, but in South Asia, murder-mystery, thrillers are trending. Sarwar and I were discussing about the scarcity of our original dramas, which focused on human relationships."
"Ministry of Love" looks to alleviate that scarcity to a certain extent. 
"As we were brainstorming, we thought, why not we create an umbrella project where we can include individual films, and this is how we approached this plan to Chorki," she added.
The inaugural ceremony of "Ministry of Love" was quite an interesting one too. Afzal Hossain, known as a romantic hero, was in charge of the oath taking ceremony of the 11 'ministers', who will be directing the films. These 11 directors are the perfect combination of both prominent and promising craftsmen. "It was not planned actually, we have focused on particular criteria in which these directors fitted, and they were available for the collaboration as well." Farooki also hinted a second season of the series, where he wishes to work with more directors. 
Interestingly, the title, "Something Like an Autobiography" has been taken from the autobiography published in 1981, by eminent Japanese filmmaker Akira Kurosawa. "This film is the very first one co-written by me and Tisha," Farooki informed. "While writing this, we knew that both of us have to act in it." He remarks that this project has several connections with their lives. "Akira's book tells the story of his own life, but the autobiography that he wrote from his perspective, did not convince him to declare an autobiography. Since it was his perspective of a particular event, for someone else, the perspective could be totally different, thus he, proving his humility, named it thus." Farooki further shared that prominent filmmaker Tareq Masud gifted him this book many years ago.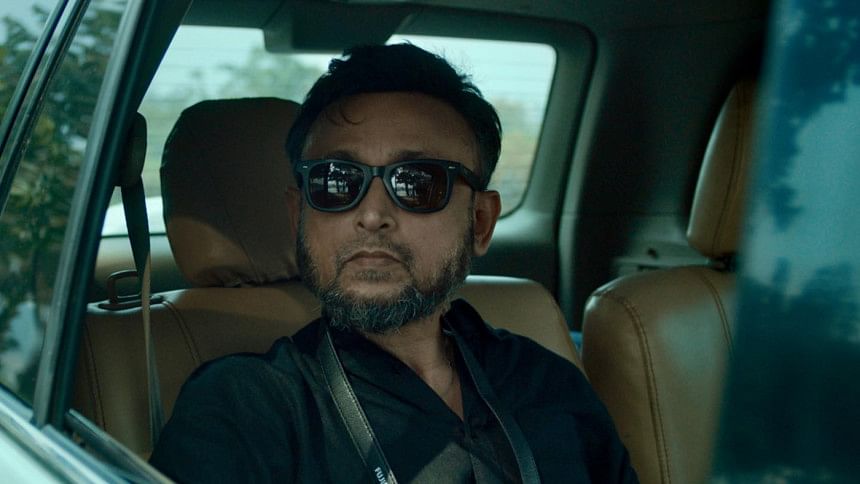 The two of them remained tight-lipped about spilling anything about which part of their lives will be highlighted in this film. This project will premiere at the 28th Busan International Film Festival, on October 8. The film will compete at the 'KIM Jiseok' segment at the prestigious festival.
This marks the Farooki-Tisha duo's first momentous appearance on-screen. Tisha grabbed the opportunity to make a comment first, "I felt that he is more senior artiste that I am," she quipped. "The treatment he received from each and everyone from the set, the way everyone pampered him, even more than me, while I was having to do own makeup!" 
Tisha shared that initially, Farooki was in dilemma about role, however, she and Redoan Rony managed to convince him.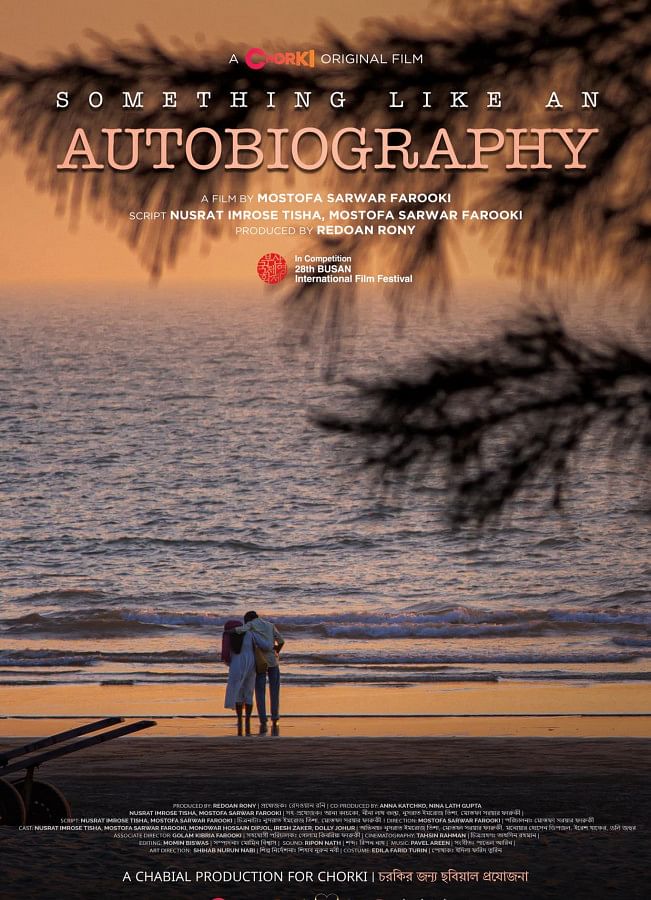 Moving on to the second project, "Monogamy", a plot consisting of heterosexual relationship focusing on contemporary times, which comprises of an unusual pairing, Chanchal Chowdhury and Xefer. As we further move on to that, baby Ilham stumbled into the room twice. The couple shared that Ilham was actually responsible for casting Xefer in this project. "Xefer had become a household face in our home, as her song "Jhumka" is one of her most favourite tracks. It is then that Xefer's appearance was imprinted in my mind," shared Farooki. "Additionally, Chanchal has nailed the role, he will make you laugh and cry, it is guaranteed."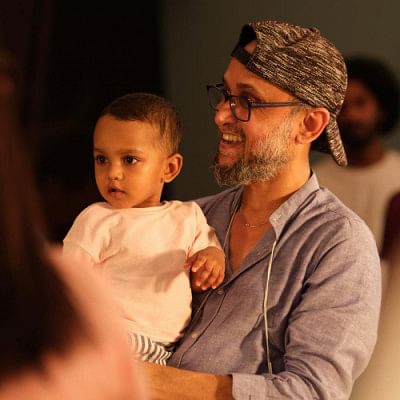 Like Farooki was struggling before he acted in his 'autobiography', he asserted that Xefer also had the similar dilemma, especially on transforming her entire look. "I could feel her vulnerability, as I felt the same," he said. 
As we were wrapping the conversation and Tisha and Farooki were getting ready for our photoshoot, the couple's quirky conversation on selecting outfits that complement each other would make anyone feel that even after 13 years of marriage, 'couple goals' would be an understatement for them, as they are rightfully inducted in the ministry of love.