Anil Kapoor stuns fans with gritty avatar in 'Animal' poster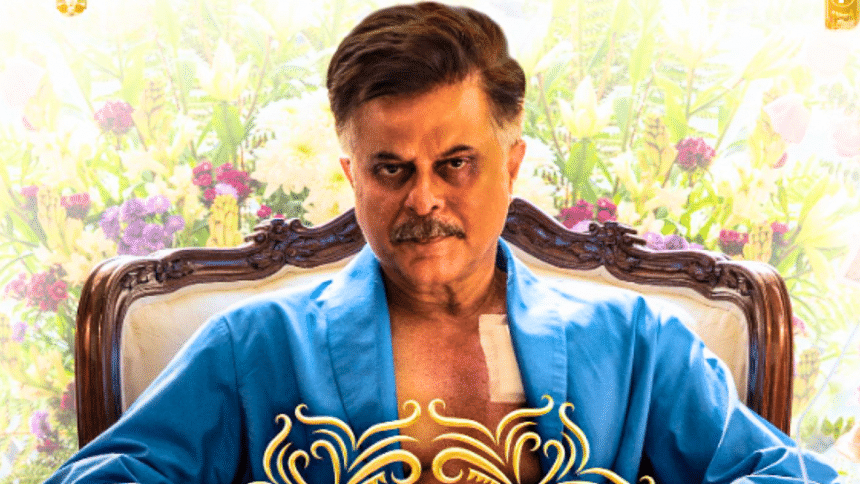 Anil Kapoor has unveiled his character's look from Sandeep Reddy Vanga's upcoming film, "Animal", where he plays the father of the protagonist, Ranbir Kapoor. The actor's new poster exudes an intense and unsettling vibe.
In this first look, Anil Kapoor is depicted seated on a wooden sofa chair, gazing directly into the camera. He's dressed in a blue track suit left open at the front. Strikingly, his appearance is not only intense but also appears to be unwell. His eyes are swollen and encircled with dark patches, and he's connected to an IV drip, implying his character's poor health. The background features a vibrant display of colorful flowers, resembling wallpaper.
Sharing the poster on social media, Anil introduced his character from the film with the caption, "Animal Ka Baap…Balbir Singh!"
"Animal" is a gangster action thriller that features Rashmika Mandanna, Bobby Deol, Tripti Dimri, Shakti Kapoor, and Suresh Oberoi. 
The film primarily revolves around the complex father-son relationship portrayed by Anil and Ranbir Kapoor, set against the backdrop of the underworld, leading Ranbir's character to a dark and psychopathic path.
Initially slated for release on August 11, alongside Sunny Deol's highly anticipated "Gadar 2", the film's release was postponed to December 1 due to pending VFX work. "Animal" is set to hit theaters in Hindi, Tamil, Telugu, Malayalam, and Kannada. 
The teaser of the film is scheduled for release on September 28, which coincides with Ranbir Kapoor's birthday.
In addition to "Animal", Anil Kapoor is also lined up for other projects, including "Thank You For Coming" and "Fighter".