'Buk Pockete Jibon', a tale of middle-class family struggles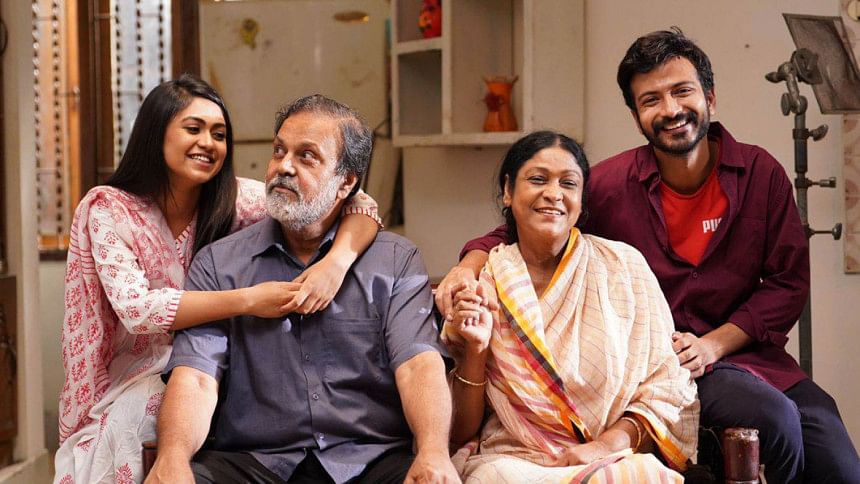 Tariq Anam Khan and Yash Rohan starrer tele-film "Buk Pockete Jibon" has recently wrapped up its shoot. The new production features the life of a middle-class family and its troubles, to which every middle-class family member in the audience would feel an affinity to.
The story revolves around the family of Abu Raihan (Tariq Anam Khan), a photojournalist, and his family of four. Every day, the family would sit together at the dining table for breakfast and dinner. They would speak about how to lessen their expenses as Raihan's salary hasn't been deposited yet, about Raihan's eldest son, Tanvir's search for employment, or the only daughter of the family, Tanin's marriage.
Speaking about "Buk Pockete Jibon", Tariq Anam Khan shared that it's a familiar story yet shown in a new light—there will be moments in the film where the current situations of our age will be questioned and highlighted.
On another note, Yash Rohan mentioned that he had the chance to see life with a 'new pair of lenses' as he played the middle-class family's eldest son Tanvir. He added that every elder child of a middle-class family will certainly feel a resonance with Tanvir.
"Buk Pockete Jibon" was written by Ahmed Tawkir. Mentioning the new tele-film, he shared that the film touches all the subjects that he wants to present before the audience. As the writer of the story, he hopes that the audience will find the shadow of their life in this project.
Tawkir concludes saying that the film's title itself already gives a hint to the essence of the film.
Aside from Yash Rohan and Tariq Anam Khan, the tele-film also stars Nishat Priom, Shahariar Newaz Joney, and Shelly Ahsan, amongst others. It is expected to greet the audience in the coming Eid-ul-Adha.