Fans compare Ananta with SRK: Barsha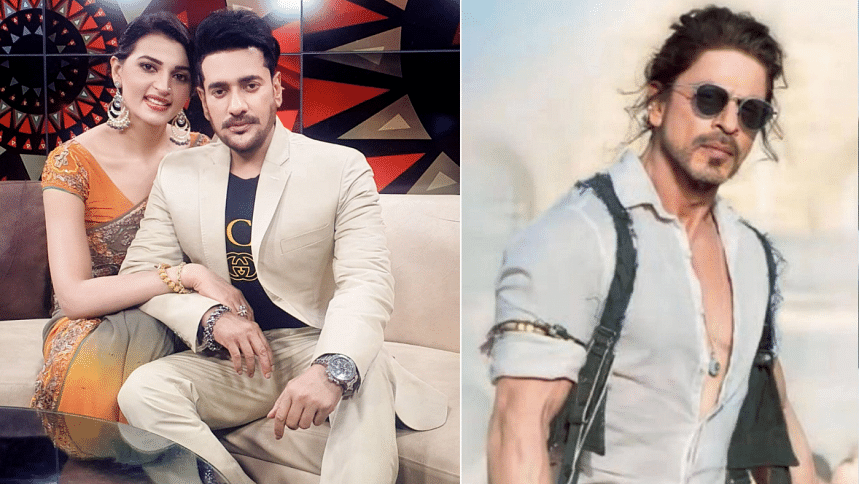 Ananta Jalil and Barsha arranged a special press meet at BFDC, where they talked with the media about their movie "Kill Him." Barsha, who plays a villain in the movie, claimed that fans compared Ananta with Bollywood megastar Shah Rukh Khan. 
Barsha was full of praise for her husband and that her manager told her that people have compared Ananta to Bollywood superstars.
"I don't use Facebook much, as my manager usually takes care of it. They were the ones who pointed out to me that my well-wishers have compared 'Din-The Day' with 'Pathaan'. They believe we are really lucky to have an actor of the same stature as Shah Rukh. And that he is the only one who can do movies comparable to Hollywood-Bollywood in Bangladesh," said the actress. 
Barsha was really happy that their fans compared Ananta to Bollywood legends. 
"We can't really compare ourselves with SRK or Salman. However, our fans compare Ananta to SRK which really makes us happy. We are making movies for our lovely fans and their opinion matters the most to us," added Barsha. 
Apart from Ananta and Barsha, two other popular actors – Rubel and Misha Sawdagar, will also appear in the film. Moreover, Bollywood actor Rahul Dev acted as an antagonist in the film. 
"Kill Him" will be released in theaters on this Eid.