The Allure of Little Birds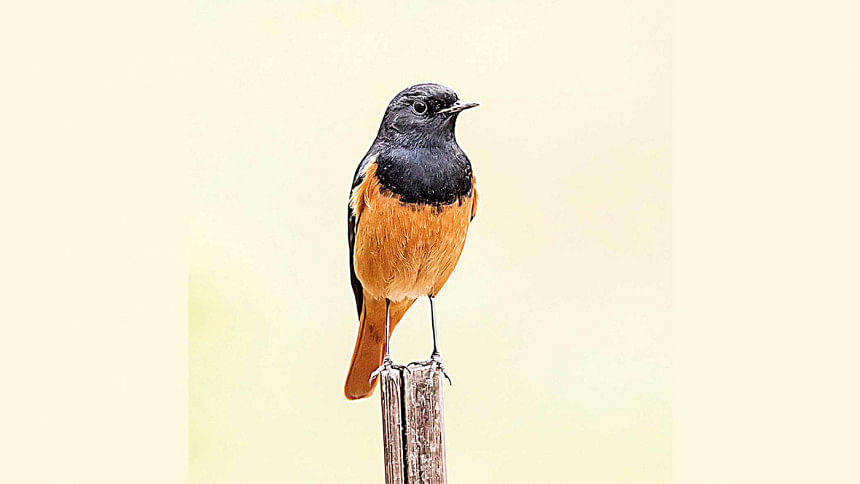 Birders may go through many phases in their birding life. In the "waterfowl phase" they look for ducks and other water birds. In the "raptor phase" they are searching for birds of prey. Some go through a "wader phase" visiting water bodies for birds that live on the mud around them. The other day I met a young, knowledgeable birder who is in an "ID phase." His mission is to find birds he has not seen before, identify them, and add them to the list of birds he has already observed.
And then there is the "little birds phase." This is the phase when the birder is pulled by little birds in forests, groves and meadows. I am perpetually stuck in this phase since I love little birds.
Let me illustrate with an example. My friend Niaz and I travel to Rajshahi looking for birds. We have wonderful luck finding birds (including a Comb Duck) on the Padma river. But we have heard of a Black Redstart, a beautiful but rare winter visitor, that dwells in Rajshahi University. On our last morning we go there with our guide and find the bird. It seems friendly enough at first but before we can get a decent photograph it gets spooked and flies to the roof of a three-story building. And it stays there. We wait and wait and finally give up. After all, there are other birds to chase in the chars of the Padma which runs close by.
Later that afternoon, our Padma birding done, we check out of the hotel. We skip lunch and find ourselves with an extra hour before our flight. That redstart is on our minds. It is tugging at our hearts. On the way to the airport Niaz suggests stopping by the University. Maybe we will have better luck than we did in the morning.
So we take the detour and find luck on our side. The handsome Redstart flies around in a well-tended garden, looking for small bugs. It drops to the ground, runs hither and thither, and swooshes up to perch on the posts supporting the flowering plants. It poses for us again and again.
Not all little birds are so friendly. They have attracted and frustrated me from my start in birding. One reason that little birds – also known as songbirds or passerines – are attractive is their colour. Birds such as minivets, nuthatches, barbets, flycatchers and sunbirds dazzle with their hued plumage. The likelihood of finding a bird new to me is also higher with little birds. But finding, stalking and photographing a little bird to my satisfaction is difficult. Most of them live in forests where light is low. They move too quickly for my camera's autofocus. All too often they are fully or partially hidden by leaves and branches. And some birds – particularly minivets – seem to deliberately turn their head away from the camera. Still, watching them is delightful. With unpredictable movements and seemingly pointless frolicking, they get their food and move on. Compare that to watching a Great Egret standing on one leg waiting for a fish!
However, while you will get a good photograph of the egret nine out of ten times, the odds are much worse in the case of a little bird. But, like elsewhere in life, we run after that which is hard to get.
For the author's daily bird photos, please follow "ihtishamkabir" on Instagram.