Achilles' Hills: Rampant hill cutting puts 200 families in Moulvibazar under risk of landslide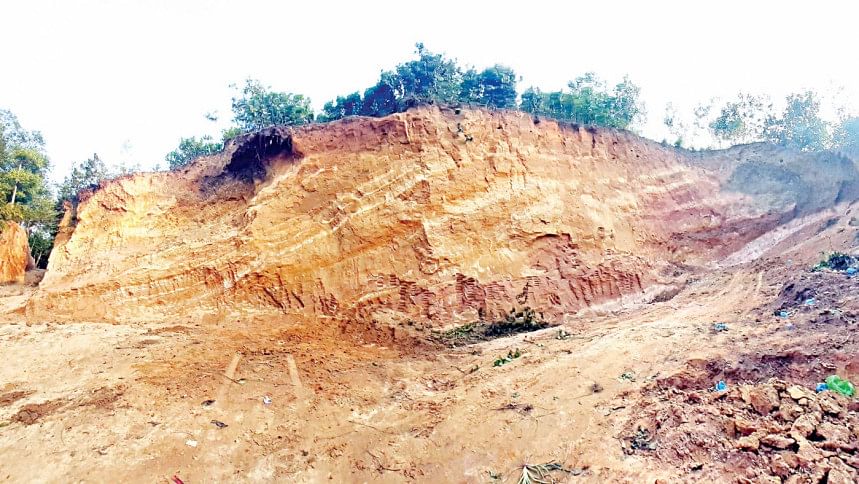 Even though everything came to a halt during the pandemic, hill cutting didn't.
In the name of development work, syndicates in different areas of Moulvibazar continued this illegal activity unabated throughout the lockdowns.
Take Islamnagar of Bhatera Union in Kulaura upazila, where markets and houses are being built by razing hills. As a result, more than 200 families of the area are forced to live amid risk of landslide.
Talking to this newspaper, locals alleged that despite complaints, the local administration remained indifferent.
Visiting different areas in Islamnagar recently, this correspondent found workers employed by the syndicate busy cutting hills and loading earth onto trucks.
They said that for the last few weeks, an organised group, consisting of Bhatera union residents Rahim Uddin, Bablu Mia, Azadur Rahman, driver Nur Uddin and more, have been cutting various hills in the area.
According to locals, Bablu and Azad were cutting soil from a hill owned by a UP chairperson in Islamnagar.
For a month now, the circle has also been cutting soil from the 40-foot hill, owned by one Eden Mia, a resident of Krishnapur village at Mymensingh.
There are 10 families living within 200 metres from the foot of the hill. They fear that the hill may collapse anyime and fall on their houses due to the ceaseless cutting of soil.
Contacted, Bablu Mia admitted to cutting the hill, saying, they aren't cutting the UP chair's hill in Islamnagar, but did admit to cutting the one owned by Eden Mia.
Asked, Eden Mia said, "The six-acre hill in Islamnagar is owned by me and my three brothers. We've planted various trees there. Azir Uddin, an influential local in Islamnagar, is behind the hill cutting as he sells our soil."
Even after multiple protests, we couldn't stop it. We've never sold hill land to anyone."
However, Azir Uddin denied this and said, "I have nothing to do with the hill cutting."
All of this is worrying environmentalists and concerned citizens, who are urging authorities to intervene.
Abdul Karim Kim, executive member of Bangladesh Poribesh Andolon, said local influentials are ignoring existing environmental laws and defying the ban on hill cutting by the Department of Environment (DoE)
"Working in the shadows with government officials, they [the influentials] are involved in illegal hill cutting," he alleged.
Saheda Akther, coordinator of Bangladesh Environmental Lawyers Association, Sylhet unit, said, "As per the Environment Conservation (Amendment) Act 2010, hill cutting is a recognised offence and no government, semi-government or autonomous organisation is allowed to cut or raze hills, without prior permission from the authorities concerned."
Dr Narayan Saha, former head of forestry and environmental science department at Shahjalal University of Science and Technology, said unsustainable use of land and rampant hill-cutting are two major reasons behind the landslide vulnerability in hilly areas.
Contacted, Badrul Huda, assistant director of DoE in Moulvibazar, said "We have zero tolerance towards hill cutting. We will look into the issue and take necessary action."