Killing Old Khowai, slowly but surely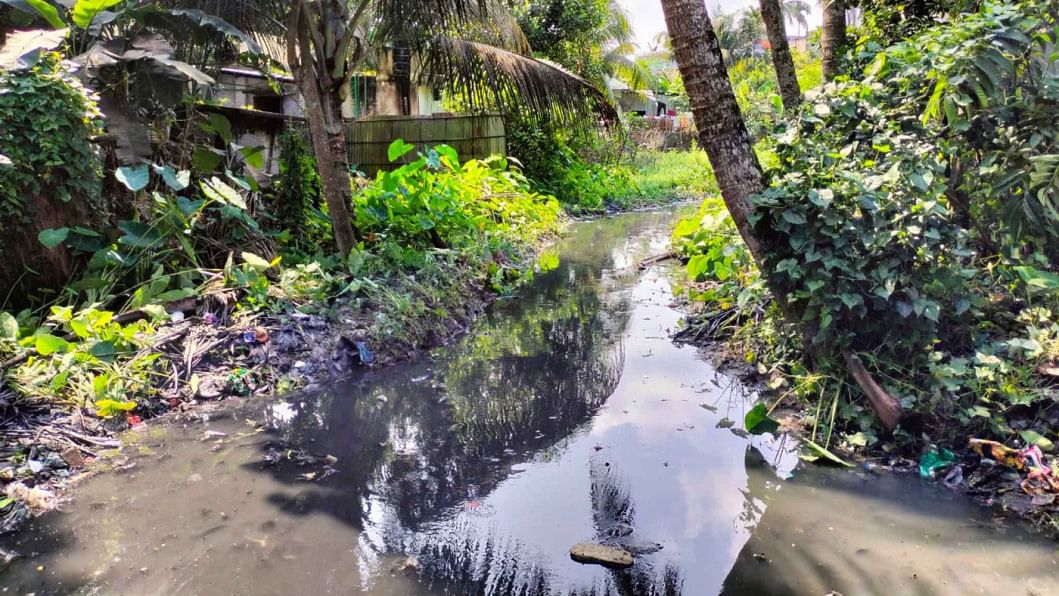 Vested political quarters are responsible for the rampant encroachment. Besides, who will we complain to? Authorities responsible to prevent such acts have built their offices occupying the riverbanks.
Due to encroachment and waste dumping, the Old Khowai river, flowing through Habiganj, has been turned into a narrow canal.
The once mighty river has become an unofficial dumping spot for all kinds of wastes, and the riverbanks  have been occupied by many structures.
In a recent visit to Habiganj, this correspondent saw household waste,  polythene bags and remains of slaughtered animals disposed along the riverbank.
Not only private entities, but public ones also occupied the riverbanks to build structures such as Zilla Parishad Bhaban, Major General MA Rob Memorial Library, a freedom fighter complex, and a hospital.
Locals are sceptical regarding the intentions of the occasional eviction drives of government bodies, as they themselves are visibly involved with occupying the riverbanks.
Badrul Huda, a Habiganj resident, said no visible progress has been made in freeing the riverbanks of illegal structures.
The recent re-dredging and rehabilitation projects to restore the river's navigability were complete failures, he added.
Echoing the same, Khowai River Waterkeeper Tofazzal Sohel, said vested political quarters are responsible for the rampant encroachment.
"Besides, who will we complain to? The authorities responsible to prevent such acts have built their offices occupying the riverbanks," he added.
More than 2,000 establishments have been  made occupying the riverbanks over the years, which include a multi-storey building of a general hospital and several important government establishments.
Shahjalal University of Science and Technology Professor Zahirul Haque Shakil, said, "Khowai is the lifeline of Habiganj."
"We've been hit hard with waterlogging in recent years as the river is filled with garbage. Keeping the river alive is crucial for the future of Habiganj town," he added.
According to locals, the river was moved 2 to 3 kilometres west from its current location due to flooding in 1976-77. Since then, the previous section of the waterbody is known as the  Old Khowai River. It's about 5 kilometres long, stretching  from Machulia to Kamrapur. Due to encroachment, this 200-feet-wide river has become 10 or 20 feet in some places.
Water Development Board (WDB) took up a project in 2019 at a cost of about Tk 2,000 crore, called the "Khowai River System Development Project", in collaboration with the district administration to restore the river's normal flow.
More than 600 structures had been identified as illegal, and 500 of them have been demolished by the district administration as part of this project. Fearing repercussions, many owners have abandoned or destroyed their own establishments during this time.
However, the authorities did not hold on to this momentum for a long time and dropped the ball soon after. As a result, the structures have been rebuilt on the riverbanks and the status quo went back to square one.
Besides, new structures were built on both sides of the river in various places, including  Machulia, Inatabad, Shayestanagar, Mahmudabad, Shyamoli and Puran Munsef residential areas.
Shamsul Mia, a resident of Mahmudabad in the city, said  encroachers abandoned their buildings initially when the drives started in 2019. But they started coming back after  two to three years, as the authorities did not carry on with the evictions.
Contacted, Shah Newaz, WDB executive engineer in Habiganj, said, "I don't know the status of the 2019 project. However, we've recently started construction of a 500-metre walkway on the river's west bank."
"If we get more allocation, we'll engage more manpower in evicting the illegal structures," he said.
Bijan Banerjee, additional deputy commissioner (revenue) of  Habiganj, said the  authorities will soon conduct eviction drives to free the riverbanks.