Enact 'Clean Air Act', save lives
Say speakers at webinar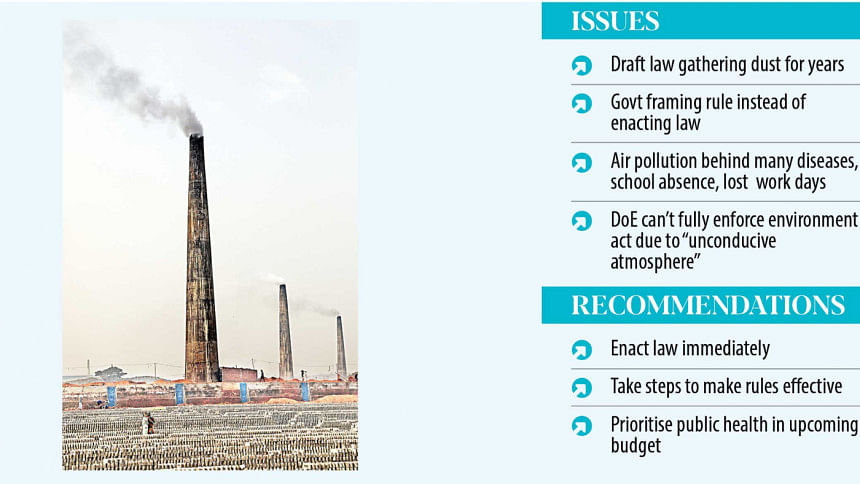 To regulate the country's air quality and reduce air pollution, the government should enact the "Clean Air Act" as soon as possible, after a recent study found air pollution to be a massive health crisis, said speakers in a webinar.
Even though the air is already toxic for citizens, especially city dwellers, they alleged the government is overlooking the crisis, as the draft law has been gathering dust for years.
They were speaking at a webinar jointly organised by Bangladesh Environmental Lawyers Association (Bela), Bangladesh Lung Foundation and The Daily Star yesterday, in the wake of a recent air pollution study published by Stamford University's Center for Atmospheric Pollution Studies (CAPS).
In the welcome speech, Syeda Rizwana Hasan, chief executive of Bela, said due to air pollution, people's right to life, as bestowed by the constitution, is being violated. As per the constitution, the government not only must protect the environment but also work to improve it.
"According to the CAPS study, we did not experience fresh air for even one week of a year since 2015. How many years can we sit back and suffer due to such horrific health hazards? The draft of the law to regulate air quality, the "Clean Air Act", has been lying idle for a long time. The government must enact it as soon as possible," she said.
Chief guest Saber Hossain Chowdhury, president of the parliamentary standing committee on the environment ministry, said they wanted a law to fight air pollution, but the government is framing a rule.
"When a rule contradicts a law, the law always prevails over the rule. Hopefully, the rule will be finalised within a few weeks. The framing of rules is not enough, initiatives to make it effective must be ensured," he said.
Quoting former American vice-president Al Gore, Saber said pollution should never be the price for prosperity.
"A rule won't solve the crisis, unless we treat public health with utmost importance. Around two lakh people die due to air pollution; tobacco kills another two lakh. Public health should be treated as a priority in the upcoming budget," he observed.
Prof Md Ahmed Karuzzaman Mojumder, chairperson of Stamford University's environmental science department and founding director of CAPS, delivered the keynote presentation, outlining how the air has become toxic, as well as sources and impacts of pollution.
Dr Asif Mujtaba Mahmud, secretary general of Bangladesh Lung Foundation, said one in ten deaths worldwide is attributable to air pollution. "Air pollution is increasing emergency room visits, school absence, lost work days, heart attacks, respiratory symptoms, asthma attacks, lung function decrements, cardiac effects and inflammation."
Md Iqbal Ahmed, senior environment specialist at World Bank, also called for enacting the law soon.
During his speech, Md Selim Reza, chief executive officer of Dhaka North City Corporation, described their measures to contain air pollution.
Md Ziaul Haque, director of DoE (Dhaka district), said although they shut down around 800 brick kilns in Dhaka, they could not make much progress in ensuring alternative facilities.
"The environment act is strong, but we can't apply it due to an unconducive atmosphere. As the ongoing mega projects will be finished by 2022, we hope the air quality will improve a bit from next year," he said.
Dr Kazir Saifuddin Bennor, joint secretary of Bangladesh Lung Foundation; MAA Shoukat Choudhury, professor of Buet's chemical engineering department; Md Mizanur Rahman, president of Bangladesh Brick Manufacturing Owners Association; and Mizanur Rahman, director (law and company secretary) of LafargeHolcim Bangladesh were also present.