Jashore Rape: Fear of backlash held me back
Says victim about why she didn't identify the SI, the prime suspect; she also alleges intimidation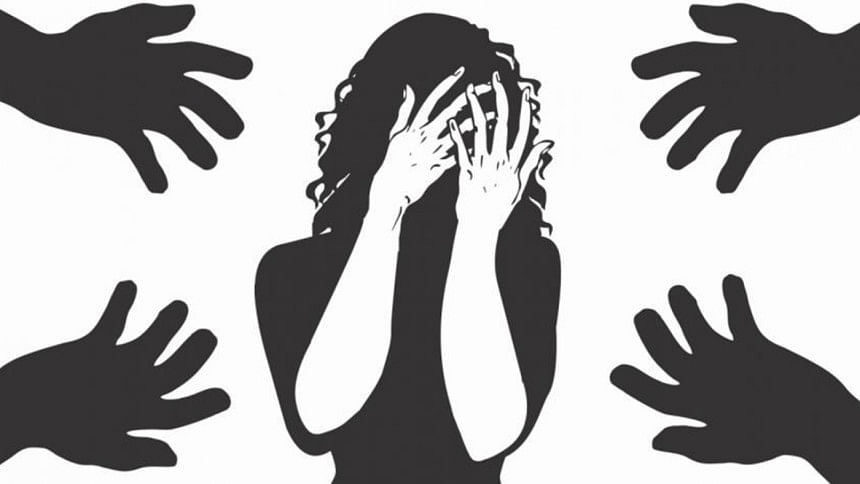 The Jashore woman who was allegedly raped by a police officer and his "source" in the early hours of Tuesday has said she did not name the cop for fear of repercussions.  
"I clearly recognised SI [sub-inspector] Khairul when senior police officers brought him before me. But I told them at the time that I cannot recognise him because Khairul stared at me angrily when I looked at him," the victim, who has two young children, told The Daily Star yesterday. 
Meanwhile, doctors said they found evidence of rape. 
"In the primary medical test, we found presence of semen. DNA tests are needed for confirmation as well as to determine how many people were involved. This requires a court order," said Arif Ahmed, a resident doctor at Jashore Sadar Hospital where the tests were done.  
Jashore Superintendent of Police Mainul Hoque, who is aware of the test results, said they would "definitely" carry out DNA tests.  
"The victim's specimens have probably been sent to Dhaka by now. And the process to send the specimens of the accused is underway," he told this paper yesterday. 
Police arrested three suspects -- Kamrul, 40, Omar Ali, 50, and Abdul Latif, 48, over the alleged rape. Police have petitioned to the court for placing them on remand. The hearing date could not be known immediately.
SI Khairul said the allegation against him was false and that he did not even go to the woman's house that night. He also said he had "no problem" with a DNA test.
The case has been handed over to the Police Bureau of Investigation (PBI).
Quoting the woman, a number of newspapers have already reported that the SI, Kamrul and a few others went to her house around 2:30am on Tuesday and demanded Tk 50,000 for the release of her husband, who was arrested only days earlier in a drug-related case. But when she refused to give any money, the SI and his source raped her.  
Talking to The Daily Star yesterday, the woman stood by her story.
She said she was vexed by Khairul's demand for money and asked him to leave her house immediately. 
"At this, Khairul threatened me and pinned me down on the floor of my house and asked his companion to grab me. Kamrul then blindfolded me and gagged me with my scurf. SI Khairul then raped me," she said, adding that the SI was in plainclothes, but had a gun on him.    
She said she screamed for help during the rape, but no one heard her cry as she was gagged. 
She said she was a simple woman living in a village and was nervous in front of top police officers at the SP's office, where Khairul was produced on Tuesday evening. 
Asked if any senior police officer instructed her not to name Khairul, in-charge of Gorpara Police Camp in Sharsha, she replied in the negative. 
The woman said when the case statement was read out to her, she asked the police officials why they did not include Khairul's name in it. 
The case writer at Sharsha Police Station said he could not do so because she did not name him before the top officials. 
Police registered the case on Wednesday accusing Kamrul, Omar, Latif and another unidentified person.  
The Daily Star visited the area yesterday and found there are no house within about 200 yards of her house, where she lives with her two children aged four-and-a-half years and eight months. 
During the visit, many locals demanded exemplary punishment for the SI while others declined to comment out of fear of backlash. 
Khairul arrested her husband 11 days ago and filed a case against him for allegedly possessing 50 bottles of phensedyl. 
The woman termed it a false case, saying although her husband was involved in smuggling in the past, he was living a normal life as a farmer for the last few years. 
Asked about the woman's yesterday's allegation that Khairul raped her, the SP said he himself had asked her to name the rapists without any fear, but she did not mention the SI's name. 
"The SI would have been certainly made an accused if the complainant had named him," he added. 
"But we will definitely take legal action if the SI's involvement surfaced at any stage of the investigation," he said. 
Asked if Khairul's specimen would be sent for DNA matching, the SP said if the PBI thought it necessary at any stage of the probe, they would do that. 
Allegations of rape against police members have hit headlines a number of this year. 
On February 12, Sub-inspector Sekendar Hossain and Assistant Sub-inspector Mazharul Islam of Saturia Police Station were withdrawn for allegedly raping a woman, keeping her captive for two days in a rest house. 
Then on August 7, Khulna Government Railway Police Station officer-in-charge Osman Gani Pathan and Sub-Inspector Nazmul Haque were withdrawn on charges of raping a woman in the residential building of GRP members. 
On August 26, constable Sabbir Ahmed Mehedi of River Police of Dhaka was arrested in Narayanganj on charges of raping a woman multiple times and blackmailing her into giving him money and gold ornaments.