Of bravery, of Betiara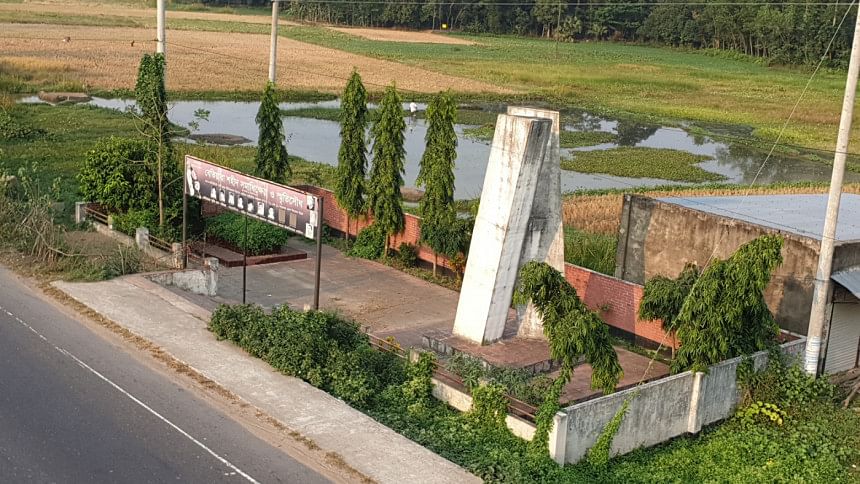 It was a cold winter night. Some 75 freedom fighters were deftly making their way in a quiet village called Betiara; only the whooshing sound of breeze blowing through bamboo bushes and trees and the chirping of insects were disturbing the eerie silence.
With heavy arms and ammunition on their back, they were walking in single file, on narrow ridges of paddy fields and rutted paths. Hours before, they had entered Bangladesh through India's Bhairab Tilla border after finishing months-long guerrilla training.
Around 10:30pm, the fighters reached near Dhaka-Chattogram highway. Some of them started to cross the highway while two teams with LMGs took position to cover them.
Suddenly, they heard a voice.
"Halt," shouted someone hiding nearby.
"Hands up," came next.
In no time, they realised it was an ambush by Pakistan occupation force.
Reading the situation promptly,Nizam Uddin Azad, who was leading the group crossing the highway, retaliated with firing his Sten gun. His fellow fighters followed suit; their weapons roared. Some Pakistani soldiers fell to the ground.
Thus started a fierce gunfight in which nine guerrillas laid down their lives for their comrades and for the motherland. Today it is known as the "Betiara War", one of the remarkable battles in 1971.
Ahead of this Victory Day, The Daily Star talked to three of the guerrilla fighters who took part in the battle that raged for half an hour on November 11.
"It's a success that majority of us could return alive from the ambush. Usually it does not happen in such a situation," said Yeafesh Osman, who led the guerrilla group.
"Within minutes after the shooting began, the Pakistan army surrounded us from three sides. Some of us laid on the ground while others got into a paddy field," said Yeafesh, now the science and technology minister.
"We fought but the enemies outnumbered us and fired relentlessly."
The enemy's reinforcement arrived and it was getting difficult for the freedom fighters to continue with the weapons they had.
"It was the bravery and sacrifice of Azad and others that saved us," said Yeafesh, who was the vice president of Buet Student Union in 1971.
Apart from Azad, Bashirul Islam, Zahirul Haque Bhuiyan (Dudu Mia), Shahidullah Soud, Abdul Kayum, Awlad Hossain, Sirajum Munir, Abdul Kader and Mohammad Shafiullah embraced martyrdom that day.
Azad was exceptionally resolute and ready to sacrifice anything for the motherland. During the training he wrote a letter to one of his friends.
"There is no time to feel upset. We have to prepare ourselves for dedicating our lives for our motherland. Any kind of weakness will not work for us," read the letter.
Another valiant fighter, Mahmud Selim, said, "Azad's weapon went out of order. After a while Pakistani soldiers caught him."
And then Dudu Mia was captured
"Bol Pakistan Zindabad [say long live Pakistan]", shouted a Pakistani soldier in Urdu, as heard by fellow warriors who were still fighting.
But a defiant Dudu thundered "Joy Bangla", said Muhammad Hilaluddin, another fellow guerrilla.
"He kept shouting Joy Bangla. Then there were gunshots; his voice was not heard anymore."
By this time, enemy artillery shells were exploding all around. The freedom fighters crawled towards safety. Yeafesh ordered all to retreat, amid constant shelling. Most of them could manage to move back.
The place they had just left was then bombarded heavily with artillery shells.
"I ran back to bring my comrades who had not heard my command but the others held me back. I heard someone say, 'NO you cannot go. Who will lead us then?'"
The group retreated to Bhairab Tilla to join the war a few weeks later.
On the early morning of November 12, Indian army launched artillery attacks and cleared the Dhaka-Chattogram highway. Later, the villagers buried the nine freedom fighters in Betiara, under Cumilla's Chauddagram. 
A monument was built there for the martyred freedom fighters.
Hilaluddin and Selim said around 400 students, peasants, workers and political activists joined the Special Guerrilla Force led by NAP, Communist Party and Chhatra Union leaders. It was formed in India several months before the Betiara battle.
Mostly youths, they went to Tezpur in India's Assam and started to train on guerrilla warfare and the use of arms and explosives in June-July, they said.
After about two months, a selected group of guerrillas went to North-East Frontier Agency [now Arunachal Pradesh] for higher training. Then they went to Bhaikhora camp in Tripura.
"After the training, we were eagerly waiting to join the war. And the call finally came to join the war in the first week of November," said Hilaluddin, who became the general secretary of Buet Student Union and chairman of Bangladesh Jubo Union after the Independence.
Mahmud Selim, now vice-president of cultural organisation Udichi Shilpigosthi, said a decision was made on November 7 or 8 that guerrillas would enter Bangladesh on November 11. They would be divided into two groups to carry out operations in Dhaka and adjacent areas.
This was the team that faced the Pakistan army in Betiara.
The guerrilla force again crossed into Bangladesh at the end of November, according to Hilaluddin and Selim.
Along with local freedom fighters, they carried out operations in Bazra and Paniala areas in Noakhali in the first week of December and caused huge casualties among the Pakistan army and razakars.
They entered Dhaka a day before the December 16 Victory Day.