Violence lessens, not irregularities
Man shot dead in Pabna, over 200 hurt in 10 districts; voting in 24 polling centres suspended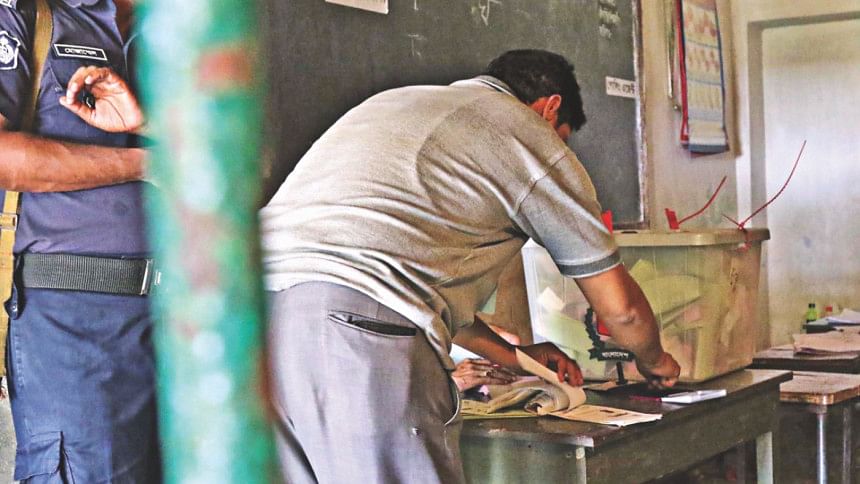 The election to 614 union parishads in the third phase of UP polls yesterday saw some stray incidents of violence and electoral irregularities, including ballot-stuffing and taking of polling stations mostly by ruling party men.
Polls violence left one dead in Pabna and more than 200 injured in 10 districts. The injured include 11 journalists and four policemen, two of whom were hit by bullets.
The extent of violence in this phase was much less compared to the previous two phases in which more than 40 people were killed and several hundred injured.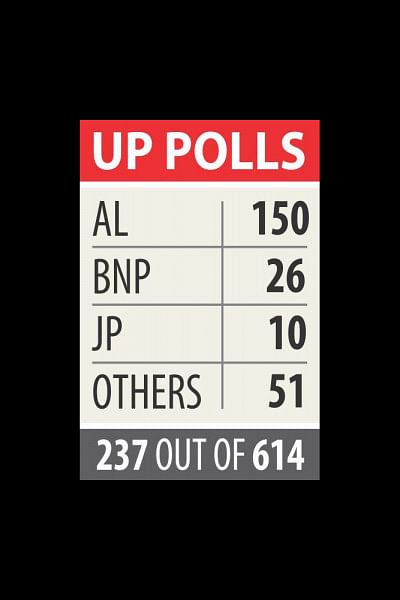 Yesterday's polls, however, were marred by electoral irregularities as in the previous two phases of elections.
In the evening, Chief Election Commissioner Kazi Rakibuddin Ahmed told reporters that though there were some stray incidents of violence and irregularities during voting, yesterday's election was fairer than the previous two polls.
However, talking to this newspaper on condition of anonymity, an election commissioner expressed dissatisfaction over the incidents, saying the extent of violence lessened, not irregularities.
Voting in the third phase of the partisan local polls began at 8:00am and continued till 4:00pm without any break.
Three polling officials were withdrawn for helping fake voters cast ballots. Voting at 24 polling stations in 17 unions was suspended due to violence and irregularities, according to EC officials.
Except for the stray incidents, voting was, by and large, peaceful with a huge number of voters turning up at polling stations to exercise their franchise in the UP polls, considered the most competitive of all elections.
Polls to 743 UPs are slated for May 7 in the fourth phase and 733 UPs for May 28 in the fifth phase. Around 700 more UPs will go to polls in the sixth phase in June, said EC officials.
Earlier, elections to 725 UPs were held on March 22 in the first phase and 639 UPs on March 31 in the second phase.
VIOLENCE AND IRREGULARITIES
In Pabna, the dead was identified as Emdadul Hossain, 60.
He was killed in a clash between locals and BGB personnel near Bahadurpur Government Primary School centre in Mothurapur union of Chatmohar upazila around 7:00pm when vote counting was going on, reports our Pabna correspondent.
According to police, irked by the delay in publishing polls results, a group of locals started hurling brickbats at Border Guard Bangladesh men, and also vandalised a vehicle.
The BGB men opened fire to disperse the angry mob.
At one stage, Emdadul, who went to the centre to know the results, was hit by bullets and died on the spot, said Subrata Kumar, officer-in-charge of Chatmohar Police Station.
Police and BGB men recovered the body from the scene, the OC said.
Five others were also injured in the incident, he said.
In Sherpur, at least 32 people were hurt in clashes over occupying polling stations and snatching ballot papers in three of the six unions under Sadar upazila.
Polling was peaceful for the first few hours. It, however, saw incidents of violence as the day progressed. Supporters of member candidates in the UPs tried to take control of several polling centres and snatched ballot boxes. Clashes also took place between rival groups, reports our correspondent.
Armed with sharp weapons, the supporters of two member candidates stormed Char Government Primary School polling station in Kamarer Char union.
They took away four ballot boxes, confining election officials to a room.
Police said they fired rubber bullets to bring the situation under control.
Voting at the centre was cancelled following the incident.
Abdul Warish, additional superintendent of police in Sherpur, said incidents of violence took place at some centres. "Law enforcement agencies fired 80 to 90 rounds of rubber bullets to restore order."
In Comilla, at least 50 people were wounded in clashes in 12 of 18 unions in Sadar, Burichong and Laksham upazilas over taking control of polling stations, stuffing of ballot boxes and casting of fake votes.
Some of the injured were admitted to local hospitals and clinics.
Immediately after the voting at Lalmiah Government Primary School centre in Rajapur union of Burichong, supporters of Awami League-nominated chairman aspirant tried to occupy the centre.
But the followers of an AL rebel candidate for chairman post resisted it, and a clash between the two groups broke out, leaving five people injured.
In Burichong union, two assistant presiding officers were arrested for helping the supporters of a chairman candidate cast fake votes.
In four unions of Laksham upazila, the BNP-nominated chairmen candidates boycotted the polls, raising allegations of irregularities.
In Natore, supporters of AL-nominated chairman aspirants occupied most of the 86 polling stations in the seven unions of Sadar upazila immediately after voting began.
Our correspondent saw that voters in many polling stations were forced to cast vote for "boat" symbol. AL men even tore off the ballot papers stamped in favour of the BNP candidates.
Five BNP-nominated chairman aspirants and one AL rebel hopeful boycotted the polls.
In Munshiganj, mobile courts sentenced 31 people to imprisonment ranging from three days to six months for electoral irregularities, including casting of fake vote.
The courts also fined 23 people Tk 96,000 for misconduct.
In Laxmipur, two policemen were hit by bullets when unidentified miscreants suddenly opened fire on them at Soundara Government Primary School centre in Ramganj upazila.
The injured are sub-inspector Mohammad Selim and constable Shafiullah.
In Chandpur, a policeman suffered bullet wounds in a clash between law enforcers and supporters of a member candidate at Lohagar Government Primary School centre in Balithuba Paschim union of Faridganj upazila, police said.
At least 70 people, including election officials and two Ansar men, were injured in clashes at different polling stations, leading to suspension of polling at five centres.
Supporters of the AL and the BNP candidates got locked in a clash at Asta Mohamaya High School centre over casting of fake votes around noon.
Both groups blasted 10 to 12 cocktails, leaving 10 people injured.
Police fired 10 blank shots to bring the situation under control.
In Bogra, a policeman was wounded when law enforcers tried to quell the fighting between the supporters of two member candidates in Sonahata union of Dhunat upazila.
A presiding officer at Elangi High School centre in Elangi union of the upazila was withdrawn for allegedly assisting criminals in casting fake votes.
During visits to different polling stations in Rameshwarpur, Sonaroy, Nepaltoli and Dakkhinpara unions of Gabtoli upazila, our correspondent saw that voters were forced to cast ballots for AL candidates, and polling agents of BNP candidates were ousted from the centres by AL men.
In Narayanganj, at least 20 people, including two policemen, were injured in a post-polls clash between a group of villagers and law enforcers in Rupganj union.
The mob confined election officials to a room over "the delay in announcing election results" at Charitaluk Government Primary School centre around 8:00pm, said police.
As police charged baton to disperse them, they clashed with the law enforcers.
Later, more people joined the mob and surrounded Executive Magistrate Zakaria Hossain and members of police and the BGB. The protesters set fire to three vehicles, including the one used by Zakaria.
The law enforcers then fired blank shots and teargas canisters to disperse the protesters, said Zakaria.
In Mymensingh, police arrested an assistant presiding officer for allegedly casting votes for an AL candidate at Kandapara Government Primary School Centre in Rajgati union of Nandail upazila.
Meanwhile, BNP candidates boycotted polls in eight unions under Chatkhil upazila in Noakhali.
In Brahmanbaria, three journalists were injured in an attack allegedly by AL men while they were covering the polls at Chunta AC Academy centre in Sarail upazila.
The three are ATN Bangla's Brahmanbaria Bureau Chief Pijush Kanti Acharya and its cameraman Sumon Roy, and Jamuna TV cameraman Hasan Jabed.
Supporters of an AL-backed chairman candidate stormed the centre around 12:30pm, and started stamping ballot papers. At one stage, they swooped on the three journalists who were covering the election, said witnesses.
Meantime, at least 25 people were injured in clashes over taking control of two polling centres of Jamalpur and Netrakona.
WOUNDED MAN DIES
A 60-year-old man, injured in a pre-polls clash, died last night at a hospital in Kishoreganj.
Siddique Mia of Bhairab upazila and six others suffered wounds in a clash between supporters of two UP member aspirants -- Abul Bashar and Selim Mia -- in Sreenagar union on Friday evening, said police and witnesses.
Over the last couple of days, supporters of the two rivals clashed over establishing supremacy, they said.
The union will go to the polls on May 7 in the fourth phase of elections.