Still grappling with patients from outside
DGHS directive to not send patients to Dhaka unheeded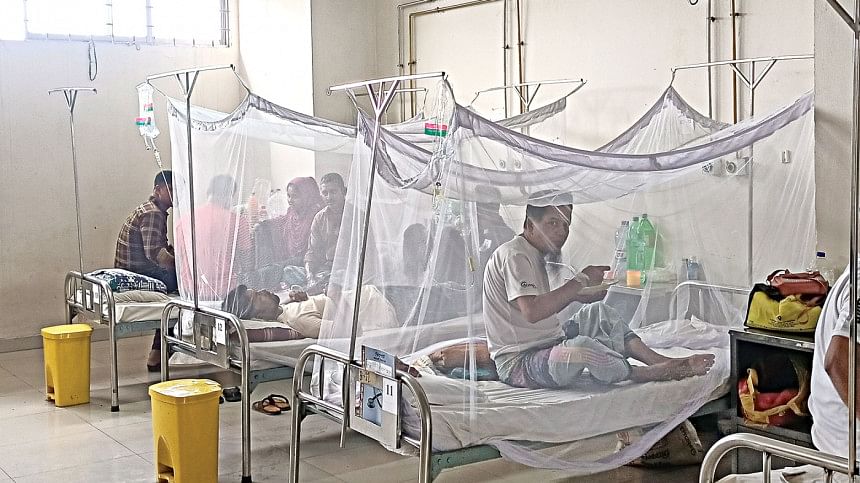 Though the Directorate General of Health Services recently requested health officials outside the capital not to refer patients to Dhaka, the number of patients from outside still remains high.
According to health officials, over 30 percent of dengue patients being treated in Dhaka are from outside the capital.
Currently, at least 3,596 patients are being treated in 20 public and 57 private hospitals in the city, with over half of them in public hospitals, shows DGHS data.
Prof Ahmedul Kabir, additional director general (planning and development) of the DGHS, said, "We have strictly instructed all health officials outside Dhaka to ensure the treatment of critical patients [in their districts or cities] instead of sending them to Dhaka. All public hospitals, including upazila health complexes, have adequate arrangements to treat dengue patients."
Kabir said that wasting time transporting critical dengue patients to Dhaka was futile. "This puts the patients' lives at risk."
Speaking to this correspondent at the DNCC dengue-dedicated hospital, Panna, a patient's attendant, said she brought her dengue-infected brother to Dhaka from Gazipur due to inadequate treatment there.
Currently, 270 people are being treated for dengue there.
Colonel Dr AKM Johirul Hossain Khan, acting director of the hospital, said the number of dengue patients has been on the rise this month, with around 30 percent being from outside Dhaka.
"Mainly critical patients with platelet deficiency, shock syndrome, and low blood pressure are still being referred here."
According to hospital officials, most of those from outside the capital are from Narayanganj, Munshiganj, Gazipur and Madaripur.
Prof Md Niyatuzzaman, director of the hospital, said, "The directive from the DGHS is that patients should not be referred to Dhaka under any circumstances. However, local hospitals are not following this directive. Moreover, many of the patients' families are bringing the patients without any referral."
He added that it takes around seven to eight hours for many of these patients to reach Dhaka and for those in critical condition, these hours are crucial.
"Within this time, a patient's blood pressure may drop, kidney may stop functioning … Many of them require ICU support. As a result, many die on the way to the hospital or within some hours of admission. We don't get enough time to treat them."
The situation is similar at Shaheed Suhrawardy Medical College Hospital.
While around 248 people are currently being treated there, over 40 percent of them are from outside Dhaka.
Dr Khalilur Rahman, director of Suhrawardy hospital, said, "A majority of the patients from outside Dhaka are coming here with severe dengue shock syndrome and in need of ICU support. Many of them come without any referral after visiting various hospitals in their respective districts."