Confident Hyderabad ready for Delhi challenge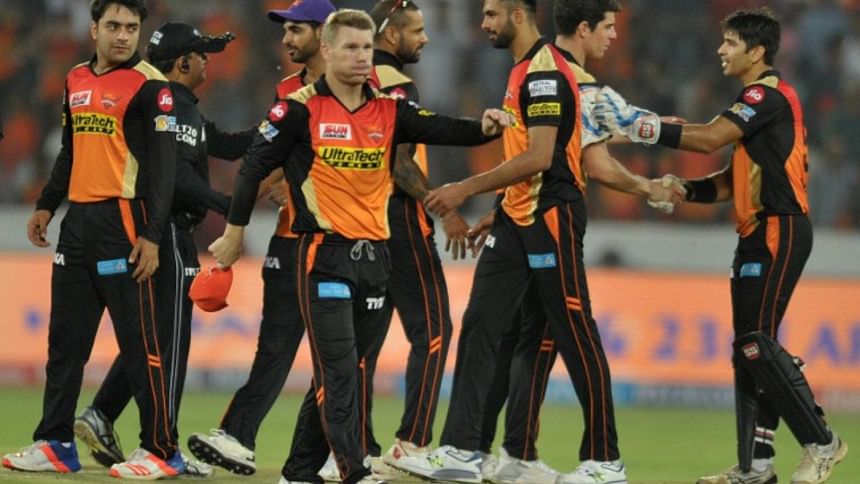 With their morale high after a close win over Kings XI Punjab, an upbeat Sunrisers Hyderabad will be full of confidence when they take on Delhi Daredevils tonight at 8:30pm Bangladesh Time.
The two teams were put through the wringer on Monday with mixed result. While Delhi lost the first match of the Monday double-header to in-form Kolkata Knight Riders, Hyderabad pulled off a five-run win, thanks to Bhuvneshwar Kumar's brilliance, both at home, reports The Times of India.
While Hyderabad have registered a victory after two defeats away for an all-win record at home so far this season, Delhi's defeat to KKR followed two good wins.
Sanju Samson, who was seen flying around the field against KKR, became the first centurion of IPL 10, as Delhi registered two of their big wins when their batting blossomed. They humbled RPS by 91 runs while defending 205/4 and routed Kings XI by 51 runs defending 188 for six.
However, Delhi will be up against a bowling unit that has built a reputation of defending low totals by sheer will and can-do spirit.
Like last year, Bhuvneshwar has had a stellar role to play in SRH's campaign this year too with the Purple cap holder proving a canny customer for the best in business. Rashid Khan as acquitted himself well and though he's just five matches old in this tournament, he has shown remarkable equanimity in pressure situations and is second after Bhuvneshwar in bowling charts with nine wickets.
Skipper David Warner tops the batting charts with 235 runs from five outings and the hosts will be well served if the likes of Shikhar Dhawan and Yuvraj Singh fire.