Cryptocurrency Conundrum Lessons from the MTFE Scam in Bangladesh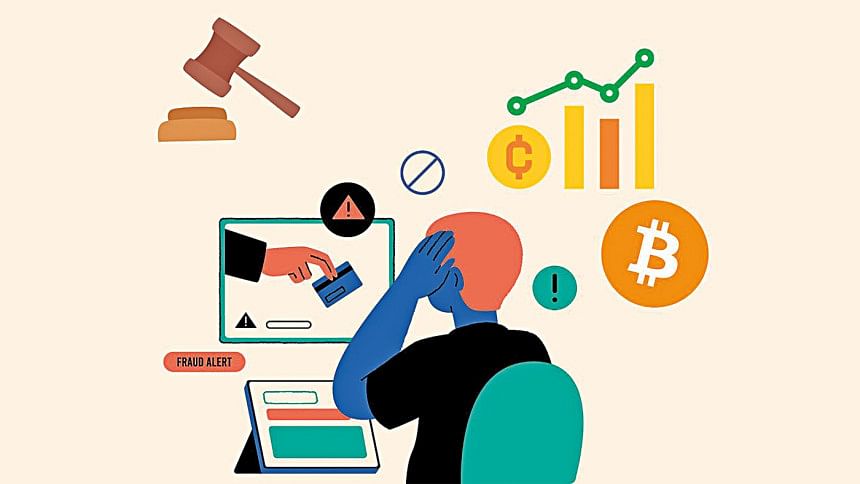 In an era driven by technological advancement and financial innovation, the realm of virtual assets and currencies has gained substantial attention, drawing both curiosity and apprehension. The frenzy around cryptocurrencies has given rise to a variety of legal and regulatory obstacles that require swift and effective reactions. This has been exacerbated by the recent events that have sparked discussions about the perils and potential pitfalls of engaging with virtual assets in Bangladesh. MTFE, an online broker, allowing trading of Forex, commodities, indices, stocks and cryptocurrencies such as Bitcoin, Ethereum, Liitecoin, Dogecoin, Polkadot, Bitcoin Cash and BNB on its platform, and operating in Bangladesh at least since June of 2022, has disappeared along with crores of public funds of Bangladeshi users.
Since the disappearance of MTFE, which claimed to be registered in Ontario, Canada with the Financial Transactions and Reports Analysis Centre of Canada (FINTRAC), it has come to light that in addition to dealing in virtual assets, they were also operating a multi-level marketing (MLM) scheme by offering its users attractive referral benefits and monthly returns for logging on to the platform. It must also be noted that FINTRAC is not the authority in Ontario, Canada for authorising brokers, such as MTFE, it is rather the Ontario Securities Commission (OSC). MTFE was not registered with OSC and was running its business illegally from Dubai.
The question then arises, can MTFE be held legally responsible in Bangladesh under the existing regulatory framework? In this regard we must delve into the legality of offering virtual asset-related services on a cross-border basis— as was offered by MTFE, to individuals in Bangladesh— which has been a topic of much contention. According to Bangladesh Bank's FE Circular No. 24 dated 15.09.2022, it's crystal clear that transactions involving virtual assets or virtual currencies within, to, or from Bangladesh are unequivocally prohibited. This ban extends not only to the exchange, transfer, or trading of these assets but also to any facilitation of such activities. The foundation of these prohibitions lies within the Foreign Exchange Regulation Act, 1947 (FERA, 1947) and any transgressions may be met with severe penalties, including imprisonment and hefty fines. Moreover, these violations can also intertwine with the Money Laundering Prevention Act, 2012.
However, it's important to mention that FERA, 1947 applies exclusively to citizens, residents of Bangladesh, and individuals in the service of the People's Republic of Bangladesh, regardless of their location. This implies that even though MTFE was involved in activities banned by Bangladesh's central bank through the authority of FERA, 1947, holding it accountable under the existing regulatory framework might not be feasible. The reason being that MTFE lacks registration as an entity in Bangladesh, and FERA, 1947 doesn't possess jurisdiction beyond the nation's borders. Under the current regulatory setup, only users of MTFE who are citizens or residents of Bangladesh, can be held liable for contravening Bangladesh Bank's prohibitions. Consequently, foreign online platforms like MTFE can continue their operations with impunity in Bangladesh.
Furthermore, MTFE's operations are not merely about virtual assets; it's also about MLM schemes. MLM has been a contentious issue in Bangladesh, with the Multi-Level Marketing (Control) Act, 2013, clearly stipulating that any company engaging in MLM activities must obtain a license from the Ministry of Commerce. The Act further dictates that before applying for an MLM license, a company must register itself as a company limited by shares under the Bangladesh Companies Act, 1994. This registration requirement is intended to bring transparency and accountability to MLM activities, to protect consumers from pyramid schemes and deceitful marketing practices. However, MTFE was running its MLM operations from Dubai, without having any registrations or licenses in Bangladesh.
The MTFE debacle highlights not only the flagrant disregard for the law but also the consequences of such actions on unsuspecting citizens. This further underscores the need for awareness of the law and strict adherence to the law by the general public and the vital role of regulatory bodies in preserving the integrity of our financial system. The loss of hard-earned money, coupled with shattered trust, is a grim reminder of the urgent need for a stronger overarching regulatory framework. As virtual assets become part of the contemporary financial landscape, it's crucial to either facilitate their legal and transparent integration into the economy or establish improved regulations prohibiting them. These regulations should not only deter individuals from participating in virtual asset activities, but also ensure that those who disregard the law are held accountable, irrespective of their domicile. Outright banning of dealing in virtual assets has not been effective and has done nothing to prevent bad actors such as MTFE from continuing to operate under the radar of the regulatory authorities in unmonitored environments. Also, it is not the only foreign online virtual asset trading platform currently operating in Bangladesh; there are in fact many others that continue to operate illegally and launder money from the country.
As we seek a way forward, education emerges as a powerful tool to safeguard the masses from fraudulent crypto schemes. Ensuring that citizens have access to accurate and unbiased information about virtual assets and MLM schemes is crucial. By fostering financial literacy, we can equip individuals with the tools needed to make informed decisions and thereby safeguard themselves from potential scams.
In conclusion, as we navigate the ever-evolving landscape of virtual assets, the MTFE scam serves as a stark reminder of formulating a better legal framework and the importance of enabling a culture of adherence to it. The MTFE debacle has laid bare the risks, liabilities, pros, and cons associated with virtual asset-related services. The lessons learned from MTFE's disappearance should serve as a call to action for better regulation, vigilance, education, and transparency. Only through collective efforts, can we hope to create a safer, more secure financial future for all. Indeed, the path forward lies in striking a balance between innovation and regulation, between empowerment and protection.
The writer is a Senior Associate at The Legal Circle.