CSA's section 42 will be applied only in case of emergency: law minister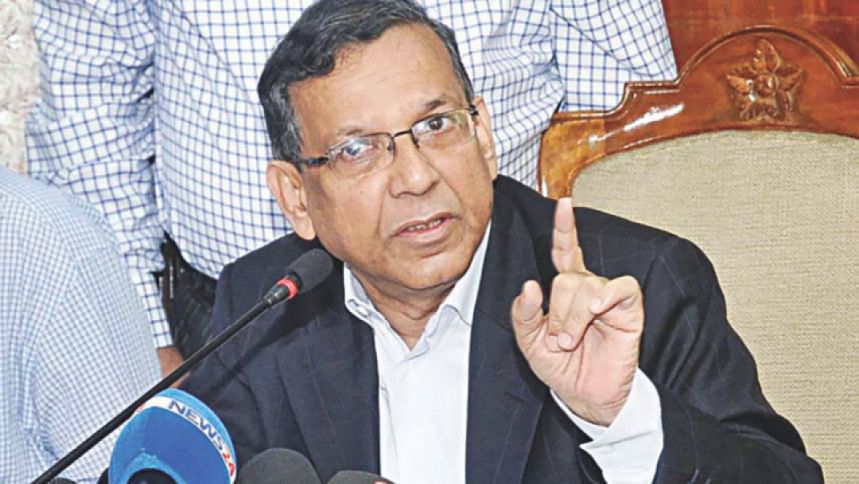 Law Minister Anisul Huq today said that section 42 of the proposed Cyber Security Act (CSA) will be applied only if the necessity arises to take immediate action against any cybercrime.
"There are some areas (in cyber offence) where immediate action is required. Only in such cases, section 42 will be applied," he said while speaking as the chief guest at the 4th conference of the Broadcast Journalists' Centre (BJC) at Bangla Academy Auditorium in the capital.
Section 42 of the Cyber Security Act has a legal requirement as the job of police personnel is to stop crimes, which are likely to be committed, arrest the criminals and expose them to trial, and collect evidence, Anisul said, adding, in some cases, immediate evidence is required to expose the criminals to trial.
There were many questions and objections against inserting the section 57 in the ICT Act of 2006, but there was a necessity to control or protect the cyberspace, he said, adding in such a context, the Digital Security Act (DSA) was enacted.
Mentioning that the DSA was misused, the law minister said some 7,001 cases were filed under the act while 95 percent of these cases were filed by the common people, including some politicians, of the country.
But when it was seen that the law was being misused, Anisul said, the government discussed it and learnt about the best practices across the world in this regard.
And finally, the government took the initiative to formulate the new law named 'Cyber Security Act' after consulting with the concerned stakeholders, he added.
Some recommendations given by the apex body of the journalists- Bangladesh Federal Union of Journalists (BFUJ)- were taken in formulating the proposed cyber act, the law minister said, adding that specifically, the recommendation of BFUJ regarding the section 21 has been accepted.
BJC Chairman Rezwanul Haque Raja chaired the function while Ekattor TV Chief Planning Editor Noor Safa Zulhas and senior journalist Munni Saha moderated it.
Senior journalist Monjurul Ahsan Bulbul, Global TV editor-in-chief Syed Istiaq Reza, Professor Dr Shafiul Alam, ATN Bangla Chief Executive Editor Joy-e Mamun, NTV news chief Zahirul Alam, Ekattor TV news chief Shakil Ahmed, News24 Executive Editor Rahul Raha, DBC Editor Pranab Saha, Channel i Chief News Editor Zahid Nawaz Khan and senior journalist Nazrul Kabir spoke, among others, in the two sessions of the conference.