Legal literacy for rural women entrepreneurs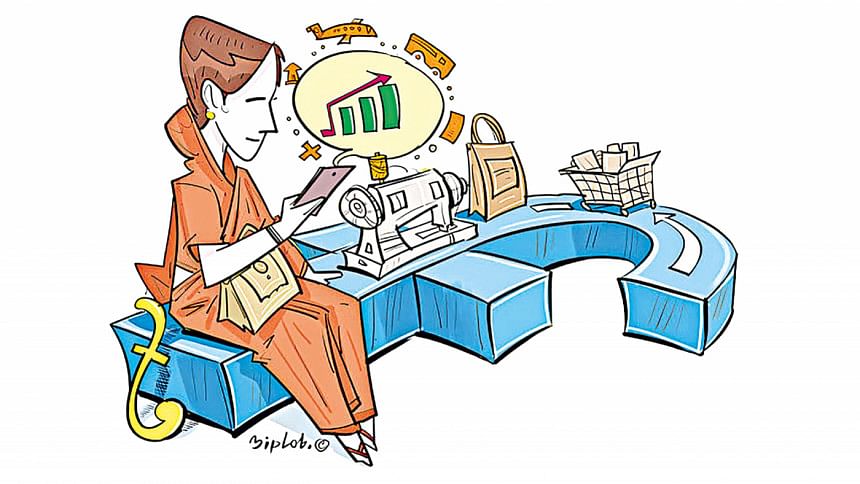 According to a report published by Bangladesh Bureau of Statistics (BBS) in 2020, the number of female-owned SMEs in Bangladesh was 2.8 million, which is around 24.6% of the total number of SMEs in the country. In this backdrop, it is essential for Bangladeshi rural women entrepreneurs to be well-versed in commercial law to make a positive contribution to the country's economic growth. There are a variety of financial resources available to them including loans and microfinance, as well as agricultural subsidies etc. However, to ensure that they take advantage of these opportunities to increase their employment and entrepreneurial prospects, it is also essential to ensure that they have a basic understanding of the legal framework of Bangladesh's commercial law. This article is intended to shed light on the fundamental aspects of the commercial law landscape in Bangladesh and provide guidance on topics that can be of help to rural women entrepreneurs conduct their business smoothly.
When it comes to business structures for rural women entrepreneurs, sole proprietorship looks like a simple, less complicated option. In comparison to alternative business structures, sole proprietorship has fewer requirements when it comes to compliance. For rural women entrepreneur starting their ventures, the essential steps include procuring requisite documentation, registering business with the pertinent regulatory bodies, and securing mandatory licences and permits.
It is paramount for rural entrepreneurs to possess a comprehensive understanding of the specific licences and permissions requisite for their business operations, as well as the precise protocols for registering their enterprises. This is imperative to pre-empt any potential legal entanglements and to facilitate the seamless operation of their business endeavours. Providing training sessions on how to acquire a licence and how to register a business would be beneficial for rural entrepreneurs.  Without such guidance, the rural entrepreneurs may not be able to take full advantage of the opportunities available to them, even with loans and various other support mechanisms. 
We also need to ensure that the rural entrepreneurs understand the basic concepts of contracts as they often engage in different types of agreements including for selling and buying products, crafts, and commodities. Laws pertaining to contracts play an important part in protecting rights of all parties involved in these kinds of transactions.
The knowledge on how to obtain a Tax Identification Number (TIN) and Business Identification Number (BIN) is also crucial for the rural entrepreneurs to conduct their business smoothly in Bangladesh. Entrepreneurs also need to be fully aware of their rights and obligations, when it comes to microloans and the other financial services to make sure they get the most out of them.
Training in negotiation skills can equip women entrepreneurs in the villages with the capacity to resolve potential disputes, thereby obviating the necessity for resorting to litigation. Such an initiative holds the promise of significantly enhancing the growth trajectory of their businesses.
It can pose a significant challenge for individuals lacking access to education to grasp the intricate concepts of legal frameworks required for conducting business affairs. Offering them guidance in comprehensible and straightforward terms through effective training can serve as a valuable means to foster entrepreneurship within our rural communities.
The writer is an Associate at Farooq & Associates.