Recipes for Shab-e-Barat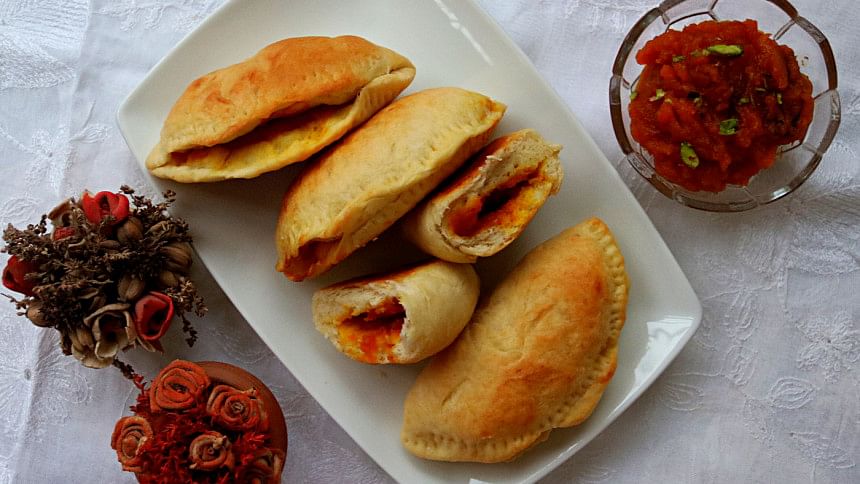 Over time, the practice of cooking and distributing halwa and roti have etched themselves as part of our tradition and now, Shab-e-Barat is synonymous to having halwa and bread in the house. On this note, here are a few bread and roti recipes for you try out.
STUFFED CARROT HALWA BUNS
Ingredients
For the bread –
3 cups flour
½ tsp salt
1½ tsp sugar
2½ tsp yeast
1 egg
¼ cup lukewarm milk
1½ tbsp lukewarm water
1 tbsp oil
Water as required
For the filling —
500g carrots
1 cup milk
2-3 cardamom pods
¼ cup sugar
2 tbsp ghee
¼ cup mawa
¼ cup nuts
Method
In a bowl, add and mix the dry ingredients together — flour, salt, sugar, and yeast. Then, pour in the egg and milk and add sufficient water to form a dough. When the dough has a very sticky consistency, add in oil and make the dough smooth. Give it a final coating of oil and let it rest, covered in a warm place for a couple of hours.
To make the carrot halwa, peel and grate the carrots. Pour milk in a pan and add in the carrots and cardamom and mix – wait for the milk to come to a boil. When it starts to boil, cover with a lid and let it cook for 20 minutes on medium-low heat, stirring occasionally. Then, pour in ghee.
Once fully cooked, set the flame to medium-high and add sugar. The sugar will release juices so stir and cook until all the liquid evaporates. After that add mawa and mix. Finally, add in chopped nuts and stir, and then remove from heat.
Once the dough is done, punch out all the air and form balls. Spread out the balls and place sufficient carrot halwa in the centre. Seal the edges to make a crescent shape and let these rest for 10 minutes. Then bake in a preheated oven at 170°C for 20-25 minutes and they will be ready to serve!
DAL ROTI
Ingredients
2½ cups water
1 tsp salt
3 cups rice powder
For the filling –
250g split pea lentil (motor dal) 
1 cup water
1 thumb ginger
1 tsp turmeric
1 tsp coriander powder
4-6 green chillies
1 tsp salt
A handful of coriander leaves
Method
To make the filling, soak lentils in water for 3-4 hours. Then, boil them using a cup of water along with sliced ginger, turmeric powder, coriander powder, salt, and four split green chillies.
In another saucepan, pour in 2½ cups water along with salt and wait for it to come to a boil. Once boiling, add in rice powder and do not stir. Cover this with a lid and wait for 3-4 minutes. After that, remove the lid and the rice powder should have mixed nicely with the water and formed a sticky consistency. Remove this from heat and knead it until it forms a smooth dough and let this rest.
Within this time, your lentils should also be fully cooked. Remove the lentils from heat and add in sliced green chillies and fresh coriander. Mix everything well so that it forms a smooth, solid mixture. Then, take sufficient amount of dough to form a disc and spread it out using your palm and fingers — do not use a rolling pin in this case.
Take a teaspoon of the lentil mixture and encase it within the dough, sealing all the sides. Very gently, make it flat ensuring that the edges do not crack. Once done, cook these in a pan on low heat until both sides have a brown tint and serve warm.
NOKSHI BREAD
Ingredients
4 cups flour
1 egg
3 tbsp sugar
½ cup lukewarm milk
1½ tsp yeast
1 tbsp sesame seeds
1 tbsp butter
3 tbsp oil
¼ cup raisins
¼ cup candied fruits
Water as required
A pinch of salt
Method
Add in flour, salt, sugar, and yeast to a bowl and mix. Crack in one egg and then pour in warm milk and oil. Mix these together to form a dough and add warm water as needed to make the dough smooth. Once the dough is formed, place it in a bowl coated with oil and leave it covered in warm place for 25-30 minutes.
After that, the dough should have risen. Punch the dough to eliminate all the air and form little discs from it. At the bottom of the disc, place some candied fruits, and then fold it to form a semi-circle. Then, place raisins on one side and fold again to resemble a petal. Place a raisin on top of each piece of dough.
Take a round baking dish and brush it with oil. Start placing the pieces of dough from the edge and move towards the centre to make a complete flower. Then, let this rest for 20 minutes and brush the top with milk. After that sprinkle sesame seeds on top and let this bake in a preheated oven at 180°C for 40-45 minutes. Once done, while the bread is still warm, brush with butter on top and enjoy!