Recipes using Balsamic vinegar: Exploring its health benefits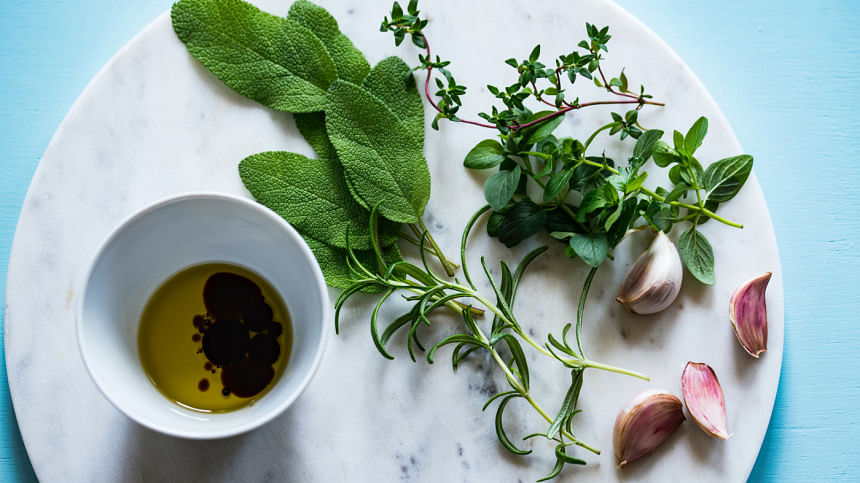 This article is an ode to the fantastic balsamic vinegar. Made of grapes, it lends goodness to cure a number of ailments in our bodies. From lowering blood sugar and pressure levels, increasing the ability to absorb vitamins in the body and reducing hypertension, balsamic vinegar denotes to the word balm-like.
The following are some recipes that uses Balsamic vinegar.
CAULIFLOWERS AND POTATO WITH ONION AND BALSAMIC
Ingredients
1 large cauliflower, florets separated
1½ cups of inch-long, chopped, long yard beans (borboti)
3 potatoes, diced into bite sizes
Pinch of cumin seeds
2 red onions thinly sliced
4 tbsp balsamic vinegar
1 tbsp roasted cashew nuts, quartered
Salt and pepper, to taste
1 tbsp chopped mint leaves
Method
Blanche the cauliflowers and long yard beans, in boiling water for about 2 minutes. Boil potatoes for about 5-6 minutes and toss cauliflowers and potatoes with a drizzle of olive oil, salt pepper, and cumin seeds. Place these in a tray within an oven, pre-heated at 180° C for 10 minutes. Let them roast for about 10 minutes. Keep changing sides to evenly roast. Take them out, cool them and toss them with the rest of the ingredients, drizzle the balsamic on top and serve cold.
SEMOLINA CAKE WITH LAYERED VEGETABLES
Ingredients
1½ cups semolina or suji
½ cup yoghurt
½ tsp baking powder and ¼ tsp baking soda
¼ cup milk
¼ cup olive oil
Salt and pepper to taste
1 tbsp roasted, sliced garlic (slightly pinkish hue)
1 cup sliced and halved, boiled beetroots
½ cup grapefruit de-seeded and hand shredded
2 large onions, sliced thinly
Handful of basil leaves
1 tbsp dried rosemary and oregano
1 tsp coriander seeds (roasted)
2 tbsp crumbled Dhaka Paneer
Drizzle of olive oil
4 tbsp balsamic vinegar
Method
Mix the yoghurt with the baking soda and powder and set aside for about 10 minutes. The soda will cause the yoghurt to pop. Mix the semolina with ¼ cup olive oil. Add the yoghurt mix to the semolina and if it is still too clumpy, add some milk. It should have a thick batter consistency. Add pinch of salt and pepper to taste and the roasted garlic and dried herbs, except the coriander seeds. Now pre-heat oven at 200° C for about 10 minutes then bring it down to 180° C and bake the semolina (spread it into a square cake tin) for about 15 minutes. Stick a toothpick to check if it is dry. Mix the beetroot, sliced onions, basil leaves, grapefruit with the crumbled cheese, coriander seeds and balsamic vinegar and add salt to taste. Now, take it out and after cooling for about 5 minutes, evenly spread the vegetable mix on top; cut the cake into squares and serve like a pizza square. 
GARLIC SHRIMP WITH KAON RICE AND JAMRUL SALAD
Ingredients
½ kg garlic peeled and de-veined
200g Kaon rice (you might use couscous)
1 cup diced, boiled beetroot
A pinch of chopped celery
2 cups jamrul or love apples (quartered)
2 tbsp brown sugar
2-3 garlic cloves diced
½ cup sliced spring onions
1 cup thinly sliced cabbage
1 tbsp sliced green chilis (optional)
Drizzle of olive oil and balsamic vinegar
Method
Boil the shrimp with a hint of celery till they are pink in colour (about 2 minutes). Use the water to boil the kaon rice in. Add some salt here and a dash of olive oil so it does not clump together. Cook the jamrul with the diced garlic and after 1 minute add the salt, pepper and sugar and cook to reduce. Blanche the cabbage for less than 1 minute so it can still remain crunchy. Now mix all the ingredients in a bowl and add the coriander and chilis and balsamic vinegar. You may drizzle on some more olive oil if you feel it is too dry. Serve this cold.
FISH TACOS WITH MANGO AND BALSAMIC
Ingredients
250g patari fish fillets ( 1½ inch long, 1 inch broad pieces) or coral fish (shrimps are also an option)
2 cups mango, cut in 2-inch-long thin slices
1 cup pineapple, diced
1 cup shredded cabbage (blanched for about 1 minute)
Lettuce leaves
½ cup coriander leaves
1 tbsp roasted coriander seeds
1 lemon grass stalk
2-3 kefir lime leaves (you can also use 1 tbsp lemon juice here for more tanginess or different flavour) 
Salt and pepper to taste
4-5 tortillas or hand rolled chapattis
A pinch of corn starch
1 quartered onion
½ cup sliced spring onions
Drizzle of olive oil and balsamic vinegar
Method
Boil the fish with the fragrant lemon grass, kefir lime, or lemon juice, salt, pepper and quartered onions and ½ tsp worth of balsamic. This should take about 7-8 minutes. Once done, you may remove the fish pieces and strain the left-over broth. Thicken this to a paste like consistency by adding corn flour (this is optional). Smear the tortillas with the fish paste (you can opt out of this step, in case you want the tortillas plain) and now on one half of the tortilla, add 2 pieces of fish, add mangoes, pineapple, 1-2 lettuce leaves, and rest of the ingredients. Drizzle some balsamic here and add olive oil if needed. Fold the tortilla and serve.