Regal desserts made with All Time Milk Bread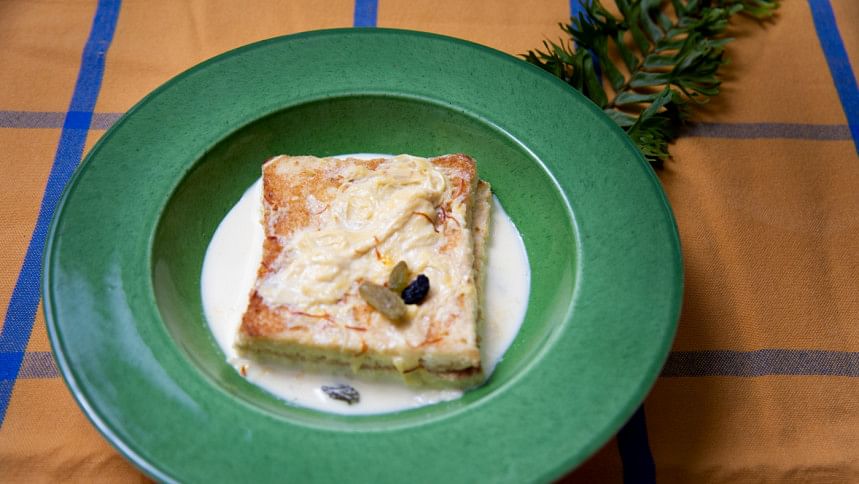 Bread and regal desserts put together may sound like an oxymoron at first, but it is amazing to think that a humble ingredient such as bread can be used as the core ingredient in decadent desserts that scream grandiose. All Time Milk Bread is prepared fresh, and its soft texture makes it the perfect pick to make your bread desserts.
Butter Toast Bread Soaked In Milk
Ingredients
4 slices All Time Milk Bread
200g butter, unsalted
250g milk
150g sugar
4 pieces almonds
4 pieces pistachios
A few strands of saffron  
Method
Cut the sides of All Time Milk Bread and butter them on both sides, lightly toast the bread slices in a frying pan until golden brown. On the side, boil the milk until it reaches a thick consistency, and add sugar and continue to stir it. Throw in the almonds, pistachios and saffron and continue to boil it, until the milk turns golden and thickens.  In a serving dish arrange the All Time Milk Bread slices in piles of two; pour the thick milk on top. Put this in the refrigerator to cool down; garnish it with mangoes or bananas before serving.
Gulab Jamun
Ingredients
1 cup powdered milk
1 slice All Time Milk Bread
2 tbsp flour
2 tbsp ghee
2 tsp suji (semolina)
1½ tsp baking powder
1 egg
For the syrup —
2½ cups sugar
5 cups water
4-5 pieces cardamoms
Few strands of saffron
Method
In a bowl, mix powder milk, suji, baking powder. Now soak the All Time Milk Bread slice in water and squeeze it nicely. Then put the ghee in a bowl and mix with the dry ingredients. Put all the other ingredients in it and knead well to make a smooth dough. From this dough, make small balls. In the meantime, heat the oil on medium flame. Fry the gulab jamuns.
For the syrup, take a separate pot and put sugar, water, cardamoms, and saffron strands. Bring to a boil on high heat. When it is very hot, put all the balls together. Keep boiling for 10-12 minutes then turn off the heat. Your gulab jamun is ready to eat.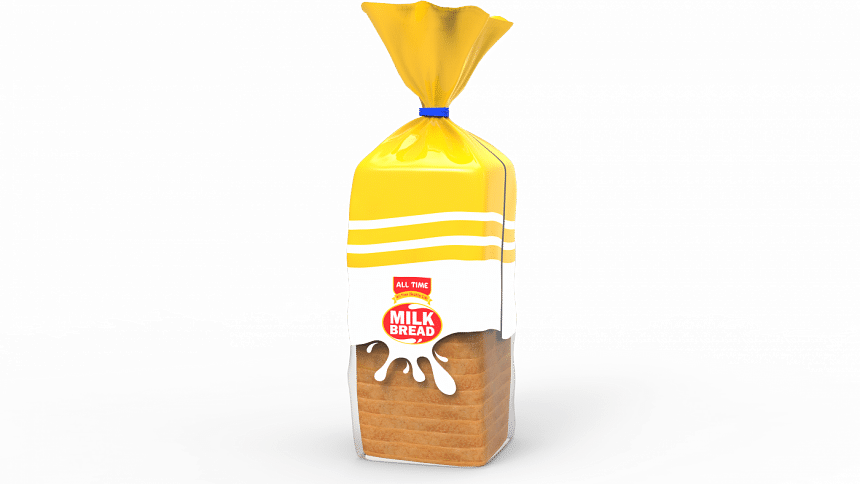 Bread Cream Roll
Ingredients
6 slices All Time Milk Bread
50g butter, unsalted
100g blueberry compote
200g cream cheese
2 tbsp sugar
Method
Firstly, slice off the brown edges of the All Time Milk Bread slices. Then, roll them out flat, while retaining some width. Mix the softened cream cheese, blueberry compote and sugar using a whisk until you attain a smooth and creamy mixture. Spoon the blueberry cream cheese mixture over the bread slices and roll them up.
Generously lather butter over the rolls on all sides and let these bake in a preheated oven at 160°C for 5 – 7 minutes until the exterior is golden brown and crispy. Serve immediately when freshly baked from the oven. 
Bread Halwa
Ingredients
8 slices All Time Milk Bread
6 pieces large, sweet strawberries
½ cup milk
¼ cup sugar
2 tbsp ghee
1 tbsp chopped almonds
1 tbsp chopped pistachios
1 tbsp chopped cashew nuts
1 tbsp raisins
1 tsp cardamom powder
½ cup grated mawa
Method
Cut and puree the strawberries to get a smooth paste. Then add this to a pan on medium heat along with the sugar and cook it until it has a thick consistency. Toast the All Time Milk Bread slices and cut them into pieces of about one inch. In another pan, add the ghee along with all the chopped nuts and raisins and sauté lightly.
To the fruit mixture, add cardamom powder, and mix well. Then add the bread pieces and mash them while mixing. Finally, add the milk and mawa and mix well. Lastly, add in the sautéed nuts and raisins and combine everything together to get the halwa.