Salads for every mood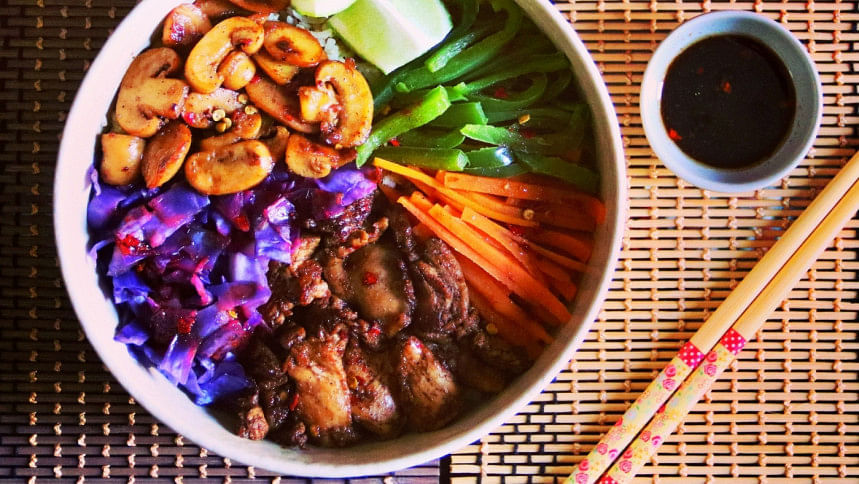 Salads can be delicious; salads can be gorgeous. And yet, we have a bittersweet relationship with salads. At least now, we have come far from the thought that healthy food equals boring food.
Salads, if done right, can be something worth shamelessly devouring — and there are a million ways you can do it! With so many combinations of the contents in a salad along with endless possibilities of what to put in the dressing — the sky is really the limit once you have cracked the perfect equations.
MANGO AND GRILLED CHICKEN SALAD
This tropical salad is great to make at this time of the year, bursting with fresh flavours from mangoes and a spicy kick from grilled chicken.
Ingredients
For the chicken –
2 chicken breasts
1 tbsp olive oil
½ tsp paprika powder
½ tsp black pepper
½ tsp salt
1 tsp garlic powder
½ tsp cumin powder
1 tbsp lime juice  
For the salad –
1 large ripe mango
1 red bell pepper
A bunch of lettuce
¼ cup olives
1 red onion
1 cup grape tomatoes
Method
Start by marinating the chicken with olive oil, paprika powder, black pepper powder, salt, garlic powder, cumin powder, and lime juice. Rub all these ingredients over the chicken breast pieces and let it rest for 30 minutes.
Meanwhile, slice the mango, onion and bell pepper into juliennes and chop fresh lettuce. Also slice the black olives and grape tomatoes. Grill the chicken on medium heat flipping only when one side is cooked entirely. Let the chicken pieces cool slightly before slicing them.
Arrange the chicken pieces with the fruits and vegetables, sprinkle paprika powder and black pepper powder on top and toss together. You can serve this with freshly squeezed lime juice or a vinaigrette dressing.     
CREAMY POTATO SALAD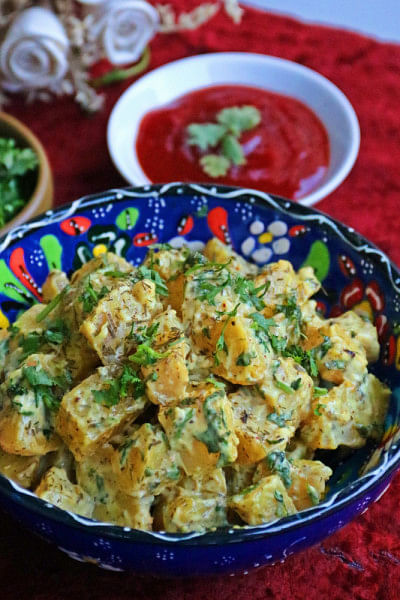 This salad is heavy on carbs and falls more on the unhealthy category – perfect for pairing with chicken fry or steak as a side dish.  
Ingredients
4 large potatoes
½ cup mayonnaise
1 tbsp yellow mustard
2 eggs
½ tsp salt
½ tsp black pepper
½ tsp paprika
1 tsp chives
2 sticks spring onions
1 medium dill pickle
Method
Cut the potatoes into quarters and set them to boil with sufficient salt. Start with room temperature water and let the potatoes boil along as the temperature rises. Alongside, hard boil the eggs. Once the potatoes are fully done, slightly cool them and then peel off the skins. Do the same with the eggs.
In another bowl, mix the mayonnaise, yellow mustard, and dill pickle relish. Finely chop the spring onions and dice the potatoes and eggs, and mix them along with the mayonnaise mixture. Next, season this with salt, black pepper, paprika powder, and dried chives.
Mix everything together and finally garnish with chopped spring onion greens. Wrap this with cling film and refrigerate for 30 minutes before serving.      
THAI GREEN PAPAYA SALAD      
Another tropical recipe to enjoy this summer! This salad is delicious as it is and can be enjoyed without being paired with anything else.
Ingredients
1 raw green papaya
2 garlic cloves
5-6 red chillies
2 large green beans
5-6 cherry tomatoes
¼ cup dried shrimp
2 tbsp roasted peanuts
1½ tbsp fish sauce
2 tbsp lime juice
1 tbsp white sugar
Method
Pick a firm and raw green papaya and peel it. Continue peeling it with a julienne peeler so that you get fine shreds of papaya. Soak the dried shrimp in water for 10-15 minutes to soften them up. Cut the tomatoes and beans into bite-size pieces.
Using a pestle and mortar, crush the garlic gloves and add in chopped red chillies. Add in roasted peanuts and shrimp and bruise them as well – do not over crush just lightly bruise the ingredients. Lastly, add in the beans and tomatoes and crush.
Finally, add the shredded papaya and season everything with fish sauce, lime juice, and sugar. Toss everything together with the help of the pestle. Check for seasoning before serving.    
GRILLED CALAMARI SALAD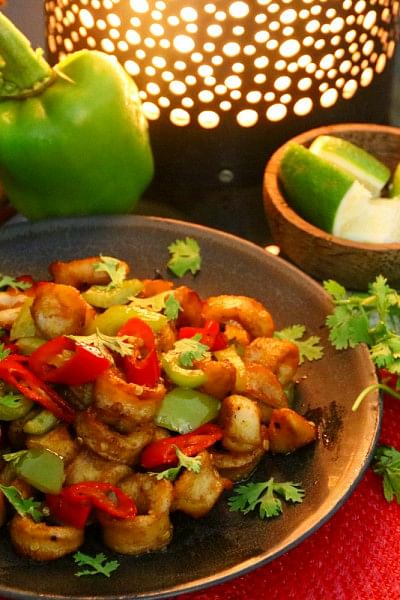 This protein packed salad can be a meal on its own that is packed with umami flavours of calamari that pair excellently well with the crunch of fresh vegetables.
Ingredients
300g squid rings
1 tbsp oil
1½ tsp Sichuan pepper
1 tsp black pepper
1 tsp salt
1 tbsp garlic granules
2 Malaysian red chillies
1 yellow bell pepper
A handful of coriander
Method
Mix the squid rings with olive oil, Sichuan pepper, salt, black pepper, and garlic granules. Toss them together before grilling them on high heat, for only a couple of minutes until they are fully cooked and charred.
Slice the red chillies and bell peppers into bite-size pieces and toss together with the squid rings. Finally sprinkle with fresh coriander leaves. You can toss this with any vinaigrette dressing.
ORANGE VINAIGRETTE DRESSING
Ingredients
A handful of fresh coriander
2 cloves garlic
2 tbsp orange juice
3 tbsp olive oil
Pinch of salt
Pinch of pepper
Method
Finely chop the coriander and garlic and mix well with freshly squeezed orange juice and olive oil, along with salt and pepper to taste. This is a generic dressing that goes with just about anything from leafy vegetable salads to protein-packed meaty ones.
POPPY SEED DRESSING
Ingredients
1 tbsp maple syrup
1 tbsp apple cider vinegar
3 tbsp olive oil
¼ tsp mustard powder
¼ tsp onion powder
1 tsp crushed poppy seeds
Salt to taste
Method
Whisk the liquids together – mix maple syrup, apple cider vinegar and olive oil in a bowl. Then add the seasonings – mustard powder, onion powder, and crushed poppy seeds. Finally sprinkle over salt and check for seasoning. This dressing is a great accompaniment to salads that contain fruits. 
PEANUT DRESSING
Ingredients
¼ cup peanut butter
2 cloves garlic
2 tsp fresh ginger
2 tbsp rice vinegar
2 tbsp soy sauce
2 tbsp honey
½ tsp cayenne pepper
2 tsp sesame oil
Method
Whisk together the creamy peanut butter, rice vinegar, soy sauce, and honey. Then add finely chopped ginger and garlic. Add a pinch of cayenne pepper depending on taste and finally add in a drizzle of sesame oil. Check for final seasoning.