The best tea spots you can find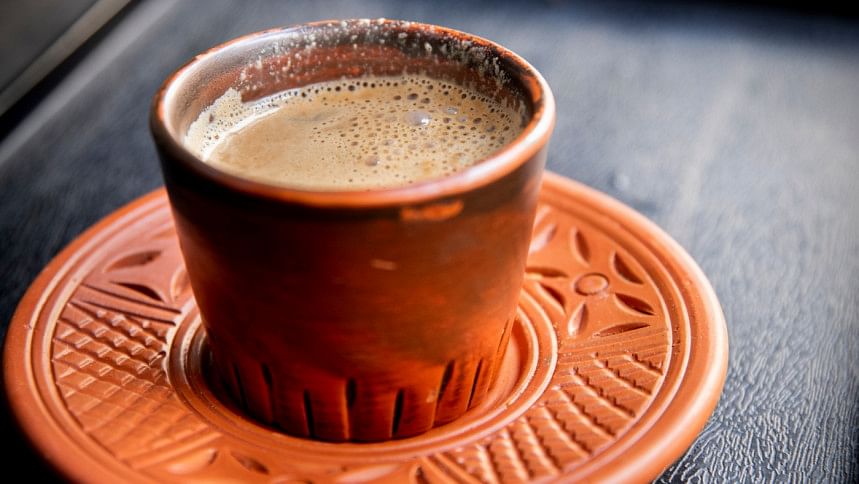 Crispy, puffed-up paratha dipped in frothy milk tea is a palate tease. You go to any roadside restaurant and dunk your paratha and you will no doubt be happy. But not as happy as you will be in Thatari Bazar Star Hotel and Restaurant in the old part of town.
A big pot of tea is constantly brewing on the stove, and every minute, the hotel is serving scores of cups of milk tea. Their sugary milk brew is divine. It instantly perks you up, even if you avoid sugar, this mildly sweetened drink will not dishearten you. Of course, you can find a sugarless cup too. This old restaurant boasts so many fine dishes, but their tea is what wins your heart, with or without the dunking of parathas.
Pannu'r Cha at Nazira Bazar is another gem. People flock the small tea house and often have to stand in queues for a sip. Served in small cups, this tea house in old Dhaka is quite popular with new town people, mostly because it is a new fad to eat and drink and make merry in Old Dhaka. But you ask any tea lover, Pannu's tea is on the top of their list because of their extraordinary strong blend of tea leaves from the best gardens in the country.
Any village highway tea stalls steeping tea with fresh cow's milk is a blessing in disguise. The cream or malai lends it a rich texture. You will always find one such tea stall on all highways of Bangladesh. The steaming cup of milky cream tea gives instant energy. You must stop your car and enjoys this cup because us city folks do not always get the chance to taste tea with fresh cow's milk. The warm smell of tea liquor and milk brewing in big soot-laden kettles on wooden stoves, stationed beside the green paddy fields, just swells up your heart.
Every lane in Dhaka has a 'tong' or 'mamur dokan' where people buzz around for some sweet hot tea. It gives them a high after gruelling coaching or study hours. Passers-by lazing around, workers, office goers all flock the local tong for their condensed milk tea. One recipe is followed but some add biscuits or eggs to give the tea an edge. Many a times, locals order in and are sent a cuppa served in the condensed milk pots.
The recent addition of Cha Chai in Gulshan Avenue has created quite a buzz with their 'gourmet teas,' like tandoori cha, masala cha etc. As work ends, people going home zooming past the avenue can stop the car and pick up a cup for a delightful little evening break.
Teas are a joy, be it chamomile, Earl Grey, Makaibari or just good old deshi milk tea. A light sip of hot black tea with a slight squeeze of lemon or brewed heavily in cardamoms and cloves, or frothy milk tea; it makes you happy and keeps you going. So, with the advent of chilly evenings and misty midnights, go for your favourite warm fuzzy brew to add a little liveliness to your day's itinerary.