Life lessons from Bukayo Saka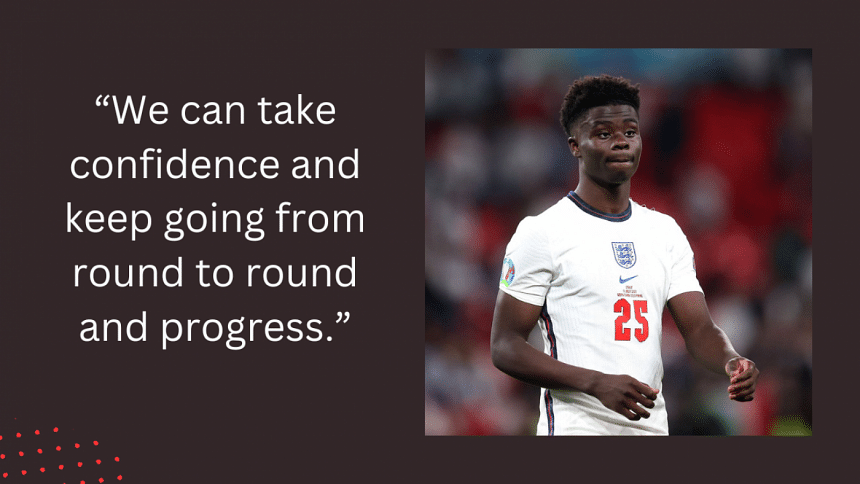 Defying the limits of a young age rises an awe-inspiring individual. With striking talent and an enormously mature mindset, the name Saka has become a darling to masses of football fans. Only twenty years old, English footballer, Bukayo Ayoyinka T M Saka, contends for Premier League Club Arsenal and the England National Team. Regarded as one of the top young football players in the world, he is recognised for his attacking brutality and ingenuity. Yet, after missing the determining penalty in England's sad loss to Italy in the Euro 2020 final, Saka has been the object of racial taunts. But this lionhearted individual never let the harsh trolls hold him back. So, let us take a page from his book to survive the daunting world of cruelty and heartbreak.
"We can take confidence and keep going from round to round and progress."
As much as we would love to develop inner confidence and succeed in life effortlessly, it shall remain some farfetched fantasy for a lot of us. Because the path to glory is no easy-flowing journey, we have to take both knowledge and failure from every round of life.
So, learn to be patient with yourself. Be accepting of the position you are currently in your life and the person you are becoming. Know that someday soon, the patience will pay off in making you look back at life with satisfaction, as the only step you will take is toward progress.
"I do set myself targets."
With how normalised and glamourised the term "procrastination" has become, anyone will find the habit of setting goals every day amusing. Yet, those who set them and carry out their vision are the ones to attain brilliance in life. 
This is because, setting targets in life, be it for a short or long timeframe, helps you to gain long-term perspective and immediate drive. Moreover, it helps us as individuals to focus on learning and better productively manage time and resources so that a few years down the line, we may enjoy life to the fullest.
"I will not let that moment or the negativity that I've received this week break me."
If the whole world was only filled to the brim with compassion and goodness, life would have been the reincarnation of some blissful fairy tale. Unfortunately, differences in culture, colour, or opinion invite ridicule and failures warrantee hounding, just like the immense negativity Saka received after missing his penalty shot during the Euro 2020 final.
But should we let that negativity from people who do not even know our everyday battles break us? Probably not. Take inspiration from how Saka battled those criticisms against individuals who only knew to bully him through a screen and rose to be part of the Qatar World Cup 2022. Do not collapse from the weight of other people's words. Try to wilfully alter your focus from that which is putting your mood down and concentrate on the blessings. Instead of a glass case, put your heart in an unbreakable cell.
"We always keep our heads and try to get a result because we knew what the stakes were."
There is the conventional idea that one becomes too prideful when one begins achieving success in heaps. They fail to see their weaknesses. This is because we are always taught that having accomplished everything gives one a dangerous edge and brings fierceness to their lifestyle with superiority. However, all this arrogance can cost you heavily if you forget your origins. So, continue to be humble and know your flaws. Never become too arrogant to see past the bigger picture. Always remember your roots and anything you might have to lose.
"I'll miss some and I'll score some and I'll just learn from them."
If life were metaphorically a football field, we would probably not be scoring goals of success every two minutes. Scoring too much will exhaust you and drain your motivation. And that is completely okay no matter what anyone tells you otherwise. Realise that in life, you will miss some opportunities that you worked hard for. You will not receive due credits for work you have accomplished. You will lose people you never thought you ever would. 
Even if all that sounds too depressing to bear, it stays the reality. Better to cope with it, right? Learn from the opportunities that you lost and know what to avoid next time. Work with such a presence that your toil speaks loud enough to earn appreciation. Understand that people come and go and cherish the incredible moments they gave you. Maybe these will make you gain a winning score in life!