Garden enthusiasts, rejoice! Asia's top 5 most stunning gardens to visit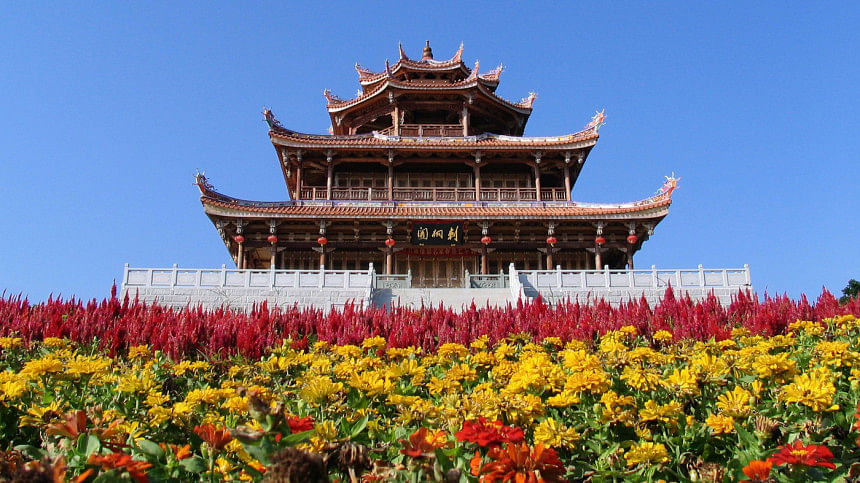 Asia, a continent blessed with heavy rainfall and diverse terrains, features some of the most beautiful gardens in the world. These botanical wonders range from century-old palace gardens to meticulously crafted oases amidst the arid Middle Eastern cities. Scattered across this vast continent, these enchanting gardens not only showcase the horticultural mastery of their creators, but also serve as tranquil havens, offering travellers an escape from the bustle of life.
Whether you are a passionate horticulturist or simply cherish the idea of spending a few evenings surrounded by colourful aromatic blooms, here are 5 of these marvels, each with its own unique story to tell.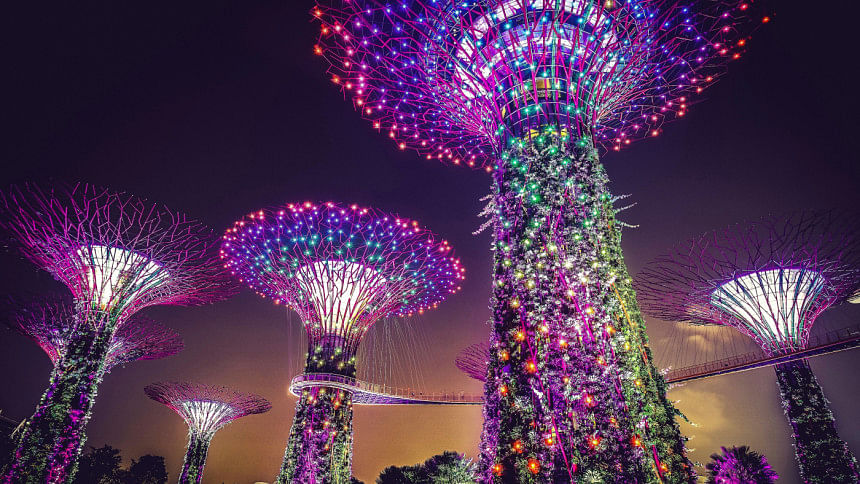 Gardens by the Bay, Singapore
Gardens by the Bay of Singapore stands as a truly unique botanical surprise. Its most renowned feature, the Supertrees, are towering artificial structures adorned with dense vines and flower plants. Transforming into a mesmerising spectacle during the enchanting evening light display, these 'Supertrees' offer an experience that can't be found anywhere else in the world.
Complementing these giant 'trees,' the garden features the 'Flower Dome,' an elaborate exhibition, showcasing global floral diversity across different seasons, making it a perpetual showcase of nature's splendour. Moreover, the 'Cloud Forest' section of the garden offers a unique experience, replicating a mist-shrouded mountain, complete with cascading waterfalls and a riot of exotic colourful plants.
Easily accessible from the Bayfront station, a leisurely stroll can lead travellers to this wonder, where innovation meets nature in a seamless union of art and entertainment.
Shalimar Bagh, India
Famously known as the 'Crown of Srinagar,' the Shalimar Bagh in the Kashmir Valley stands as India's unrivalled jewel in the realm of gardens. Commissioned by Emperor Jahangir, this enchanting garden is often considered the epitome of Mughal botanical grandeur. Its architectural layout is a testament to the famous Mughal imperial aesthetic, featuring terraced flower levels, mesmerising fountains, intricate waterways, and impeccably manicured grass lawns.
Yet, the heart of this garden lies in its fragrant rose groves, which transform the surroundings into a scented paradise from late April to early July. Located on the shores of Dal Lake, the Shalimar Bagh is a 30-minute drive from Srinagar International Airport. As a popular destination among the locals for its beauty and ambience, local transports from anywhere in Srinagar to this imperial garden are also available.
Dubai Miracle Garden, Dubai
As the world's second-largest garden, Dubai Miracle Garden features a breath-taking spectacle of more than 50 million flowers arranged in mesmerising patterns. This flower haven stands out for its imaginative designs, ranging from floral pyramids to a life-sized Airbus A380 aeroplane adorned with thousands of colourful flowers, making it an absolute utopia for photography enthusiasts.
With each passing season, this garden reinvents itself, promising a fresh experience for those who return to wander its colourful paths. Located at the heart of Dubai, the garden opens its gates to visitors from October to May, and given its immense popularity, it's advisable to secure your ticket well in advance to ensure a relaxed experience.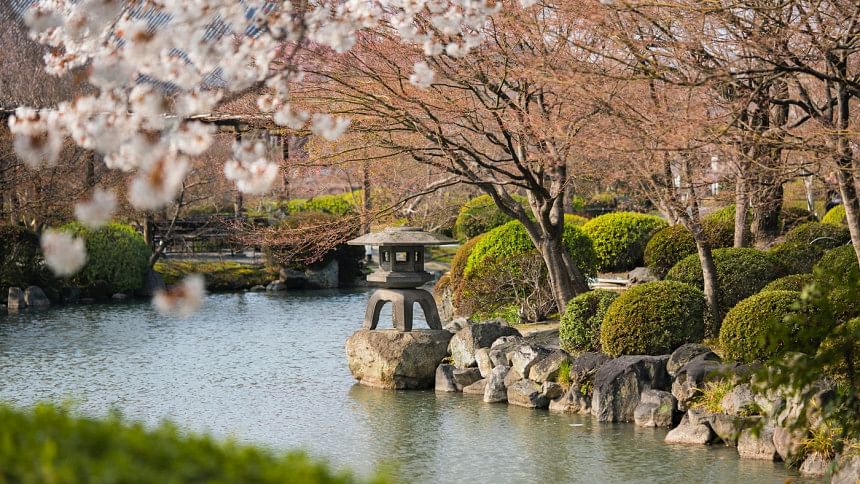 Kenroku-en, Japan
The Kenroku-en is one of the 'Nihon Sanmeien' or The Three Greatest Gardens of Japan, and arguably the most beautiful one too! With roots tracing back to the Edo period, this garden has a history spanning nearly three centuries. Its very name, Kenroku-en, means 'Garden of Six,' referring to its six defining qualities; spaciousness, seclusion, historical significance, water sources, artful design, and natural beauty.
Within the garden's embrace, visitors will discover an array of mesmerising ponds, traditional teahouses, and pathways with graceful stone bridges. Notably, the Kasumi-ga-ike Pond, nestled at its heart stands out, featuring a small island adorned with Kotoji-toro style stone lanterns, rendering it a prime setting for some cherished photographs.
The Kenroku-en can be reached easily from the Kanazawa bus stand and as an added bonus, its proximity to the famous Kanazawa Castle allows travellers to cover both of these historic sites in a single tour!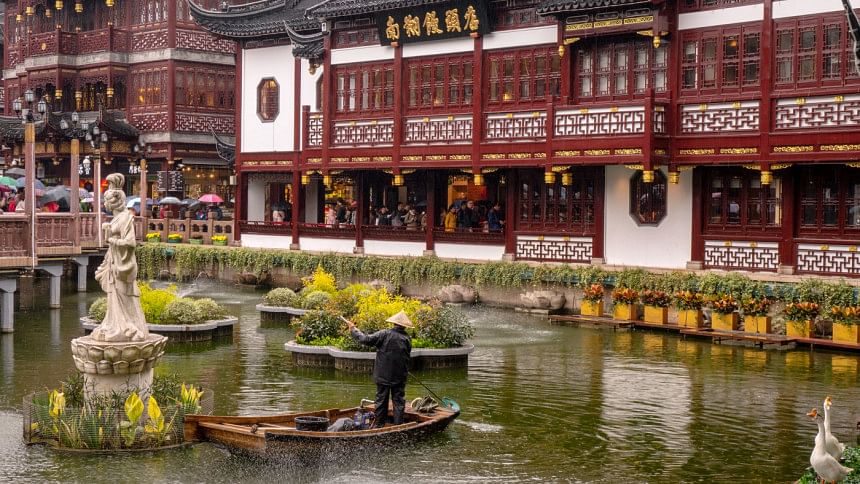 Yuyuan Garden, China
Yuyuan, or simply Yu, is not just any other Chinese garden but a harmonious fusion of intricately designed pavilions, bridges, and sculptures that embodies a historical legacy spanning nearly four centuries. This marvel of planned gardening and craftsmanship from the Ming Dynasty is often considered the very embodiment of traditional Chinese gardening design.
The Yuyuan Garden unfolds its splendour through six scenic locations; Sansui Hall, Wanhua Chamber, Dianchun Hall, Huijing Hall, Yuhua Hall, and the Inner Garden. Here, travellers are invited to take a walk amidst the enchanting charm of these halls and lush green sanctuaries, their paths graced by koi ponds and gracefully arched zigzag bridges. The garden also offers a unique opportunity to savour tea in the timeless Huxinting Teahouse, the oldest teahouse in Shanghai, perched in the middle of a lake.
While the garden offers the most beautiful view during spring season (April-June), it will be wise to brace for sizable crowds, as Yuyuan Garden is a beloved local attraction. Easily accessible at the centre of Shanghai's old city, travellers can reach the garden by taking Subway Line 10 to Yuyuan Station, followed by a brief walk to the Yuyuan Garden.