Top 5 tourist destinations in Netrokona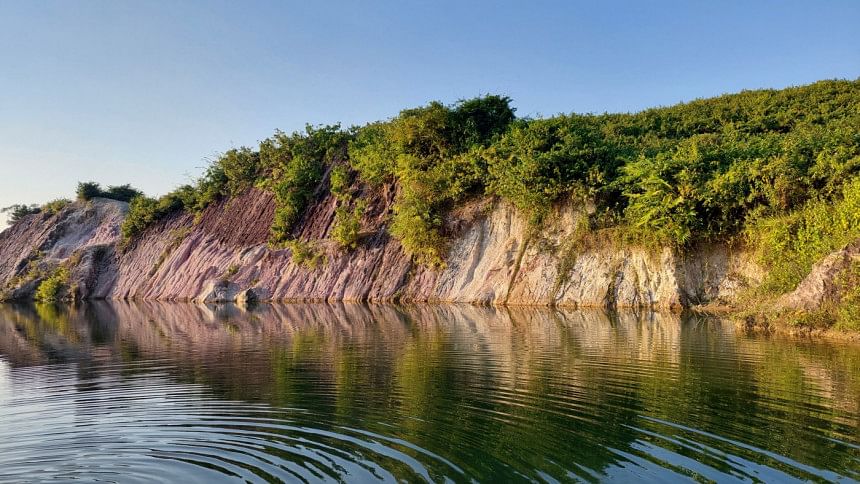 The Netrokona district is known for its mountain waterfalls, Chinese mud hills, rivers, canals, banks, and haors. More visitors visit this region during the winter than the rest of the year.
If you are planning to visit this winter, here are the top 5 attractions in Netrokona you should absolutely visit.
Shah Sultan Rumi's Shrine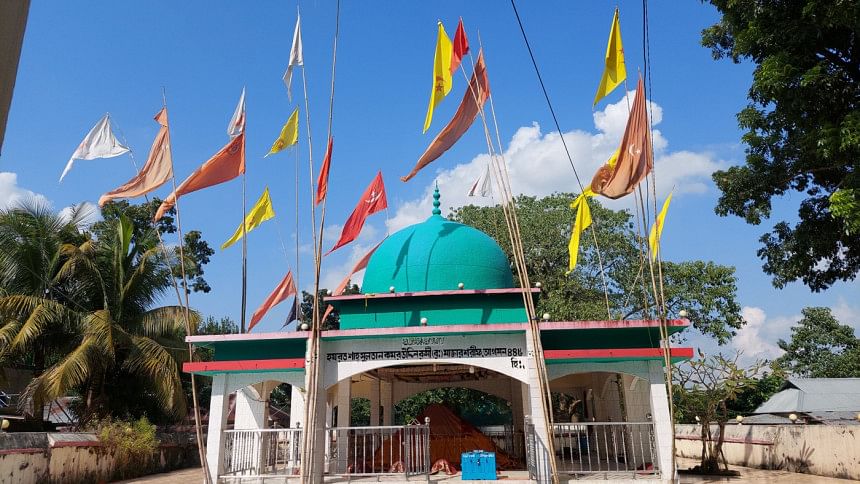 The shrine of Shah Sultan Rumi is 30 minutes away by CNG from Netrokona and will cost you about Tk 30. This shrine is in Netrokona Sadar's Madanpur village.
A century before Muslim general Bakhtiyar Khalji and 250 years before Shah Jalal conquered Sylhet, Shah Sultan Rumi came to Bengal. In Netrokona, he played a significant role in advancing Islam. This shrine is dedicated to him.
Every Thursday, the shrine plays the dhonka or drum and attended by thousands of people from all around the nation. Both men and women have a spot to worship at the shrine.
Kobitakunjo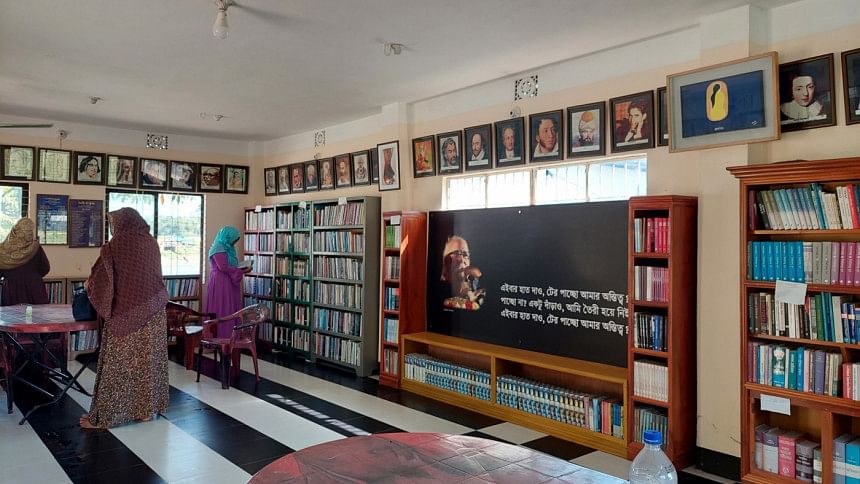 After returning from the shrine, you can take a rickshaw for Tk 40 from Netrokona Sadar to Kobitakunjo of poet Nirmalendu Gun. On the Magra River's banks in the Maloni region is where you'll find Kobitakunjo.
Kobitakunjo is simply a poetry reading room. About 2000 poetry volumes by illustrious authors from 90 different nations are housed in this collection. Additionally, there are framed images of about 70 well-known poets in various languages.
In addition, guests can stay in one of two guesthouses that are located behind Kobitakunjo. Aside from reading poetry or admiring the scenery of the river, you may catch fish with a fishing rod.
Birishiri Cultural Academy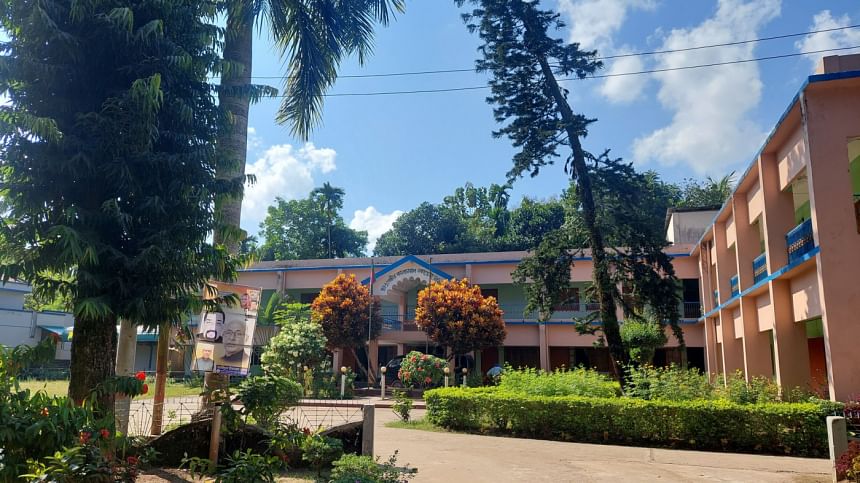 About 40 kilometres from Netrokona Sadar, in Durgapur Upazila, is where you'll find Birishiri Cultural Academy. You can take a motorcycle for Tk 300 taka from Rajur Bazar in Netrokona Sadar to this cultural academy.
It was primarily founded with the intention of preserving, upholding, developing, and fostering the cultural legacy of tiny ethnic communities. The deteriorating life, artifacts, and art of the tribal people are preserved in a tribal museum located in the academy's two locks. The museum's entry fee is Tk 10.
You may stay at Birishiri Guest House. In addition to the Zilla Dak Bungalow, there are a number of lodging options where one may live for between Tk 1,000 and Tk 2,000 per day.
China Matir Pahar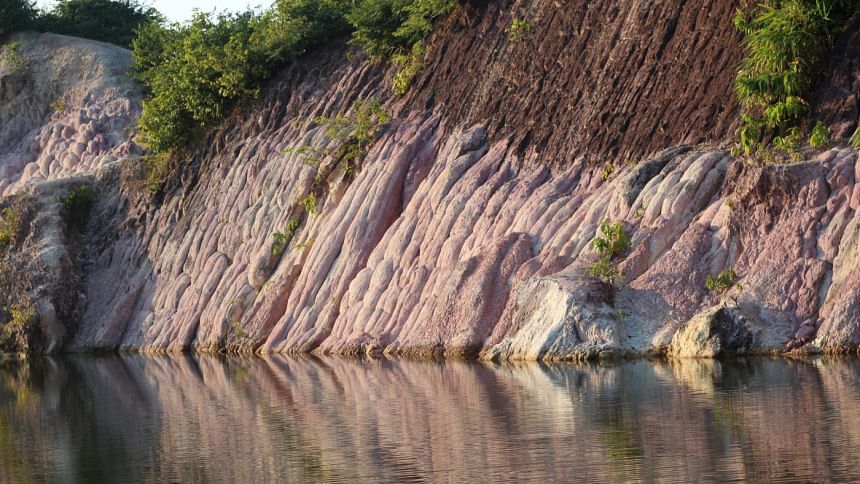 China Matir Pahar, also known as white mud hill, is a well-known location in Durgapur. It is one of Bangladesh's more popular tourist destinations and rich in minerals.
After touring Birishiri Cultural Academy, you can spend Tk 20 to visit Someswari River Ghat. Renting a motorcycle costs Tk 100, an auto costs Tk 30, or a machine boat for Tk 10. The only way to get there is by auto or motorcycle.
The white soil mountain is occasionally grey or reddish, and not completely white. The mountain appears to be playing a game of colours. Some are slick, while others are gritty; there is a lake with blue and green water at the base of the mountain. Because of the mountains and the sky's shadows, the lake changes colour depending on the time of day.
Ganeshwari river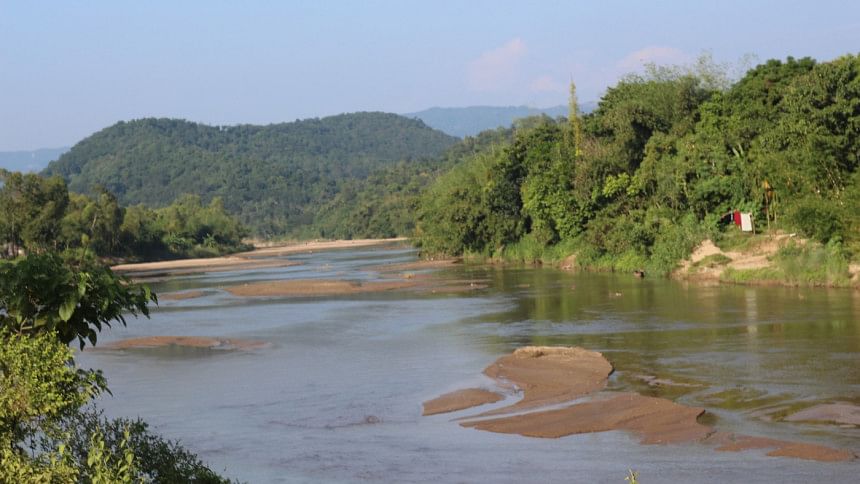 The Ganeswari River flowing along the Garo Hills can mesmerise you. To the north-east of the Ganeshwari river lies the border with India, lined with high hills covered with green forests. Those mountains will make your eyes widen. And Bangladesh's border with high hills is in the southwest. And the small ethnic groups of Bangladesh live near that hill.
And to see this wonderful scene, you have to go to Lengura in Kalmakanda upazila of Netrokona. From Netrokona Rajur Bazar, you can go directly to this place by renting a motorcycle for Tk 300.
How to get between Dhaka and Netrokona
Nearly all of the day, buses operated by BRTC, Ena, and Hazrat Shahjalal Bus Company travel from Mohakhali Bus Terminal to Netrokona. Cost of a bus ticket is usually Tk 250.
You may also take the Mohanganj Express and the Haor Express to Netrokona from Kamalapur Railway Station or Airport Station. A shovon chair costs Tk 195, while an AC chair costs Tk 374.
Haor Express's weekend is on Wednesday, whereas Mohanganj Express's is on Monday. Mohanganj and Haor Express depart Dhaka at 2:20 PM and 10:15 PM, respectively.
Where to stay in Netrokona
While there aren't any five-star or high-quality hotels in Netrokona Sadar, there are a number of private and public rest homes that are of decent standard.
In addition to Netrokona Circuit House, Kachari Dak Bungalow, LGED Rest House, Hotel Sourav, Hotel Shajahan, Pravasi Guest House, and Hotel Imran International, there are several residential hotels. These hotels have rooms available for as little as TK 1,000 to TK 2,000 per night.