A Bengali belle's guide to Bridal Jewellery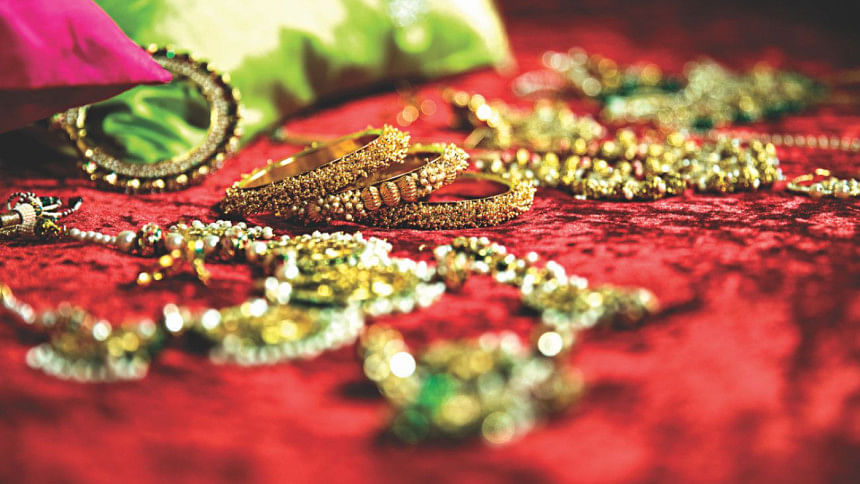 Ah weddings! Just the mere mention is often enough to send many a girl's heart aflutter, and most attach a plethora of emotions, sentiments, hopes and dreams to this day. For it is not just a day; it is the day a girl transitions into womanhood, her status changes from a singleton to a married one, and it beckons for her a new life.
Bengalis like to celebrate in style, and weddings in our culture receive maximum amount of love when it comes to grandiose and pomp!
Every bride dreams to look her best on her wedding day. While there are countless details that go into making a wedding look memorable, the most important aspect is undoubtedly the jewellery. In Bengali weddings, jewellery is not mere ornamentation. It is a form of investment, a sort of security that is bequeathed on the bride as she steps into her new life.
She will buy jewellery all her life, but none of it will ever be like her wedding jewellery, for it is a symbol of the love, commitment and dedication her parents, in-laws and husband have for her. This is why it is crucial that brides think with their heads, not heart when it comes to making decisions regarding wedding jewellery.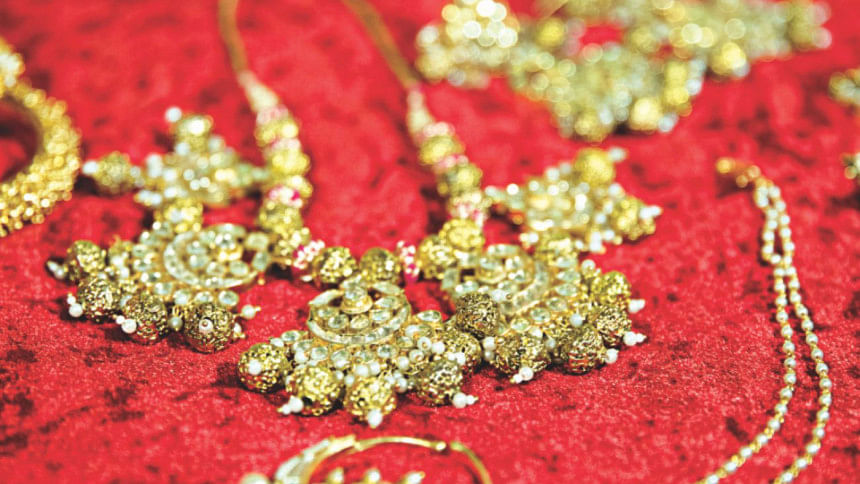 Firstly, choosing a reputed, established jeweller is key. Gold jewellery is now quite expensive and with the fluctuating prices of gold worldwide, new shops keep opening up and going out of business. When you choose a reputed jeweller that has been around for years you secure the future of your jewellery in case you need to sell, repair or change later.
Also, some shops sell inferior quality gold that has lower carat value and offer reduced making charges to lure customers- beware such traps.
Low-carat jewellery will eventually fade in colour, lose its shine and in worst cases, its gold plating. Reduced making-charges mean the craftsmanship is poor and its source is obscure. Some jewellers have been around for decades and offer high quality jewellery authentically. Family jewellers are also a good option. it is always wise to trust the opinion of an experienced individual, namely your mother or mother-in-law when buying wedding jewellery.
Next, the quality and kind of jewellery one buys is important. Kundan and polki look beautiful and precious, but beware of the fake plastic kind. Look out for cracks and discolouration in polki; if it is transparent and glowy then it is the real deal.
For diamonds always ask for authenticity certificates and carat weights. When buying coloured gemstones make sure they are not simulated but real ones. Look out for intricate details and craftsmanship. Will you want to wear it ten years from now? Trendy stuff will look good now but traditional pieces are timeless and classic.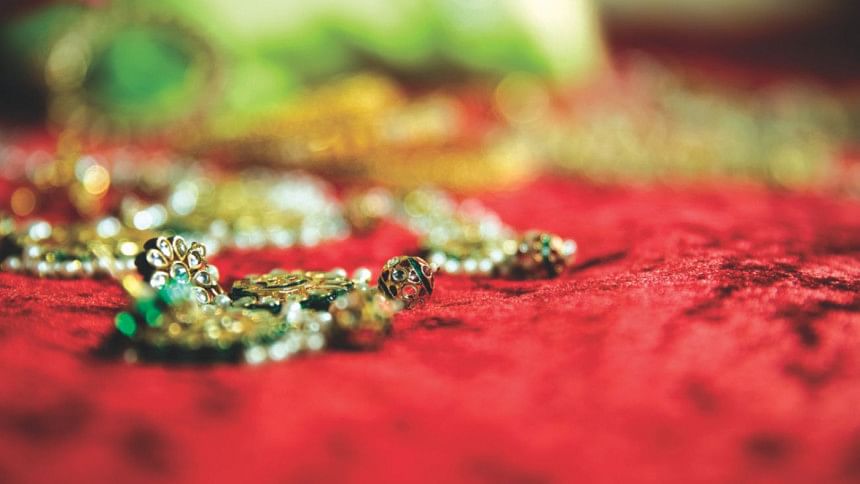 THE TRADITIONAL MUST-HAVES
Shithi-paati/taira
A bridal essential, the shithi paati adorns the forehead of a bride. Three strands of chain are interlocked with a pendant hanging in the middle. Nowadays brides wear an ornate, Multani version of it for Holud ceremonies, as well as wearing a simpler version for the wedding ceremony. It is a ceremonious piece, and one that does not have to be made of gold, as one does not get much wear out of it afterwards. A truly significant piece that marks a woman's transition into the next stage of her life, the shithi paati will add the right amount of bling to your bridal look.
Tikli
A simpler version of the shithi paati, the tikli is a mainstay in bridal jewellery. A pendant is suspended from a chain and is worn in the hair the parting. Its design usually matches the main wedding set. Even as early as a decade ago, the tikli would gather dust in the deep, dark recesses of a woman's jewellery vault but not anymore. It has become an essential piece for not just weddings but a tikli can now be worn for any traditional event, starting from a friend's Holud to baby showers to Sangeet and Mehendi ceremonies! It is a good idea to get a gold one as you are likely to wear it time and again.
Jhapta
A glorious addition to the Bengali woman's jewellery casket, the jhapta is a fabulous piece. A triangular piece is attached with strands of gold, pearls or gemstones to a hook at the top and is worn on the side of the head. It traces its origin back to the Mughal era when it was an everyday piece for women. Perfect for your own nuptials as well as others, it is an essential.
Noth
An oversized nose ring, the noth is a sweet piece of jewellery that adds just the right amount of bridal flair. It is usually attached to a chain that is pinned behind the ear. Legend has it that back in the days the size of a bride's noth would be reflective of her social status.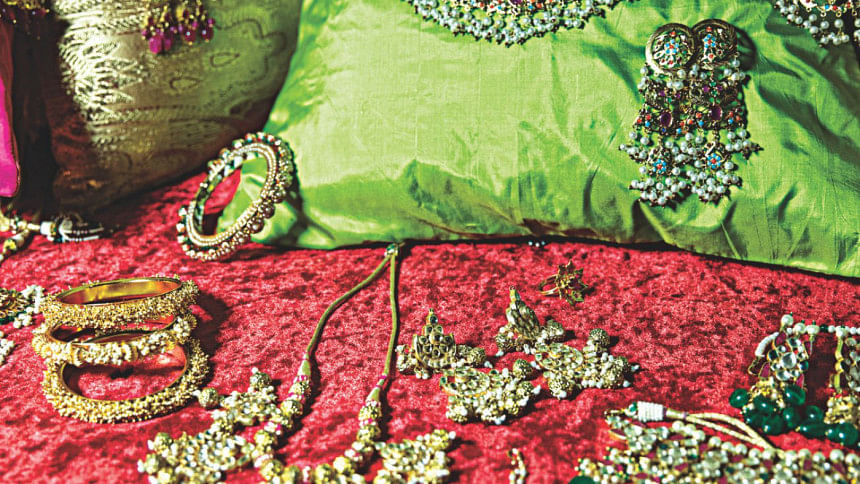 Shita-haar
A bib-style, oversized necklace is on every bride's wish list of must-haves, but the allure of a shita haar should never be overlooked. A pendant is suspended from long, heavy chains, this is a piece worth its weight in gold. An elegant piece that will stand the test of time, the shita-haar will always look regal unlike bib necklaces which run the risk of looking chunky on a zaftig silhouette. If you are looking at a second piece, then do consider this one. Heck, make it your first choice!
Roton-choor
Another stunning piece that immediately catches attention, this is a bridal necessity. Five rings for each finger is attached to chains all linked together to a motif in the centre of the hand, and another chain joins it to a bangle. A truly unique piece it makes your hands the centre of attention. If your budget allows it get a diamond one to dazzle and mesmerise! A simpler version can be made for just one finger if five fingers feel too much.
Baaju-bandh
It is jewellery for the arm that looks regal. It could be fashioned like a thick bangle, or a central motif can be attached to links of chain, pearls or gemstones.
The diamond set
Now that you have had your fill of glorious gold take a look at the other side! Diamonds are a girl's best friend, and a set that has rows or clusters of it will be your best accessory for those glamorous nights of chiffon sarees, French laces and georgette numbers. But do not let me limit your possibilities — traditional outfits look fabulous with diamonds too! Get one with changeable stones to match different outfits and sparkle away!
Heirloom pieces
Gleaming new jewellery is truly the best aspect of becoming a bride, but it is the heirlooms that add the right finishing touch. You will buy jewellery all your life. Anniversaries, special occasions will abound but that bangle your grandmother wore on her wedding day, or that necklace your mother received from her grandmother is precious in ways words fail to express. Such pieces bear love, blessings and heritage of your family so make sure they are a part of your jewellery paraphernalia! 
Photo: Sazzad Ibne Sayed
Jewellery: Sparkle