<i>Gas found in Sundalpur</i>
Petrobangla hopes to get 10-12mmcf gas from the newly discovered field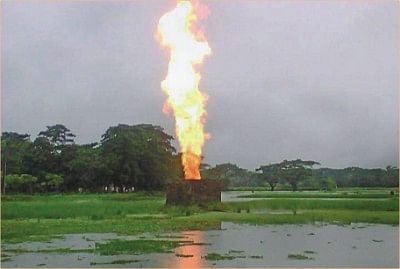 Petrobangla yesterday announced the discovery of a gas field by Bapex in Sundalpur of Noakhali while many parts of the country face a shortfall in gas supply.
Petrobangla Chairman Hussain Monsur disclosed it at a press conference at its headquarters in the capital yesterday.
"We are breaking the news on the first day of the discovery because we are pretty sure about commercial production from the field," he said.
The size of the gas field is apparently small and it goes 1,400 metres beneath the surface.
Officials hope that it will be possible to supply 10 to 12 million cubic feet (mmcf) of gas a day from the newly-discovered field.
"We hope to supply this gas to the Chittagong region," Mortuza Ahmad Faruque, managing director of Bangladesh Petroleum Exploration and Production Company Ltd (Bapex), told The Daily Star.
Chittagong is the worst hit area in terms of shortfall in gas supply.
The gas field can be linked to Maizdee and Feni by a six-kilometre pipeline. All necessary equipment is ready for installation of the pipeline, said Faruque.
Bapex officials are calculating the exact volume of gas in the newly discovered field. They said the depth of the gas reservoir is only five metres but it spreads over a large area.
Nearly 2,000 mmcf gas is consumed every day while the country faces a supply shortfall of at least 500 mmcfd.
The Petrobangla chairman said they would soon drill a few more wells in the same field.
The government in May 2008 approved a Tk 73.65 crore project to drill an exploratory well in Sundalpur. Bapex began the exploration late last year and drilled up to 3,327 metres. It pinpointed three test zones at various depths but did not find commercially recoverable gas in two zones beyond 1,400 metres.
Bapex previously discovered three small gas fields and now operates six wells. It is hopeful of more discoveries in the future with the use of better technology.
Faruque said it would take a while to examine and fathom the volume of gas in the newly discovered field.
"It will help ease gas crisis in the Chittagong city, as gas will be channelled to Maizdee and Feni from this newly-discovered field," said the Bapex chief.