Fertiliser price hike: Lalmonirhat farmers fear losses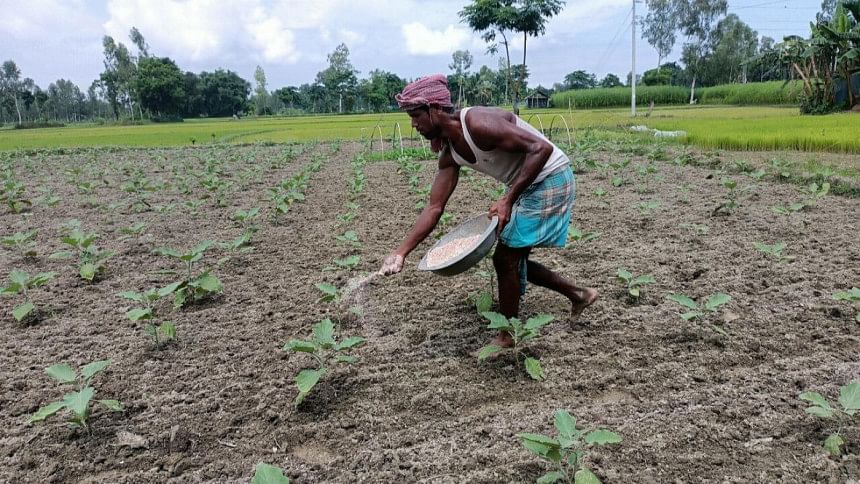 The increase in price of fertilisers has made farmers in Lalmonirhat worried ahead of the crucial vegetable-producing winter season.
They say if the prices are not controlled, they will incur losses.
Farmers said that currently traders are selling TSP fertiliser at Tk 30-32 per kg, MOP fertiliser at Tk 24-25 per kg, DAP fertiliser at Tk 24-25 per kg, and Urea fertiliser at Tk 30-32 per kg.
Bangladesh Agricultural Development Corporation BADC (Fertiliser) sources said that the listed dealers are buying per kg of TSP at Tk 27, MOP at Tk 20 per kg, DAP at Tk 21 per kg, and Urea at Tk 27 per kg from government warehouses.
According to government rules, dealers can sell fertiliser at a profit of Tk 2 per kg.
"Fertiliser sellers in the village are selling those at higher prices than the official rate. To save time and travel costs, we are forced to buy from them," said Akbar Ali, 65, a farmer of Bhatibari village of Lalmonirhat Sadar upazila.
Badiar Rahman, 55, a farmer of Gorokmandal village in Phulbari upazila of Kurigram, said that fertiliser traders in the village are making a profit of Tk 4-5 per kg for each fertiliser.
"It is still too early to grow winter vegetables so there isn't much need for fertiliser. The demand will increase from the next month. We are worried that fertiliser sellers might hike the prices again," he said.
Nazrul Islam, a fertiliser seller in Gorokhmandal village, told The Daily Star that they are buying fertiliser at a higher price from dealers. Fertiliser traders in the village also earn Tk 2-3 by selling each kg of fertiliser.
"Sometimes farmers in the village buy the fertiliser from us at dues. Farmers repay us after harvest, and because of this, many fertiliser sellers in the village sell fertilisers at higher prices," he said.
Mashiur Rahman, a BADC (Fertiliser) dealer at Uttara Road in Lalmonirhat town, said that they are selling fertilisers as per government rules and making a profit of Tk 2 per kg.
Fertiliser retailers from the village may be selling the fertiliser at a higher price by buying it from the dealers, he said.
"When farmers come to us, we sell to them at a fair price," he added.
Lalmonirhat BADC (Fertiliser) Deputy Assistant Director Jewel Islam told The Daily Star that there is sufficient stock of fertilisers in the government warehouse.
"There will be no shortage of fertiliser during the winter season. Dealers are buying fertiliser from government warehouses at set rates. Agriculture [extension] department will take action if any fertiliser dealer sells fertiliser at higher prices."
Hamidur Rahman, deputy director of Department of Agricultural Extension (AED) in Lalmonirhat, told The Daily Star that there are no crops except paddy in the field now.
"There are a small amount of vegetables in the field. Now farmers are using less amount of urea and DAP fertilisers. AED team is on the field to keep the fertiliser prices under control. Immediate action will be taken if any complaint is filed of selling fertiliser at higher prices," he said.