6 arrested for looting Tk 85 lakh posing as detectives
DB says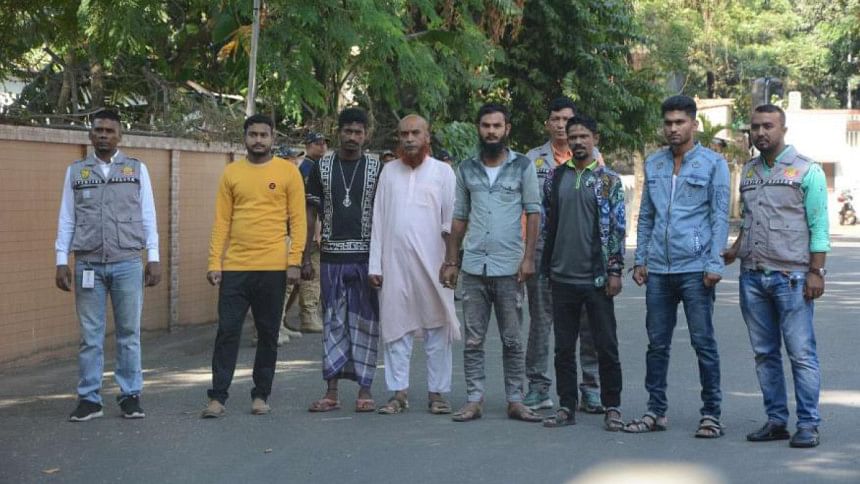 Six members of a robbery gang were arrested on charge of snatching away Tk 85 lakh from a businessman posing as detectives in Dhaka's Keraniganj upazila on November 13.
A team of Detective Branch of police (Lalbagh Division) also recovered Tk 20 lakh of the robbed money, a microbus and a motorcycle from their possession during the drives in Dhaka, Savar and Patuakhali yesterday, DB Chief Mohammad Harun Or Rashid told a press briefing today.
The arrestees are: Sohag Majhi, 28, Delwar, 26, Joynal Hossain, 28, Sohel, 27, Jony, 32 and Md Aziz, 57.
On November 13, a gang of 10 to 12 robbers, identifying themselves as DB men, intercepted the private car of Keramat Ali, owner of Marfat Ali Store, at Darigaon Bazar when he was going to deposit the money to a nearby bank.
The robbers, who had walkie-talkies in their hands, took away the money from the businessman.
The next day, the victim filed a case with South Keraniganj Police Station in this connection.
Briefing reporters at DMP media centre, Harun said during the primary interrogation, the arrestees admitted that they commit robberies, posing as officials of DB, Criminal Investigation Department and other law enforcement agencies.
The DB official said the gang use to take position in front of various banks and financial and commercial institutions or follow the businessmen on their way to banks, he added.
They stop their targets in the areas which are out of CCTV camera coverage.
The robbers pick the targets up in their car, saying they are wanted in cases and stanched away money and valuables before dropping them in deserted areas, the DB official said adding that police are trying to arrest other members of the gang and recover the rest of the looted money.