Chittagong University: BCL men beat up journo over news report
Student body dissolves campus committee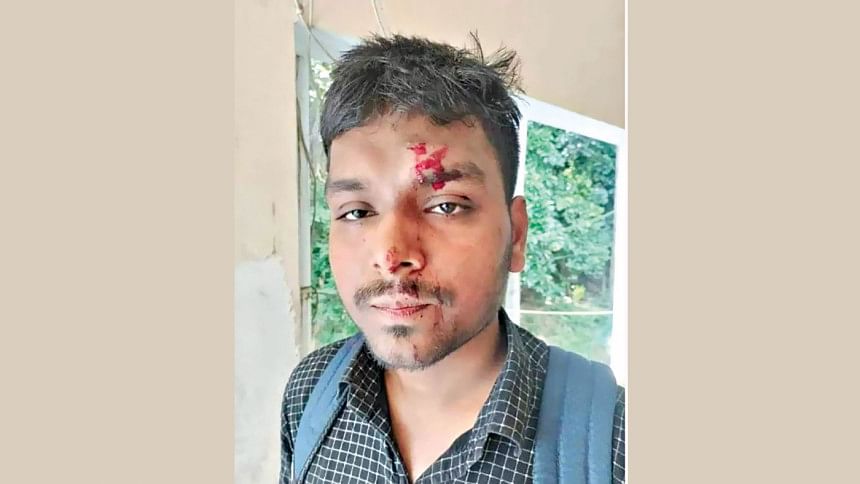 The Chattogram University correspondent of Prothom Alo was assaulted yesterday allegedly by Chhatra League activists for reporting on clashes between two groups of the pro-Awami League student body.
The correspondent, Mosharraf Shah, has been admitted to Chattogram Medical College Hospital (CMCH) for treatment.
Repeated clashes between groups of Bangladesh Chhatra League men at the university have made headlines in recent days. 
The BCL in a statement issued in the afternoon said its Chattogram University committee has been dissolved. As the groups chased each other several times later in the day, police were deployed on the campus to calm the situation.
Witnesses said Rejaul Hoque Rubel, president of the CU Chhatra League, along with more than 15 others beat Mosharraf up on the campus around 11:00am.
Several students rescued Mosharraf and took him to the university's medical centre from where he was taken to the CMCH for better treatment.
Mosharraf, a student of communications and journalism, told this correspondent that attackers asked him why he reported on their clashes and published photos of BCL men wielding weapons.
"If you do report one more time, we will see who saves you," Mosharraf said, quoting one of the attackers.
Abu Tayyab, chief medical officer at the campus medical centre, said Mosharraf needed four stitches on his forehead.
Contacted, Rubel told The Daily Star that he had no idea who attacked the reporter.
CU's Proctor Nurul Amin Shikdar said, "We are trying to identify the attackers and we will take action against them."
NON-STUDENTS Asked TO VACATE DORMS
Those who have already graduated, got expelled from the university and those who are not students at all were asked by the campus administration to vacate the dormitories by 6:00pm today.
A notice, signed by acting registrar KM Nur Ahmad, specifically mentioned that those who were admitted to the university in the 2014-15 session and were still living at the dorms should leave.