'Sharing misleading video on social media': 2 arrested under Digital Security Act in Bogura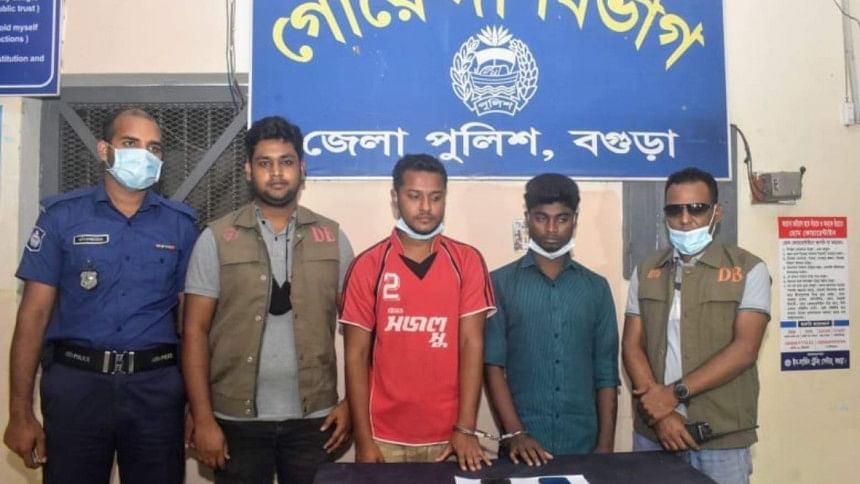 Two people, including a student, were arrested by Bogura Cyber Police early today for allegedly sharing old video footage on social media, claiming it was current video footage.
The arrestees are Md Mahbur Rahman (23) and Md Shariful Islam (24), reports our correspondent quoting police.
Inspector of the Bogura DB police, Md Emran Mahmud Tuhin said, Shariful is a fourth-year student of Bogura Govt Azizul Haque College and Mahbur is his associate.
A case has been filed against them under the Digital Security Act with the Bogura Sadar Police Station, Emran said, adding that, a cyber team of Bogura Police arrested them from Nishindara area of Bogura Sadar upazila around 1am today.
The video footage, which went viral, showed a team of Bogura district law enforcers smashing battery-run auto-rickshaws and vans with hammers and later bulldozing them.
Emran said that the incident happened in 2017 but during the current lockdown, the accused have publicised it as a current incident.
According to a press release issued by the police, the accused were intentionally circulating the video in the 'Shibganj Upazila (37) Bogura' Facebook group, claiming that it was the current situation.
During preliminary interrogation, the accused admitted that they had used the opportunity "to tarnish the image of the law enforcement agencies" during the ongoing strict lockdown.
Bogura Superintendent of Police Ali Ashraf Bhuiyan told The Daily Star, "The accused are inciting public discontent and anger against the government by circulating an old video, saying it is the current drive of the law enforcers during the ongoing lockdown."
The accused will be produced in court today, Inspector Emran added.